Glastonbury, CT Drs and Health Practioners
---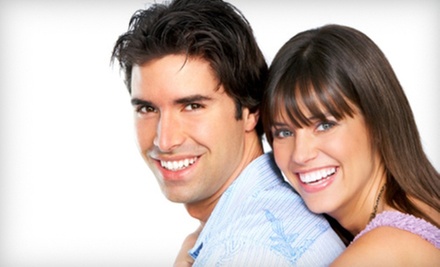 ---
Drs & Health Practitioners Deals
---
Recommended Drs & Health Practitioners by Groupon Customers
---
Blue Back Dental's pair of presiding dentists, Drs. Edward Molyneaux and Theodore Wu, lead their team of teeth technicians in keeping mouths pristine with a wide range of preventive, restorative, and cosmetic dental services. Treatment options range from simple routine cleanings to restorations of cracked teeth with an onsite ceramic tooth fabricator, and dental aligners, such as Invisalign or Six Month Smiles, can straighten teeth. The dentists keep patients well informed and in control of their own health, ensuring that each patient understands that the fate of their dental well-being may hang on more than a single thread of waxed floss.:m]]
65 Memorial Rd., Suite 400
West Hartford
Connecticut
860-233-9300
National board-certified acupuncturist Dr. Chul H. Han blends acupuncture, herbal medicine, and other holistic healing techniques to treat health conditions such as joint and muscle pain, digestive disorders, and anxiety. To achieve the best results, he works with clients to devise individualized treatment plans based on their health history, making sure to educate them along the way about techniques for living well and raising octuplets.
46 Brittany Farms Rd., Suite 225
New Britain
Connecticut
In his more than 35 years of maintaining families' oral health, Daniel M. Segal, DMD, has witnessed many advancements in the areas of dental research and treatment. To stay on top of industry trends, Dr. Segal remains passionate about continuing education for himself and his team. He is a member of the Connecticut State and American Dental Associations, and serves on the peer review and ethics committee of the Hartford Dental Society. His modern office offers the latest technology, including metal-free crowns, panoramic radiographs, implants, and custom whitening kits.
During exams, Dr. Segal uses an intraoral camera that allows him to take a digital tour of the mouth and point out potentially haunted wisdom teeth. Patients can enjoy radio headsets, cable TV, and a large collection of movies during their treatment.
1050 Sullivan Ave.
South Windsor
Connecticut
860-644-2476
Reiki master Maryann Lonergan didn't learn reiki as a hobby or a career. She took up the art of reiki in an effort to help ease her mother's progressive Alzheimer's disease. The holistic healing technique is designed to help bodies heal naturally from a range of ailments, including stress and chronic pain. In treatment rooms, Maryann places her hands over specific nodes in the body and attempts to balance personal energy and calm patrons with strategic touches.
35 Cold Spring Rd., Bldg. 100, Suite 124
Rocky Hill
Connecticut
860-604-2807
Though he performs acupuncture treatments with a steady hand, Steve Paine OMD is a mover and a shaker in the world of alternative health care. The published author earned his Doctor of Oriental Medicine degree in Hong Kong, and became a diplomat of both the National Commission for the Certification of Acupuncturists and the National Board of Acupuncture Orthopedics. Paine is committed to Connecticut health-care reform, and, as president of the National Guild of Acupuncture & Oriental Medicine, advocates for affordable, drug-free natural health care and getting accident victims back to work. His Simsbury location operates in conjunction with a sister practice in Hong Kong, where he acts as director of an office of the Kendall Institute, promoting the Western physiological basis of needling therapy.
Paine uses both acupuncture and herbal medicine to address issues specific to men, women, and children, along with complementary therapies such as massage, cupping, or electromagnetic heat. Patients can nap or listen to music during treatments, or choose from hundreds of guided meditations that enhance inner calm and the ability to astrally project oneself into a courtside seat at a Huskies game.
540 Hopmeadow St.
Simsbury
Connecticut
860-970-4232
Little did Dr. Jan Iyengar know that visiting a homeopathic doctor 45 years ago would not only cure his asthma, but it would also stir a passion for homeopathy that's guided the rest of his career.
Since breathing easier, he's become a nationally certified massage therapist, homeopathic consultant, and board-certified hypnotherapist. Inside Body-Mind Wellness Center, Dr. Iyengar harnesses his advanced training in modalities including sports massage, trigger-point therapy, and myofascial release to help bodies drain metabolic waste and improve range of motion. His hypnotherapy sessions also open up his patients' subconscious minds to suggestion, helping them gain control over the negative feelings that lead to addiction, overeating, and strongly worded letters to the editor about fire-hydrant placement.
175 Main St.
Manchester
Connecticut
860-646-4791
---