Restaurants in Glastonbury
---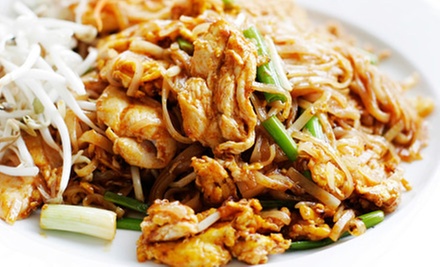 ---
Recommended Restaurants by Groupon Customers
---
Golden-fried clam strips, fantail shrimp, and bay scallops anchor the tables at J's Crabshack (formerly Tinker's), sending up clouds of steam next to hearty steak and lobster dinners. Founded by chef and scallop fisherman James Tinker more than 20 years ago, J's Crabshack has grown into a bustling seafood hotspot, where an aquarium teeming with eels and tropical fish overlooks the dining area. The shack's market counter dishes out freshly snagged raw shrimp and scallops, earning recognition as runner-up for best fish market in Hartford from the Hartford Advocate in 2011. The restaurant's culinary team, which includes James Tinker II in its ranks, works diligently to serve guests in the ocean-themed catering hall, then sticks around to burp everyone postmeal.
2074 Park St., Suite 1
Hartford
Connecticut
Piolin Jr. Restaurant beckons patrons to try a taste of Peru with house specialties that incorporate authentic ingredients. Chefs at the family-friendly restaurant specialize in preparations of meat that stick to diners' ribs without adhesive and include grilled steaks and veal hearts, rotisserie chickens, stewed goat, and deep-fried fish. Entrees can pair with a bottle of Peruvian wine or a half-pitcher of chicha morada, a traditional beverage made from the juice of purple corn.
860 Main St.
East Hartford
Connecticut
CW's American menu—which features locally sourced seafood and thick-cut steaks—combines the comforting nostalgia of classic Americana with contemporary cooking techniques. Their modern methods include rubbing each cut of meat with a proprietary blend of spices before broiling them at 1,200 degrees Fahrenheit to seal in juices. When possible, the chefs source their seasonally changing ingredients from local businesses to encourage the local economy and give their wheelbarrow driver a break. In addition to the contemporary fare, Friday and Saturday evenings bring merriment and dancing as the restaurant showcases live jazz and prerecorded FDR fireside chats.
706 Hartford Rd.
Manchester
Connecticut
860-783-5545
From alongside steaming ceramic coffee pots, gluten-free Ethiopian and Eritrean dishes at Abyssinian Ethiopian Restaurant radiate imported spices. In the golden glow of wall sconces, sautéed beef and chicken morsels marinate in butter, cardamom, and fresh ginger. Patrons sop up savory remnants with warm injera, an East African flatbread made from high-protein teff flour that lets fingers grab food, unlike trying to grab a frustratingly realistic painting of fruit. Meals flanked by complimentary portions of collards parade to tables, and caterers cruise past with brimming portions for meetings and shindigs.
533 Farmington Ave.
Hartford
Connecticut
860-218-2231
Domino's has been decorating dough canvases with flavorful sauces, an assortment of cheeses, and high-quality toppings that range from classic to unconventional since 1960. Domino's dough is tossed daily and stretched by human hands, not by clumsy catapults and model airplanes flying in opposite directions. Treat friends to a tasteful feast by checking the online menu and crafting a custom masterpizza with Domino's wide range of ingredients. Famished diners too starved to choose their own toppings can select from Domino's American Legends, featuring signature flavors from throughout the land. Pizzas such as the Pacific Veggie, Honolulu Hawaiian, or Wisconsin 6 Cheese impart all the delicious diversity of a road trip without the hassle of decoding an atlas. Nonpizza fare includes pastas, sandwiches, and breadsticks.
45 Palisado Ave.
Windsor
Connecticut
860-688-6313
For 43 years, Procaccini's Italian Family Restaurant (formerly known as Gino's) has dished up Italian favorites and house specialties. Under the guidance of executive chef Dobber, who has been a chef for more than 20 years, the menu ranges from specialty pizzas with Gino's original crust to pastas and grinders. Families pile into the cushioned booths that fill a dining room decorated with stained glass, murals of Venice, and flags of New England professional and collegiate sports teams. The cozy, casual setting is frequently a scene for family dinners, birthday parties, and celebrations after winning a bet on the Little League championship.
46 Main St.
East Hartford
Connecticut
860-568-2930
---