Restaurants in Glastonbury
---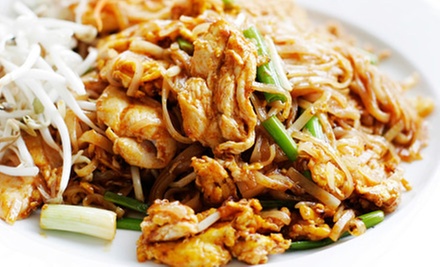 ---
Recommended Restaurants by Groupon Customers
---
From alongside steaming ceramic coffee pots, gluten-free Ethiopian and Eritrean dishes at Abyssinian Ethiopian Restaurant radiate imported spices. In the golden glow of wall sconces, sautéed beef and chicken morsels marinate in butter, cardamom, and fresh ginger. Patrons sop up savory remnants with warm injera, an East African flatbread made from high-protein teff flour that lets fingers grab food, unlike trying to grab a frustratingly realistic painting of fruit. Meals flanked by complimentary portions of collards parade to tables, and caterers cruise past with brimming portions for meetings and shindigs.
533 Farmington Ave.
Hartford
Connecticut
860-218-2231
For 43 years, Procaccini's Italian Family Restaurant (formerly known as Gino's) has dished up Italian favorites and house specialties. Under the guidance of executive chef Dobber, who has been a chef for more than 20 years, the menu ranges from specialty pizzas with Gino's original crust to pastas and grinders. Families pile into the cushioned booths that fill a dining room decorated with stained glass, murals of Venice, and flags of New England professional and collegiate sports teams. The cozy, casual setting is frequently a scene for family dinners, birthday parties, and celebrations after winning a bet on the Little League championship.
46 Main St.
East Hartford
Connecticut
860-568-2930
A casual, family-friendly ambiance has been served as a complimentary side at Boston's since 1964, when founder Gus Agiortis established the very first location in Edmonton, Alberta. Today, more than 50 Boston's restaurants have spread across U.S. and Mexican borders, conquering appetites with fresh, carefully selected ingredients that must endure a scrupulous interview process before hitting plates. Behind the scenes, chefs transform hand-pressed, made-from-scratch dough into 18 varieties of gourmet pizzas. At tables, forks plunge through hunks of meat and creamy sauces that make up gourmet pastas, and inside each location's sports bar, fans root for favorite teams while struggling to corral boneless wings with their sauce-stained foam fingers.
1436 Pleasant Valley Rd.
Manchester
Connecticut
860-648-4490
A neon-lit façade shelters an intimate sidewalk patio where patrons chat on warm summer days over fresh seafood, salads, pastas, and meaty Italian specialties. Diners get their fill of bruschetta and mussels any time of year within Aziago's casual interior, which boasts golden-yellow walls, italian-vintage-style posters, and a hardwood bar overlooking a flat-screen TV. Main dishes, such as veal parmesan and ravioli, float to tables on clouds of house-made marinara, and forks cut effortlessly into juicy steak and pork-chop dishes. The promise of Cheesecake Factory desserts leads young ones to gobble their kiddie-sized pastas, and a quick-serve café brings paninis and wraps to the lunchtime masses. Aziago's also hosts private parties and delivers catered feasts to groups too large to sit at double-decker tables.
166 Queen St.
Southington
Connecticut
860-426-1170
For more than four decades, one family has passed down the tradition of crowd-pleasing pizzas, grinders, and pastas. Hartford Road Pizza owner Greg Procaccini claims the honor of the pizza-making paterfamilias from both his father and his uncle Mike, who recently retired after a long career of Italian cookery at Hartford Road's affiliate, Gino's Pizza. Greg continues his family's proud tradition with plates of stuffed-shell pasta, tender veal parmigiana, and pizzas crowned with toppings such as hamburger, anchovies, eggplant, ricotta, and pineapple. Each meal stays as close to home as possible, with hearty grinders and saucy meatballs sourced from local meats when available, and traditional dishes such as the housemade pasta fagioli soup made from time-tested family recipes.
250 Hartford Rd.
Manchester
Connecticut
Sakura Garden Glastonbury also offers freshly prepared sushi and sashimi, but it really dazzles with its hibachi entrees prepared by chefs styled as cowboys. Eighteen diners gather around hibachi grills to watch as the chefs, some of whom perform magic tricks and sing, create soaring flame towers while they sizzle up red snapper, scallops, steak, and chicken.
Sakura Garden West Hartford seduces taste buds with two distinct buffets of upscale Japanese cuisine served alongside a menu of freshly prepared sushi and sashimi. Diners moseying through the 8,500-square-foot space can peruse the cold buffet to test the effectiveness of a new parka or to acquire a stack of oysters on the half shell. The hot buffet features piping-hot teriyaki salmon and tender coconut shrimp.
345 N Main St.
West Hartford
Connecticut
860-231-8889
---