Restaurants in Glastonbury
---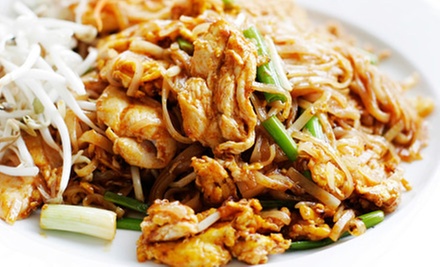 ---
Recommended Restaurants by Groupon Customers
---
A neon-lit façade shelters an intimate sidewalk patio where patrons chat on warm summer days over fresh seafood, salads, pastas, and meaty Italian specialties. Diners get their fill of bruschetta and mussels any time of year within Aziago's casual interior, which boasts golden-yellow walls, italian-vintage-style posters, and a hardwood bar overlooking a flat-screen TV. Main dishes, such as veal parmesan and ravioli, float to tables on clouds of house-made marinara, and forks cut effortlessly into juicy steak and pork-chop dishes. The promise of Cheesecake Factory desserts leads young ones to gobble their kiddie-sized pastas, and a quick-serve café brings paninis and wraps to the lunchtime masses. Aziago's also hosts private parties and delivers catered feasts to groups too large to sit at double-decker tables.
166 Queen St.
Southington
Connecticut
860-426-1170
For more than four decades, one family has passed down the tradition of crowd-pleasing pizzas, grinders, and pastas. Hartford Road Pizza owner Greg Procaccini claims the honor of the pizza-making paterfamilias from both his father and his uncle Mike, who recently retired after a long career of Italian cookery at Hartford Road's affiliate, Gino's Pizza. Greg continues his family's proud tradition with plates of stuffed-shell pasta, tender veal parmigiana, and pizzas crowned with toppings such as hamburger, anchovies, eggplant, ricotta, and pineapple. Each meal stays as close to home as possible, with hearty grinders and saucy meatballs sourced from local meats when available, and traditional dishes such as the housemade pasta fagioli soup made from time-tested family recipes.
250 Hartford Rd.
Manchester
Connecticut
Sanremo Bakery conquers appetites with traditional Italian dishes and pastries. The family-owned business opens at 7 a.m. every day of the week, powering up morning customers with its breakfast pizza composed of eggs, home fries, bacon, and cheddar. Chefs prepare more than 10 other specialty pizzas for lunch and dinner, as well as pasta trays of lasagna, eggplant parmigiana, and ravioli that are large enough to feed 15–25 people or one Italian lumberjack.
1130 Farmington Ave.
Berlin
Connecticut
860-828-8706
The ingredient-smiths at Masala Indian & Thai Cuisine construct an extensive menu of noodles, curries, and vegetarian specialties that blend Indian and Thai culinary staples. A clay oven fires flavored naan breads, as well as lamb, chicken, and seafood dishes augmented with piquant indian spices. Chefs prepare vegetarian options to appease meat-free maws, and a swath of Thai dishes combines rice noodles with meat, tofu, or veggies. Plates of fiery delicacies rest atop royal-blue tablecloths, surrounded by wood-lined walls and posters of famous curries autographed by the spices themselves.
391 Main Street
Hartford
Connecticut
US
The smells of sizzling Indian and Chinese dishes mingle as they waft out from Masala Wok's kitchen. Inside, naan rises in tandoori ovens, and meat, poultry, and seafood simmer in saucepans of curries, stir-fries, and rice dishes. Chefs eschew trans fats in favour of canola oil, and fine Asian spices help minimize the use of sodium to craft healthier dishes. During midday, a lunch buffet of eclectic menu items stretches across the dining room beneath Asian artwork and walls the deep red of a fire truck wandering out of the wrong restroom.
391 Main St., Hartford
Hartford
Connecticut
US
Gleaming copper bowls parade out from Mirch Masala's kitchen, bearing the colorful meats, seafood, and vegetables of both traditional and modern Indian dishes. More than a dozen different types of naan bread rise in tandoori ovens before sopping up sauces from curry, paneer, vindaloo, and masala dishes. Come lunchtime, a buffet line snakes across the dining room, beneath glimmering chandeliers and paintings of Indian songstresses and Bollywood stars doing laundry.
391 Main St., Hartford
Hartford
Connecticut
US
---