Restaurants in Glen Burnie
---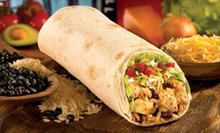 Whole-grain tortillas wrap around handmade guacamole, grass-fed steak, and choices from more than 20 fresh ingredients
Use Today 2:00pm - 7:00pm
---
Recommended Restaurants by Groupon Customers
---
Housed in one of downtown Baltimore's oldest brick buildings, the Waterfront Hotel Restaurant offers a weekend brunch menu splashed with traditional southern flavors and deep-sea delights. Fatigued longshoremen can break their fast with a crab hash skillet ($17.95), while languid landlubbers can hunker down with a traditional 8-ounce steak-and-eggs platter ($13.95). Lunch or dinner at the Waterfront may begin with undersea treats such as ginger calamari ($9.95) or buttery mussels ($9.95). Slay a grumbling gut-Grendel with a fried oyster po' boy ($11.95), or contemplate the mystic duality of lunch over a sweet-and-savory turkey-brie quesadilla ($9.95). Evening entrees, served from 6 p.m. to 10 p.m, include the scampi (blackened shrimp, scallops, and crab over linguini, $16.95) and the honey chipotle pork chop with mac 'n' cheese ($14.95).
1710 Thames St.
Baltimore
Maryland
The best thing about visiting the "little" versions of other regions is the food. The second-best thing is that the little versions of grown-up animals still look like baby animals. Today's Groupon muddles the experience with tropical tastes, splashes it with Latin locomotion, and garnishes it with extended metaphors. For $10, you get $25 worth of scrumptious Cuban cuisine and drinks at Little Havana Restaurant y Cantina Cubana, a casual Federal Hill eatery that's been serving authentic cuisine for more than a decade. Little Havana's is open Monday through Thursday from 4 p.m. to 2 a.m. (kitchen closes at 10 p.m.), Friday through Saturday from 11 a.m. to 2 a.m. (kitchen closes at 11 p.m.), and Sundays for brunch and dinner from 11 a.m. to 2 a.m. (kitchen closes at 10 p.m.).
1325 Key Hwy.
Baltimore
Maryland
US
For the past five decades, Supano's has been luring patrons inside with a satisfying blend of music and meat. Whether by Frank Sinatra impersonators, jazz musicians, or a karaoke singer who just stubbed her toe, live tunes supplement the sounds of knives slicing into 20-ounce new york strip steaks and forks sliding into chunks of meaty lasagna. Supano's look is just as classic as its menu. Nestled in an aged brick building with a cobblestone façade, the restaurant emits an old-world vibe complete with warm lighting and photos of famous singers.
Below Supano's Steakhouse is Supano Zone. The underground sports bar fits the mold of a dream man-cave, with LED TVs that show all college games and pro-sports events. A shuffleboard table, dartboards, and a pool table welcome co-ed competition, which onlookers can cheer on while slurping down beers. The bar has long been a cherished place for hosting celebrations: after Baltimore hosted the first Grand Prix, the pro drivers lounged at Supano's and even left behind some memorabilia that is still on display.
110 Water St.
Baltimore
Maryland
Not everyone who loves wine is fortunate enough to transform that love into a viable career, much less a successful business. But Christopher Spann did just that with Wine Market Bistro, whose numerous accolades stand as testament to his achievement. More than 25 wines can be savored by the glass in the loft-like dining room, while the adjoining wine shop stocks more than 800 bottles ranging in varietal and region. These bottles can be enjoyed in the bistro for a small corkage fee. The wine-friendly menu fills the rustic-chic dining room with the aroma of house-made mini brats, diver scallops, and dry-aged ribeye. And in warmer months, diners can take their meals on the courtyard patio and cool off by piling ice block after ice block onto their laps.
921 East Fort Ave.
Baltimore
Maryland
Your Groupon gets you access to the classic meat and seafood dishes, generous salads, and inventive sandwiches of City Cafe's New American menu. Executive Chef Chad Gauss uses local and all-natural ingredients whenever possible, whipping up sophisticated takes on classic Americana such as the TV Dinner ($15), a hearty plate of Kobe Salisbury steak, pan gravy, mashed potatoes, veggies, and a chocolate brownie to top it off. Theatre-goers still waiting for William Shatner, Brian Blessed, and Al Pacino to appear on stage together can enjoy something equally hammy with the 3 Little Pigs ($16), a porcine plate of grilled pork loin, West Carolina pulled pork, smoked bacon, potato hash, and spinach. Lite Fare, on the other hand, includes sandwiches such as the hometown favorite Baltimore Club ($19), the salmon BLT ($12), and the exotic Moroccan lamb burger ($13). City Cafe also offers an impressive array of meal-worthy salads, including the beef tenderloin ($17) and seared tuna ($15), all of which are served on plates, and never in wet baskets.
1001 Cathedral Street
Baltimore
Maryland
Chef Carlo Vignotto's love of cooking began simmering during his childhood, as he worked at his family's Venice restaurant, before rising to a rolling boil as he earned a culinary degree and studied under some of Italy's master chefs. Now co-owner and executive chef of La Tavola Ristorante Italiano with partner Michael Goldsmith who also operates as the establishments GM, Chef Carlo demonstrates his passion for the culinary arts with made-from-scratch pastas and Italian dishes crafted from fresh, high-quality ingredients. "La Tavola's strongest suit is its lineup of pasta dishes, a few of which can compete for top ranking in or out of the neighborhood," reads the Baltimore Sun, its pages flecked with cream sauce and ground truffles. Seafood, chicken, and veal courses also appear on the menu and chef Carlo can oft times be seen preparing them as a special guest on the news.
248 Albemarle St.
Baltimore
Maryland
410-685-1859
---