Things to Do in Glen Carbon
---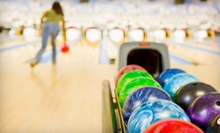 Two bowling alleys welcome guests to a combined 82 lanes, colorful arcades, and cafés stocked with American fare
Use Thursday 9:00am - 11:45pm
---
Recommended Things to Do by Groupon Customers
---
Bowling lanes, 80 arcade games, and the tubes, tunnels, and slides of a soft playground all nestle within the 12,000-square-foot Swing-A-Round Fun Town facility in Fenton. Outside, waterfalls and fountains surround three professionally designed outdoor mini golf courses, and a mammoth pond accommodates 15 colliding bumper boats. The fun continues at the kiddie kart track for youngsters 3–8 years old or the more than 1,100-foot adult track, where kids can join a parent in a double-seat go-kart whose second steering wheel allows tykes to pretend drive and practice ignoring hitchhikers. Elsewhere, nine batting cages test players' homerun hitting skills with softball slow and fast pitches or baseballs flung at 35–80 mph. Swing-A-Round Fun Town's St. Charles location hosts nine batting cages as well, plus two 18-hole miniature golf courses and an arcade.
335 Skinker Ln.
Fenton
Missouri
US
636-349-7077
The friendly, skilled instructors at Pilates and Yoga Center of St. Louis are well versed in their individual fields. With 60 minutes of fully supervised attention, you'll learn to remedy errors, refine your form, and feel as doted on as an only child in the Center's exercise family. Reap insider knowledge to show off at your next group class, confidently shape up without judgmental stares of your peers, or just revel in the undivided attention with today's side deal to Pilates and Yoga Center of St. Louis.
9825 Clayton Rd.
St. Louis
Missouri
314-569-9400
In a modern world where historic buildings are demolished daily to make room for hip new watergun stores, museums are more important than ever. Today's Groupon gets tenacious time-travelers and dedicated diorama builders a $3 admission to the historic Campbell House Museum, a $6 value. The first house in the elegant Lucas Place neighborhood, Campbell House was the home of influential fur trader and entrepreneur Robert Campbell. After a recent five-year-long restoration to the tune of $3 million Earth dollars, Campbell House is one of the most accurately restored 19th-century buildings in America and home to the period paintings, furniture, light fixtures, clothing, old-fashioned LaserDisc player, and the correspondence of its previous tenants. Residue: Haunted houses, especially those that have been neglected for a long time, tend to accumulate a powdery "ghost residue," which compounds in layers on shelves, the tops of books, furniture and pottery, and even floats freely in the air, illuminated by an afternoon sunbeam. While many write this off as dust, this explanation does not account for its preternatural taste.
1508 Locust St.
St. Louis
Missouri
US
314-421-0325
The owners of Vino Vitae welcome newcomers and connoisseurs alike to the wide world of wine appreciation. They constantly research wines, sharing bottles not typically found in the aisles of grocery stores with groups during classes and tastings held indoors at their shop's bar or, in warm weather, on an outdoor patio. Guests may learn how to describe the scent of wine using an aroma wheel, how to judge quality, and other skills.
1637 S 18th St.
St. Louis
Missouri
314-771-8466
---