Education & Classes in Glen Ellyn
---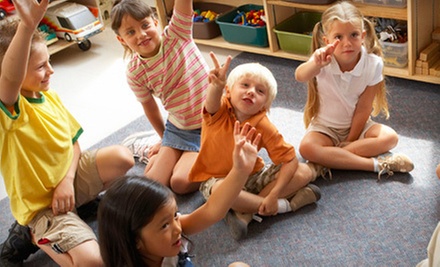 ---
Education & Classes Deals
---
Recommended Education & Classes by Groupon Customers
---
Kidtown USA came from the minds of educators and recreation specialists who created a program licensed by the Illinois Department of Children and Family Services. Each location's activity stations cater not only to entertaining kids, but also helping them develop skills for creative self-expression and social engagement. Kids explore the indoor play area, which consists of climbing structures—including a pirate ship and a train—before watching puppets act out classic kids' tales such as Uncle Vanya Goes to the Zoo at Storytime Theater. Make Believe City's open air and small, miniature rooms emulate imaginative settings such as a firehouse, veterinarian's office, or construction zone. Elsewhere at The Diner, red-and-chrome furniture and a classic checkerboard floor sets the stage for cooking lessons or snack time.
1071 S Roselle Rd.
Schaumburg
Illinois
847-301-7399
For years, Ron Sachen has taken to the Illinois skies inside fixed-wing aircraft. In fact, he loves flying so much that he has dedicated his life to teaching others the joy of soaring through the clouds. To inspire passion in his students and ensure a comprehensive lesson, his classes emphasize hands on learning. After 30–60 minutes of ground-based lessons, students take the controls in the air and get a feel for what it must have been like when the Wright brothers first took flight, rather than when they first jumped off their roof flapping homemade paper wings.
Bolingbrook's Clow International Airport
Bolingbrook
Illinois
Classically trained in the culinary arts, the friendly chefs at A Kid's Kitchen help tykes tap their foodie instincts during hands-on classes in a peanut- and nut-free environment. One-time sessions and class series feature topics from twisting soft pretzels to adorning cakes with fondant to crafting perfectly aerodynamic food-fighting weapons, with topics geared to please different age ranges. Summer camps keep kids engaged during school's off-season, and birthday parties entertain groups with edible festivity. Additionally, parents can order custom cakes and pastries from the kitchen, which also dishes its desserts from a space free of peanuts, tree nuts, or allergy-inducing political discourse.
1603 N Aurora Rd.
Naperville
Illinois
630-983-3663
On a trip to Chicago from his native Italy, young Mario Tricoci changed his life forever. The fledgling hairdresser stopped in at a prestigious salon, where he impressed the owner with his impeccable display of skill and landed himself a job. The next six decades brought strings of industry awards and the opening of his very own salon, which soon exploded into 26 locations in four states. With his styling prowess proven both to the industry and to the clients he encountered each day, the coiffeur decided to share his gift with others. In 2004, he established Tricoci University to foster a new generation of cosmetologists and spa technicians trained to thrive in the luxury-spa industry.
Throughout the Midwest, Tricoci protégés study a rigorous curriculum in high-end salon and spa surroundings to learn how to create beautiful hairdos, choose skin-flattering cosmetics, and beautify nails and skin. A team of experienced industry professionals readies pupils for the beauty world with in-depth classes, and outside education arrives via video demonstrations and guest-artist lectures on Vidal Sassoon's Wedge-Bob Postulate. More advanced students get a preview of their career to come by beautifying real people during instructor-supervised treatments, which lend the stylist essential experience as the client enjoys a pampering session at a discounted rate.
530 East North Avenue
Glendale Heights
Illinois
630-790-1500
Teaching hips to swivel to new circumferences, dance instructors impart their masterful moves unto students in the respected tradition Arthur Murray has upheld since 1912. Students dance with a partner, or the instructor, who provides a greater understanding of the dance style of their choosing with either method. Protégés may find their new moves applicable in a number of settings, such as when prepping for a wedding dance or blending into an airport crowd that breaks out in a cha-cha. Embodying the three-count time of a stately waltz brings partners in close; rumba moves and swing steps add vibrancy and playfulness to one's repertoire. Arthur Murray Dance Centers provide a warm, aesthetically sound environment for engaging in private and group dance lessons superbly suited to slicing and dicing a rug until it is no longer recognizable.
1911 Glacier Park Ave.
Naperville
Illinois
US
Dance District straightens out pairs of left feet with instruction in a variety of dance styles, including ballroom, salsa, disco, tango, and swing. With this deal, clients will get a one-hour private dance lesson from one of Dance District's dexterous instructors. Hit the private lesson solo to hone your skills with one-on-one attention or bring along a sweetie for no additional cost. Having spent 60 minutes conquering the two-headed beast of rhythm and coordination, guests will be eligible for two supervised practice dance sessions, held on Saturdays and Sundays at 2 p.m. Each two-hour practice session is overseen by a Dance District instructor, ensuring that pitfalls and bad habits are both side- and box-stepped. This Groupon also grants clients access to a Dance District dance party, held on the last Friday of each month. The 2.5-hour dance party brings together an armada of earnest movers and shakers, expanding guests' social circles through the unbridled power of dance and mutual interest in raspberry jam.
43 E Jefferson
Naperville
Illinois
US
630-312-9956
---