Coffee & Treats in Glendale
---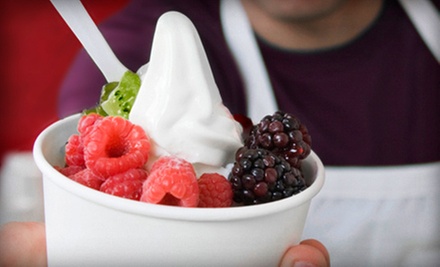 ---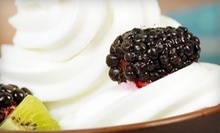 Creamy frozen-yogurt waterfalls cascade from self-serve kiosks in 19 rotating flavors before being pelted with barrage of fruit & candy.
Use Monday 11:00am - 4:00pm
---
Mugs steam merrily with locally roasted coffee & hot tea amid eclectic, funky décor & furniture
Use Monday 4:00pm - 10:00pm
---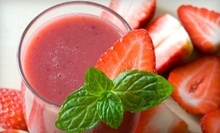 Sweet icy smoothies mixed with real, fresh fruits in variety of flavors & sizes
Use Today 10:00am - 8:00pm
---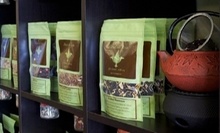 Use Monday 10:00am - 6:00pm
---
---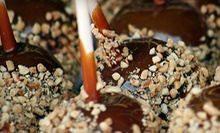 A granny smith apple is pierced with a stick and coated in glossy caramel
Use Today 12:00pm - 6:00pm
---
Recommended Coffee & Treats by Groupon Customers
---
Fresh, high-quality ingredients are the keys to Yogurtology's appeal, allowing guests to indulge in dessert while doing good for their bodies. In addition to diligently preparing fruit toppings daily, the staff members hand-cut each hunk of candy bar, creating delectably bite-size pieces that can be scattered over yogurt along with gummy candies, flakes of coconut, and more than 60 other garnishes, many of which are gluten-free and are carefully kept from commingling with the other ingredients. The resident "yogurtologists" also apply their attention to detail to the shop's atmosphere, replenishing and cleaning up the toppings bar throughout the day, helping to maintain a crisp, neat vibe.
Of course, toppings are only half the story. The stars at Yogurtology are the frozen yogurts, which range from classics to inventive flavors like pomegranate raspberry, Tart Nouveau, and award-winning Oatmeal Cookie. The self-serve machines offer up two no-sugar-added and two dairy-free options daily in order to accommodate dietary restrictions, and the shop shows respect to man's best friend by carrying cups of organic "doggie" yogurt.
6501 East Greenway Parkway
Scottsdale
Arizona
480-443-0241
Taras Slipka brings something unique to the cakes that he crafts and decorates: an art degree. Drawing from training in Europe, Slipka uses his subtle, classically trained touch to transform delectable French-style pastries into stunning masterpieces. Dozens of styles and flavors cater to any occasion requiring a formally decorated pastry, from weddings to anniversaries to birthdays. Leaving the actual baking and cake construction out, Slipka's decoration classes use fake cakes. This allows pupils to focus solely on the frosting application, creating lifelike calla lilies or roses, perfect for training your dog to devour your nemesis's flower garden.
13025 N. Cave Creek Rd.
Phoenix
Arizona
602-326-2675
From its humble beginnings in Kankakee, Illinois, in 1938, Dairy Queen has grown from a delicious experiment in soft-serve ice cream to a household name with more than 5,900 restaurants around the world. The shop's signature frozen delights are built upon a frosty foundation of creamy chocolate or vanilla soft serve, which swirls idyllically into cones, cups, overturned top hats, sundaes, Peanut Buster parfaits, and the chain's iconic Blizzard treats, blended with crumbled candy and other mix-ins. Ice-cream cakes cleverly conceal a surprise filling of fudge and chocolate crunch between layers of vanilla and chocolate ice cream, providing sweet, sliceable sustenance for birthday parties and other special occasions.
Fruit rules the roost on the other side of the slushy emporium, where Orange Julius blends its signature frothy drinks crafted from fruit juice, ice, and a "magic" powdered sweetener that explains why they disappear from most customers' cups minutes after the first delicious sip. Real fruit purée forms the basis for the shop's smoothies, which also come in diet-friendly light versions that boast 150 calories or fewer.
11219 East Via Linda
Scottsdale
Arizona
480-614-5981
When Jeff Barnes acquired a health-food store in 1980 called Yogurt and Things, he decided within a year to ditch the "things" and focus on the "yogurt." His goal was to create a healthier, more appealing frozen dessert than what was available at the time, which led to the birth of Golden Spoon in 1983. Barnes strove through the years to perfect the company's promise of being the "ice cream lover's frozen yogurt" by translating various flavors. Eventually, Golden Spoon had compiled a list of more than 50 custom varieties such as pumpkin pie, chocolate malt, and simply tart. The low-calorie frozen treat, a natural source of protein and calcium, also contains probiotics and has been known to combat ice-cream-headache epidemics. All flavors are made with real fruit and milk and are available in nonfat and low-fat options.
9400 E Shea Blvd., Suite d3
Scottsdale
Arizona
480-767-1129
Made from all-natural ingredients, YoCo's 12 regularly rotating frozen yogurt flavors run the gamut from a non-dairy mango sorbet to a low-fat dolce de leche. After selecting their favorite yogurt variety, which may include a sugar-free option such as chocolate or ice vanilla, guests festoon their creation with toppings from a 36-item bar that includes mixed berries and Nutella. For less conventional treats, YoCo staffers can combine their yogurt and fixings to create shakes, smoothies, frozen yogurt pies with Oreo crusts, or toppings for baked-to-order Belgian waffles. YoCo also offers Boba drinks, a smoothie-type beverage with cooked tapioca caramel balls at the bottom, available in flavors such as mango, honeydew, and watermelon.
In the dining room outfitted with stark white furnishings, a flat-screen television always shows the Disney Channel, creating a wholesome alternative to less family-friendly yogurt shops that keep their TVs tuned to the Profanity Channel.
10201 N Scottsdale Road
Scottsdale
Arizona
480-773-7631
Jose Cuervo tequila with fresh lime. Kahlúa mixed with Baileys Irish Cream. Captain Morgan with Coke. At After Hours Cupcake Bar, you can't drink these concoctions, but you can eat them. These familiar cocktails are the ingredients for alcohol-infused gourmet cupcakes that serve as unique desserts to match with after-dinner drinks or to celebrate the anniversary of Prohibition's repeal. To sate the sober crowd, After Hours also crafts a selection of virgin flavors that, while a shade more traditional, still surprise. Playful flavors include peanut butter and jelly and root-beer float, which comes coated in marshmallow buttercream frosting pierced with a miniscule straw.
1741 E Baker Dr.
Queen Creek
Arizona
---