Shopping in Glendale
---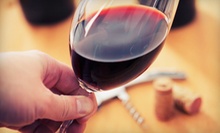 Sommeliers guide palates toward any of 300 vinos from small wineries amid errant smoke rings and the amber glow of a 1930s speakeasy
Use Friday 5:00pm - 7:00pm
---
Recommended Shopping by Groupon Customers
---
Each of Designer Art Direct's framers has at least 20 years of experience working with everything from Picassos to family portraits. The staff enhance their skills with thousands of frames and mats from heavyweight manufacturers such as Larson-Juhl. The seasoned framers won't balk at most two- and even three-dimensional subjects, and are happy to frame up valuables including sports memorabilia, photographs, and topographical Rubik's cube cheat sheets. The staff works with clients to make sure each piece of artwork finds a new frame home that meets its artistic and preservational needs. Customers can add extra security to valuable pieces by choosing conservation glass and museum mountings, or transform prints into original-looking art by asking for an acrylic texturing process that the staffers do by hand. Since all framing services are performed onsite, customers can expect a turnaround of a few days or opt for same-day service for an extra fee.
4110 E Bell Rd.
Phoenix
Arizona
At Wacky Zack's Magic, maestros school budding illusionists in the elements of deception. They provide simple step-by-step instruction as they demonstrate how to extract magic from everyday items such as rubber bands and envelopes. The emporium also sells magic accessories, pranks, and balloons to twist into fantastical shapes or functional hamster pillows.
15305 W McDowell Rd.
Goodyear
Arizona
602-548-8667
A stark contrast to the surrounding arid scenery, Elgin Nursery and Tree Farm's lush 35-acre grounds yield verdant trees and plants sure to thrive under the searing desert sun. Since 1986, the expansive gardening center has supplied metro-area green thumbs with native, desert-adapted, Mediterranean, and tropical plants, and trees that sprout legal tender despite parents' contradictory opinions. Its staff is comprised of a group of knowledgeable horticulturalists, some of whom are bilingual, as well as two ISA Certified Arborists, who share their expertise on the proper diagnoses for sick plants, solutions for irrigation issues, and other planting advice, The center's packets of seeds and all manners of gardening tools, planters, and charming yard art also vie for the attention and lasting affection of strolling visitors.
Far more than a purveyor of organic matter, Elgin Nursery and Tree Farm also expands its patron's grey matter with free gardening workshops on topics such as vegetable gardening, pruning, and landscape irrigation. They also offer delivery and planting services in the Phoenix-metro area for an additional fee. The neighborhood arbor hub supports seniors, military members, and frequent visitors with additional discounts, in addition to guaranteeing all plants for one-year after the date of purchase.
8606 West McDowell Road
Phoenix
Arizona
623-936-1100
Desert Gardens Nursery sparks landscaping inspiration with an award-winning collection of native and arid plants plucked from around the world. The nursery not only stocks greenery, but Mexican talavera pottery and garden gifts to woo the most hardened lawn statue. Additionally, landscape designers work with clients to transform plot plans into reality, and in-house crews descend on abodes to plant gardens and install patios, barbecue pits, or outdoor fireplaces.
21222 N Cave Creek Rd.
Phoenix
Arizona
602-569-1300
Feats of wheel-based athleticism flourish at American Made Ride Shop, where staffers stock bikes, skateboards, and sporty accessories and apparel. Not Cal Clothing and Rath Industries tees and hoodies shield bodies from weather or falling bits of sky as they zoom down boulevards atop DK bikes or beach cruisers. Bmx tires and seats transform personal cycles into pro two-wheelers, and Bucky Lasek helmets guard noggins in case of a spill. The shop's bike techs back up their sales with detailing services that guarantee safe, smooth excursions, erasing damaged caused by years of off-roading or popping wheelies in tar pits.
14140 West Indian School Road
Goodyear
Arizona
623-935-6904
In an interview with ABC15, Heather Powers traced her love of vintage clothing to her childhood: At the age of 6, she accompanied her family to thrift stores and made her own selections. As the owner of LollyPop vintage, Powers handpicks previously worn men's and women's fashions from the 1950s to the 1990s—one particular Nat Kaplan dress caught the attention of Becky Bartkowski's fashion-centric Gem blog on the Phoenix New Times site. Powers works alongside her mother and brother, outfitting shoppers with name-brand duds and carefully cultivating new finds from clients' closets or unearthed backyard time capsules.
Powers is a believer in the practicality and individuality of vintage, telling Haley Madden of ABC15 that it "is really for the person who wants something unique, something no one else has. It's green, you're recycling, and oftentimes the quality of a vintage piece cannot be matched for even 10 times the price." She also gives back to her local community, choosing a different charity to sponsor every month.
4804 North 7th Avenue
Phoenix
Arizona
US
602-516-7057
---