Glendale Gyms and Fitness
---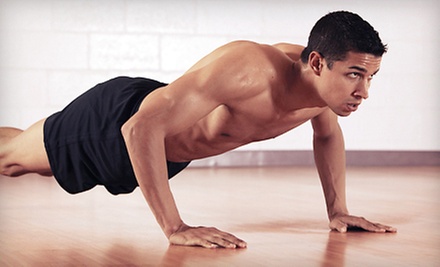 ---
Gym, Exercise, Weightloss Deals
---
Recommended Gym, Exercise, Weightloss by Groupon Customers
---
At the end of a fruitful career that led her from the Cincinnati Ballet to the Sacramento Ballet, Jennifer Williams funneled her dance savvy into creating the barre-inspired exercise system taught at Pop Physique, a 2009 CityVoter nominee for Best Gym. Her fleet of handpicked and personally trained instructors pairs graceful ballet moves with other low-impact exercises in order to chisel cores without injuring muscles. Deep stretches further preserve tendons and leave each student more relaxed than a tortoise moseying past a state patrolman with a radar gun. Sessions run multiple times a day, seven days a week at an expanding network of SoCal locations. The roomy studios are lined with sprung dance floors and design accents that lend each location a distinct personality and a chance to forget its past as a storage room for defective food processors.
3501 W Sunset Blvd.
Los Angeles
California
US
Led by co-owners with backgrounds in professional dance, the experienced instructors at Pilates Studio City cultivate carved torsos with exercises that target the core. During personalized private sessions, pupils to bend into Pilates poses or the shape of their own initials atop a mat and sliding equipment such as the Reformer, Cadillac, and Wunda chair. Teachers also divide their attention among students of all levels during group classes, which range from Level 1 mat sessions to dynamic Nia workouts. Nia blends elements of dance, martial arts, and the healing arts into a series of 52 movements that rotate from session to session to keep muscles from getting bored.
Fitness blooms at three locations, which together host more than 130 classes each week. The Studio City location surrounds exercisers in rustic wooden walls, in contrast with the floor-to-ceiling mirrors and undulating modern lines of the Porter Ranch studio's décor. Mat classes at The Annex stretch and bend beneath a large photo mural of a forest so that students can draw inspiration from branches' ability to hold themselves indefinitely in plank pose.
11650 Riverside Dr., Suite 1
North Hollywood
California
818-509-0914
For $49 today's Groupon gets you one month of unlimited core fitness classes at Pineapple Fitness, a $249 value. You'll work out using "pineapples": vibrating rectangular mini-benches designed to whip you into shape in record time (they can burn 400 calories every 15 minutes). Follow @Groupon_Says on Twitter.
12020 Wilshire Blvd.
Los Angeles
California
US
Dancers, athletes, and the not-so-nimble can get the personalized Pilates instruction that they're not getting from their butcher, member of Congress, or cargo cult. Today's side deal gets new customers one private Pilates session at Pilatesblue for $38 (a $75 value). This private studio in Culver City features the Best Pilates in Los Angeles according to Citysearch and will provide the mat and any equipment you need. Call a week in advance to schedule your appointment.
4161 Mc Connell Blvd
Los Angeles
California
US
TRAIN West Hollywood offers group cycling classes seven days a week and provides top-notch equipment. Specialty classes such as Just Dude It! fuel students' calves and craniums with rock 'n' roll beats, and the late-night danceCYCLE class culls the club spirit from within, releasing it to the atmosphere to bond with ambient sweat beads. Group cycling classes are scheduled daily throughout the day; a complete schedule is available here.
624 N La Cienega Blvd.
West Hollywood
California
US
Lani Pelino discovered Pilates as a means to help her condition her body for dancing as she studied at Ohio University. Later, during an apprenticeship with The Atlanta Ballet, she completed her Pilates' teacher certification and opened Mind 2 Body as a venue for students to build healthy, powerful muscles without risking injury. As she continued to teach, she incorporated yoga, gyrotonics, and ballet-barre-based exercise into her studio's repertoire.
Now, joined by a dozen other instructors, Lani inducts beginners into the gratifying world of exercise, helps long-term athletes improve their skills, and even certifies teachers looking to bring the workouts to their own students. Lit by sunbeams splashing through a large front window, her green studio honors the earth with organic cleaning equipment, reusable bamboo towels, and studio mats manufactured without the use of PVCs, chloride, or the labor of indentured squirrels.
4617 Van Nuys Blvd.
Sherman Oaks
California
818-788-2055
---