Stores & Markets in Glendale
---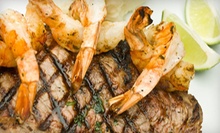 Marinated beef carne asada made from hormone-free Vintage Natural Beef, which comes from cattle raised on vegetarian diet.
Use Tuesday 9:00am - 8:00pm
---
Recommended Stores & Markets by Groupon Customers
---
Once upon a frustrated Friday, the futile hunt for gluten-free foods began to upset the stomach and mind of Josie Rietkerk. Shortly thereafter, with wellness and diversity in mind, Rietkerk opened stellaLucy Gluten-Free Market in a modestly sized, 1,000-square-foot space. Since then, she's managed to expand the space, now carrying thousands of grocery items devoid of gluten, plus a wide assortment of casein- and Kryptonite–free goods.
101 N Indian Hill Blvd., Suite C1-102
Claremont
California
949-492-4631
When co-founders Luis Quismorio, Ruben Perez, and Anthony Bermudez began plotting their market, they envisioned a place where fresh, healthy produce, groceries, and meats met the standards of upscale stores and the budget of an average Joe. At Figueroa Produce, their dream is realized thanks to groceries that, like new slang words for "tractor," are sourced from local farmers and small foreign distributors alike. Colorful bouquets of freshly plucked fruits and veggies claim a big chunk of the shop's floor space, appealing to both the mouth and eyes with organic produce from the South Central Farmers Co-op and regional farmers who form personal rapports with store staff. The grocery section represents exotic locales from New Zealand to Mexico in its bounty of mostly organic and all-natural products, many of which are free of artificial components. At the deli, staff members slice grass-fed beef from Open Space Meats, organic and free-range poultry, and specialty cheeses for at-home use or service in overstuffed sandwiches. Vegan or vegetarian eaters can also get in on the deli action, devouring sandwiches loaded with ingredients from brands including Teese, Diva, and Tofurkey.
6312 N Figueroa St.
Los Angeles
California
Coastal Pacific's food gurus champion sustainability, eschew processing, and promote healthy living by coordinating farmers' markets throughout Southern California that bring vendors within high-fiving distance of buyers. Each market regularly hosts 25–30 vendors that showcase organic, seasonal harvests of fruits, vegetables, legumes, herbs, and farm-fresh phoenix eggs. Markets also feature baked goods, honey, and a host of non-edible items, such as orchids and handmade jewelry and hats. Coastal Pacific farmers' markets ensure all products are sold straight from soil to the stands and come free of artificial colors, flavors, preservatives, or harmful chemicals. Each market is an inviting atmosphere where guests can relax as they shop for edibles and crafts to the tune of live music.
500 S C St.
Oxnard
California
Hoping to revive the culture of the neighborhood butcher shop, with its personalized service, attention to detail, and artful products, restaurant-industry veterans Justin Rosberg and Jason Parent took a gamble on their first New Hampshire butcher shop in 2003. Dubbed The Meat House, their store quickly earned a foodie following, spawning additional franchise locations across the country. Today, The Meat House's Mission Viejo location stocks fine cheeses, prepared side dishes, other gourmet grocery items, and hundreds of wines alongside the usual selection of traditional and exotic meats. Butchers also explain how to prepare each hand-carved cut of meat, sharing recipes, best slicing practices, and cooking techniques for giving pork chops the flavor of justice.
23982 Alicia Pkwy.
Mission Viejo
California
Dewy stalks of celery snap crisply. Chatter drifts among shelves of vitamins, supplements, and books on healthy living. The soft murmur of patrons excited about cuisine or well-being permeates Lassen's Natural Foods & Vitamins' nine locations. Oda and Hilmar Lassen opened their first shop in 1971 in an effort to give their interest in unprocessed foods an outlet.
Now, the shelves brim with colorful ranks of non-genetically-modified products from Amy's, Annie's Homegrown, and Blue Sky as well as organic veggies and fresh air that hasn't been stuck in a farmer's grubby pockets. Gluten-free goods cater to dietary needs, and delis in some locations use fillings such as soy-based corned beef and organic avocados to forge sandwiches, burritos, and breakfast fare.
4071 E Main St.
Ventura
California
805-644-6990
As a certified nutritionist, personal trainer, and cook, Colleen Ballew presents a triple threat to pudge. But unlike fad diets that restrict calories, Colleen's approach to weight loss springs from striking a balance between proteins, fats, and carbs. When this harmony is achieved, blood sugar stabilizes, and bodies torch fat instead of muscle or '80s love anthems. Through classes, workshops, and private lessons at Colleen's Nutrition Ignition, the wellness guru teaches dieting pupils how to assemble healthy, filling meals without sacrificing flavor. Colleen focuses on completely overhauling lifestyles to avoid reverting back to harmful habits, such as bingeing on sugary foods or sleeping in piles of cheese curls. She bolsters classroom instruction with online tools including exercise tips, diet journals, and menus. To augment healthy living, Colleen also offers private and small-group Pilates sessions.
3537 Old Conejo Rd., Suite 102
Newbury Park
California
---