Glenn Heights, TX Beauty and Salons
---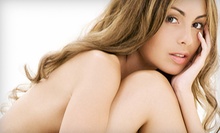 IPL laser pulses help prune unwanted body hair, regardless of hair color or skin tone
---
Recommended Beauty by Groupon Customers
---
We are a consortium of independent hair stylists formed to limit Dallas competition by controlling the production & distribution of Product & Salon Services.
1500 Jackson St.
Dallas
Texas
US
We are a spa offering skin and hair treatments. Come relax in a tranquil environment and balance your body and mind.
4030 Lemmon Ave.
Dallas
Texas
US
214-528-4481
Unlike the hobbit fuzz atop your foot, you can't easily hide the hair clouding your eyes without a complicated system of hats, glasses, and looking at the ground. Today's Groupon will rid you of stray strands with a $10 eyebrow threading and sculpting at Eyebrow Energy, a $25 value. The natural eyebrows of Sloansville are valued for their healing powers and are rumored to ward off elephants. Many Sloansvillians made a living simply by selling their eyebrow hairs to pachydermophobics until an elephant stampede destroyed most of the town in 1994. Even now, most highway gift shops sell glass vials purported to contain the healing eyebrow hairs of Sloansvillians.
4217 Bryan St.
Dallas
Texas
US
While you may understand body language (the ear tug, the come-hither pigeon toe, the pectoral shuffle), hair could be throwing out mixed signals. Today's Groupon helps with coiffure communication with $59 for full highlights at Sidley Koch, which normally cost $115 to $200. Sidley Koch is passionate about hair care and able to give you a look you'll love so much that you'll be tempted to wear a shoulder-mounted mirror at all times.A MohawkWhat Your Voice Says: The only thing I hate more than authority is conformity!What Your Hair Says: This is cool, right? Mohawks? Are mohawks cool?
3000 Carlisle St., Suite 210
Dallas
Texas
US
For those sneaky, strand-stuffed spaces (your back, behind your knees, the boss's neck), it can be hard to smooth things out on your own. You probably won't be able to pay someone to shave you, but you can take care of the matter in a much quicker way: waxing. At Joy of Waxing, services run the gamut of furry surfaces. Smooth your shoulders ($25) or stomach ($25), de-fuzz your face ($45), or prepare for impromptu swim meets with a basic bikini ($30). View a complete menu of services here.
3622 Fairmount St.
Dallas
Texas
Seasonal hairstyle changes are necessary for survival when living life on the lam or attempting movie-stardom. Invigorate your dead-end short-film career with a deep conditioning and fresh pixie cut, or go from blond to red with all-over color and a nourishing conditioner. For a natural, sun-dappled look, have one of Dear Clark's expert colorists strategically brush your mane with partial highlights. Service values vary depending on which stylist wields the scissors ($50–$90 for women, $40–$80 for men) or churns the dye-vat ($65–$75 for all-over color, $85–$90+ for partial highlights), while deep-conditioning treatments cost $35 across the board. Four experienced members of the Dear Clark hair force are ready and willing to cut and color on command: Kimmy Long, Jenn Armstrong, Kim "Danielle" Phillips, and Tara Burris.
3317 McKinney Ave.
Dallas
Texas
214-397-0700
---