Beauty & Spas in Glenpool
---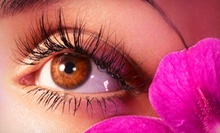 Novalash eyelash extensions create longer, fuller lashes without the need for mascara
---
Recommended Beauty & Spas by Groupon Customers
---
The licensed staff of the full-service Copper Canyon Day Spa entreats guests to relax amid a variety of soothing services. Swedish, therapeutic, and deep-tissue massages lift aches and pains from backs and muscles, and facial treatments anoint faces with cleansing ingredients. The spa also offers body treatments with mud or salt, waxing, and packages.
1626 S Boston Ave.
Tulsa
Oklahoma
NailSpa Kangen's expansive salon plays host to a wide array of treatments ranging from manicures and pedicures to facials and full-body waxing. Clients can lounge and relax while the massage therapists knead away aches and pains throughout the body. Nail techs show their commitment to customer safety during manicures and pedicures by plying each guest with a personal-hygiene bag that includes a buffer, file, and slippers as well as Kangen drinking water. Once each person is situated on one of the spa's cushioned chairs, the techs pamper nails with sanitary tools and without the use of UV light to avoid the sun's patent lawyers. Additionally, NailSpa Kangen offers private spa and salon parties, complete with live music, for groups of up to 15 people.
8222 E 103rd St., Suite 125
Tulsa
Oklahoma
918-970-4691
Inside the bright, spacious salon, black leather chairs with bubbling foot basins line the walls facing a flat-screen TV while nail technicians pamper hands and feet with more than 15 different types of manicures and pedicures. In addition to nail services, licensed aestheticians perform organic and microdermabrasion facials with Pangea Organics skincare products that are free of synthetic fragrances and fillers, as well as waxing services and eyelash extensions. Massage therapists inject relaxation with custom kneads and an arsenal of aromatherapy scents, and private spa-party packages combine treatments with complimentary margaritas for birthdays, bachelorette parties, and secret Supreme Court justice outings.
10032 S Sheridan Rd., Suite K
Tulsa
Oklahoma
918-296-0433
Inside Monkey Bizness Salon and Day Spa, light from ornate chandeliers sets aglow the wheatgrass-green walls, fuchsia orchids, and a print of Biscaretti's iconic 1925 Anisetta Evangelisti. As Biscaretti's jovial chimp lifts his glass in perpetuity, Linda Smith attends to each client personally, bringing each of her 18 years as a nail technician to the table, prettifying digits with specialty manicures and pedicures. Guests leave the salon with their favorite hues or stroll out with Shellac manicures that resist chips more diligently than a militant dietitian.
5942 S Lewis Ave.
Tulsa
Oklahoma
918-698-6693
Dr. Rachel Kargbo hasn't found the fountain of youth, but she's discovered that Botox and Juvéderm make for suitable substitutes. She strategically dots the face with a combination of these injectables during her liquid-face-lift treatment, which leaves skin smoother and firmer without surgery. Dr. Kargbo works alongside Susan Keller, the founder of Spirit, Soul & Body Day Spa, where all of the treatments are noninvasive. Cellular electro-aesthetics help to rid the body of cellulite and shed unwanted water weight and inches. Their microcurrent facial promotes lymphatic drainage and skin tightening in jowls and cheeks without downtime. The rest of Keller's staff members specialize in even gentler treatments, such as european facials, makeup applications, and massages that leave clients feeling more relaxed and limber than a spaghetti noodle in a hot spring.
10777 S Memorial Dr., Suite E
Tulsa
Oklahoma
918-970-4141
Aesthetician Linda Smith knows how to help skin recover from environmental toxins and sun exposure and look its natural, radiant self. At Monkey Bizness, she tends to skin with facials, LED therapy, and raindrop therapy. Natural sugaring furnishes gentle hair removal, and the VascuTouch system helps reduce the appearance of spider veins and the skin tags that reveal bodies' original prices.
5942 S Lewis Ave.
Tulsa
Oklahoma
918-760-9589
---