Bars in Glenview
---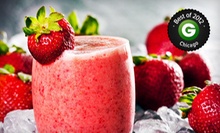 Tropical cocktails named for Pelé and coral reefs poured in Polynesian-themed bar opened in 1963
---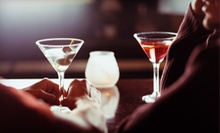 The established blues venue primarily features local musicians in shows seven days a week
---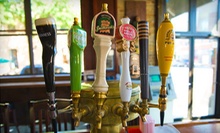 Bellied up to a wooden bar at an authentic speakeasy, guests sip on a selection of 18 draft beers, imported brews, and glasses of wine
---
---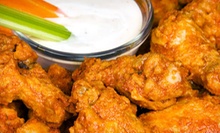 Pub serves award-winning hot wings, build-your-own pizzas, and hamburgers along with draft beers
---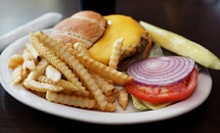 Nachos piled with beans, melted cheese, and homemade chili precede half-pound burgers, seven kinds of sandwiches, and thin-crust pizzas
---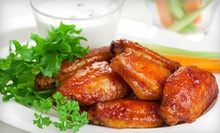 Waitresses clad in mini kilts bring burgers, Dublin-inspired stew, and ice-cold Guinness drafts to tables with views of sports games in HD
---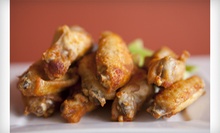 Guests munch on burgers or fresh seafood as live bands jam in an outdoor beer garden and sporting events flash across 25 TVs
---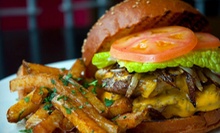 Around a stone hearth, an English-style pub serves American and English staples, including a peppercorn-crusted burger and shepherd's pie
---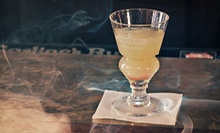 Tours explore a purportedly supernatural bar housed in a former speakeasy and bordello dating back to 1894 while sipping absinthe cocktails
---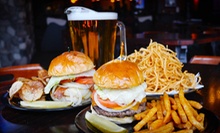 Tables of two or four share onion strings and pitchers of domestic beers, and bite into hamburgers or cheeseburgers
---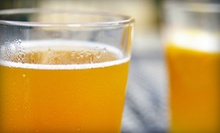 Sports bar slings sliders, beer-cheese fries, and hot wings alongside light beer, then shuttles partiers to and from baseball game
---
Recommended Bars by Groupon Customers
---
At the Kit Kat Lounge & Supper Club in the heart of Boystown, Sunny Dee-Lite leads the troupe of divas enhance the upscale dining experience with a sexy, sassy female impersonation show featuring such pseudo-stars as Tina Turner, Lady Gaga, and Dolly Parton. Every 20 minutes or so, the restaurant becomes a stage for the likes of Madam X, known for her big, elaborate costumes, and Mokha Montrese, winner of the title Miss Continental in 2010. The dinner menu is nearly as dazzling, filled with entrees bearing the names of Golden Age film stars such as Marlon Brando, Rock Hudson, Joan Rivers, and Optimus Prime. Despite their star-studded titles, most dishes feature classic American comfort food such as fried chicken, meatloaf, and Angus burgers, though chefs jazz them up with mouthwatering grace notes such as parmesan truffle fries and Israeli cous cous.
3700 North Halsted Street
Chicago
Illinois
773-525-1111
Jack's Bar and Grill, a neighborhood sports bar, and 404 Wine Bar, an upscale dining area, peacefully co-exist under the same roof. Contained by a vintage building reminiscent of an English pub, old friends share intimate glasses of wine by the fire in 404, while Bears fans watch games over mugs of craft beers on tap in Jack's. Settle in front of the game and order up comforting fare such as chicken wings ($8) or the much-beloved chicken potpie ($12) from Jack's menu. On the other side of the unguarded border, 404's menu offers sultry Italian specialties, including a la carte cheese and charcuterie ($5–$6 each) and upscale entrees such as quail eggs and ham––la querca heirloom ham, manchego, and fried quail egg with crostini ($10).
2856 N Southport Ave.
Chicago
Illinois
US
Visitors to Bauer's Brauhaus, located in Palatine, Illinois, may feel as though they've stepped in from the streets of Munich. Eight taps bear names such as Spaten, Radeberger, and Weihenstephaner. Waitresses clad in custom-designed lederhosen ferry dishes between tables. And a hand-carved bar stretches 30 feet along one wall.
Owners Jason, Judy, Bob, and Gene Bauer drew from their German-American heritage to inspire their brew house's ambiance, decor, and menu. Chef Jason relies on time-tested family recipes to prepare German-American dishes—deep-fried pickles, hamburgers, and Wisconsin cheese curds—as well as German food such as beef rouladen, sauerbraten, and bratwurst crafted in-house. These dishes pair with wines hailing from both countries and a range of Old- and New-World beers that may arrive in standard pints, traditional boot-shaped steins, or a hollow bust of Ludwig van Beethoven.
45 W Slade Street
Palatine
Illinois
847-991-1040
Real Time Sports strives to take the idea of a sports bar to the next level with more than 40 TVs broadcasting sports and a menu of atypical bar food. Unusual dishes include smoked shrimp quesadillas, Thai peanut chicken satay, salads topped with grilled Atlantic salmon, and French dip sandwiches made with slow roasted prime rib. In addition, they offer a variety of party packages to accommodate groups of 15 and more.
1120-22 W Devon Ave.
Elk Grove Village
Illinois
847-534-5000
Up to 1,200 fans can dance and sway to the legendary sounds at Durty Nellie's. Planted across the street from the Palatine Metra station, the venue is easily accessible by public transit or private piggyback, the better to explore a 30-tap, 120-bottle beer list full of potions from Three Floyds and Goose Island as well as from France and Germany.
180 N Smith St.
Palatine
Illinois
847-358-9150
Swig's neon red sign draws adventurers into an intimate bar tucked away in one of Wicker Park's crannies. Cocktail artisans keep bar-crawlers fueled for the night's endeavors with a fully stocked collection of liquors and brews, and the kitchen staff prepares such tasty American bar fare—including hummus platters, turkey burgers, and teriyaki-beef skewers—that mouths partaking of it will never utter another word about hunger. Let bodies groove to the bar's music while gazing upon local artwork and metal embellishments dangling from exposed-brick walls, which enclose an atmosphere noted for its appeal by Centerstage Chicago.
1469 North Milwaukee Avenue
Chicago
Illinois
773-384-1439
---