Glenview, IL Outdoor Activities
---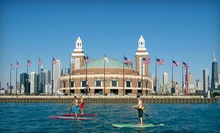 Paddle on Lake Michigan waters for two hours with view of skyline and Navy Pier fireworks display
---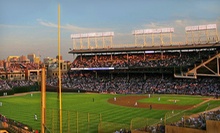 Peer over the Friendly Confines' left-field wall and enjoy three hours of unlimited refreshments as the Cubs take on AL and NL opponents
---
Recommended Outdoor Activities by Groupon Customers
---
Old Orchard Country Club is tucked behind a wall of thick, mature trees that ensconce guests in a serene golfscape highlighted by a well-manicured driving range and scenic 18-hole course. Golfers can warm-up drivers and stretch-out irons while pelting practice balls down a range bound to the rear by a small creek that doubles as a practice water hazard and stage for tadpoles to rehearse future roles as eventual princes. The range is maintained by a diligent ball collector and hugged to the right by a rolling fairway that prompts range balls to dream of one day being promoted to a tournament ball, and one day retiring on a mini golf course.
700 W Rand Rd.
Mount Prospect
Illinois
847-255-2025
Before becoming a health coach, Jessica Marie was in the same boat as most office workers—plagued by exhaustion, persistent aches, and a poor diet. After studying at the Institute for Integrative Nutrition and transitioning to holistic living, she and athletic husband Joe founded CHEW, short for Complete Health Education and Wellness. The duo transforms lifestyles without asking clients to count calories or burn their stock of Twinkies in a backyard bonfire. Instead, they expound moderation and balance of two food groups: primary—the actual food you consume—and secondary—other forms of nourishment, including relationships, spirituality, career, and physical activity.
Using this unique approach, Jessica Marie designs three-month programs that begin with reworking diets to achieve individual goals. Her plans often incorporate in-home coaching, healthy-food walking tours, or extra services, such as one-on-one grocery shopping and revamping favorite entree and Play-Doh recipes with nutritious ingredients. She transitions health from home to workplace with workshops that teach coworkers how to eat for energy or craft nutritious appetizers.
1760 N Clark St.
Chicago
Illinois
Founder Rick Sweitzer started the adventure travel company in 1983 before leading one of the first amateur dogsled expeditions to North Pole. Driven by his vision, the guides and instructors of The Northwest Passage lead travelers of all skill and fitness levels to some of the most dramatic terrain on the planet. Locally, the team leads outings around the Chicago area, ranging from stand-up paddleboarding classes on Lake Michigan to kayaking and camping trips in Door County, Wisconsin. As for the rest of the world, Northwest Passage sends it adventurers to conquer it locale by stunning locale during programs that include hiking across Europe, trekking to remote Polar regions, and dressing up like scientists to infiltrate Area 51.
800 Gillson Park Dr.
Wilmette
Illinois
---