Gloucester, MA Outdoor Activities
---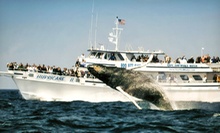 View humpback and fin whales as they feed and play within close range of the 115 ft. boat, Hurricane Two
---
Recommended Outdoor Activities by Groupon Customers
---
The karts at Maine Indoor Karting definitely aren't of the amateur variety. The center maintains a fleet of European racing karts that balance the power of 200 CC, 6.5-hp Honda engines and wet clutch drive systems with the comfort of adjustable padded seats. Before climbing into these speed machines, adults must first attend safety briefings, suit up in provided uniforms, and strap on helmets. Drivers younger than 15 must complete an intensive safety course on how to steer safely, increase speed, and ramp over oncoming fruit carts. But all that prep proves to be worth it when drivers squeal out onto the newly renovated serpentine track and motion-blur their way through 1,200 feet of narrow stretches and sharp switchbacks.
The family-fun center also houses an indoor 18-hole miniature golf course and an arcade filled with video games. An on-site café serves casual fare such as hot-dogs, hand-made pizza, and root beer floats.
23 Washington Ave.
Scarborough
Maine
A maze of megalithic chambers and hallways made by man more than 4,000 years ago nestles into the snow- or moss-covered woods at America's Stonehenge. Guests meander along a trail, marveling at one of the oldest constructions in the United States, complete with inscriptions, eating areas, and evidence of prehistoric art classes. Explorers delve into Stonehenge's history, learning about its use as an accurately aligned astronomical calendar, its role in the Underground Railroad, and the theories about who actually built it. Nearby, eight fuzz balls graze in the alpaca habitat, offering up skeins of yarn spun from their fluffy locks. Winter months coat the site's 105 sprawling acres with crunchy layers of snow, perfect for adventurous snowshoe outings or piggybacking on a snowman.
105 Haverhill Rd.
Salem
New Hampshire
US
On his way to work one day, Andre Boucher spotted a hot air balloon, and on a whim he decided to follow it. He met it where it landed, and the aircraft's pilot offered to take Andre up for a ride. Ever since he was young, Andre had been fascinated by aviation, but airsickness and a codependent relationship with gravity always prevented him from enjoying it firsthand. But as he felt the basket drifting with the wind instead of battling against it, Andre knew he had finally found a way to experience flight. He has since acquired more than 23 years of professional experience, even lending his expertise to an elaborate promotional flight for Pixar's balloon-based film Up.
Andre now captains A&A Balloon Rides, LLC, where colorful carriages lift patrons between 500 and 2,000 feet above the lakes, treetops, and fields of New Hampshire. Guests can arrange private or group flights, and they can set up flown or tethered rides for school events, company picnics, or aerial-photography sessions, the latter of which can finally prove that birds fly on hoverboards.
15 Ermer Rd.
Salem
New Hampshire
603-321-0453
Jason D. Boucher, a 2nd-generation FAA-certified commercial hot-air-balloon pilot, helms Serendipity_—his trusty hot air balloon—as it lifts passengers to the skies to reveal aerial views of southern New Hampshire's picturesque scenery. Taking flight 365 days a year––weather permitting––the _Serendipity allows passengers an unparalleled view of their favorite season, whether they prefer to take in spring's colorful blossoms, spot the glowing foliage of fall, or drag race flying reindeer during snowy months. Additionally, passengers can choose to summit the sky first thing in the morning and watch the sun rise or embark on a romantic evening flight as it dips down to illuminate the treeline.
15 Ermer Rd.
Salem
New Hampshire
603-670-8462
Situated on 25 wooded acres located next to the Taylor River, Taylor River Farm uses its beautifully bucolic space as a school for teaching students correct horsemanship and riding form. The Lesson Academy offers individualized instruction to students of all ability levels under the guidance of head instructor Kristin Farley, who has trained numerous world champions over a riding career that has spanned more than 25 years. The barn's heated indoor arena features a viewing room from which spectators can view a pupil's lessons in Hunt Seat, Saddle Seat, or Western. In addition to riding properly, students learn how to groom and tack up their lesson horse, as well as how to communicate with the horse telepathically.
6 Swain Dr.
Hampton Falls
New Hampshire
US
603-926-7662
A stream of yellow and black buzzes by. It's not a swarm of bumblebees, but friends and family racing each other in yellow and black go-karts around Checkered Flag Indoor Karting's 23,000-square-foot speedway. Strapping on helmets and sliding in behind the wheel of 15HP electric karts, up to 10 drivers jockey for position while whipping around eight snaky turns and sling-shooting past opponents on the wide lanes along the 100-foot front stretch. The facility's electronic timing system lets speedsters check out their best lap times from each 20-lap race. Racers must be at least 54" tall or born with tires instead of feet to traverse that track, but during birthday parties kids aged 4–9 and at least 36" tall zip across the 100-foot Mini Cup track. With a snack bar slicing pizza and pouring soda and an arcade, the facility can play host to parties for older kids and adults, as well as corporate team-building events. And for kids and adults seeking serious competition, Checkered Flag organizes leagues lead by indoor karting champion, Tom Prioli.
239 Neck Rd.
Haverhill
Massachusetts
US
978-374-7223
---