Things to Do in Gloucester
---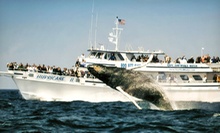 View humpback and fin whales as they feed and play within close range of the 115 ft. boat, Hurricane Two
---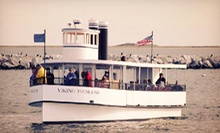 Guests indulge in setting sun's soothing rays while gliding past coastal lighthouses & munching on complimentary hors d'oeuvres
---
Recommended Things to Do by Groupon Customers
---
Originally sculpted into the New Hampshire countryside in 1889, Exeter Country Club's nine-hole course stretches across 2,801 yards for a par 35 layout. Wreathed by waterways flowing south from the Great Bay, the course cools off clubbers and hot-tempered carts with seaside breezes that waft across the greens. Though consisting mostly of straight-ahead fairways, the course forces players to adjust at the fifth hole, a 365-yard par 4 where golfers must bend drives around a dramatic 90-degree dogleg left obscured by dense tree lines. Exeter Country Club's on-site restaurant, Grill on the Hill, awaits at the end of the ninth green, serving up a menu of American fare to quench appetites after a day of dedicated pin-hunting and scorecard falsification.
Course at a Glance:
9-hole, par 35 course
Length of 2,801 yards from the farthest tees
Slope rating of 114 from the farthest tees
Link to scorecard
58 Jady Hill Ave.
Exeter
New Hampshire
USA
603-772-4752
Located in the woods, Liquid Planet Water Park forms an oasis of thrilling water slides, pools, and watery play zones. Water attractions include high-speed vertical-drop slides, spiraling water runs that stretch upward of 250 feet, and brisk splash pools. Forming a relaxing buffer at the side of the park are 2,000 square feet of sandy beach that, like marshmallow swim trunks, offer cushy respite from the ubiquitous concrete-pool surroundings. The beach also borders spring-fed Crater Lake, which attracts swimmers and cannonballers with traditional watering-hole charms.
446 Route 27
Candia
New Hampshire
US
603-483-2200
While the 90-foot long Thomas E. Lannon schooner boasts many impressive characteristics—including a 64.5-foot deck, a spacious 18-foot beam, and a resemblance to a 1903 sword-fishing schooner—none of them rivals the story of how the vessel got its name.
Before the ship was built in 1997, owner Tom Ellis was visiting his relatives in Newfoundland when he overhead them reciting stories of his grandfather Thomas Lannon, who had fished the Gloucester coastline for more than 40 years. On one particularly stormy day in 1908, Lannon and five other men set out into the waters off Nauset aboard two dories and rescued the crew of the capsized schooner Eric amid 70-mph winds. Each of the rescuers received the eternal admiration of the rescued men and a medal from the Massachusetts Humane Society, which Ellis possesses to this day.
More than a century later, the crew of the Thomas E. Lannon keeps its namesake's love of the sea alive by chartering an array of sailing voyages that have attracted more than 100,000 passengers to date. After helping raise the sails at the voyage's start, passengers capture vivid views of Gloucester harbor's lighthouses, castles, beaches, and waterfront homes sold by Poseidon himself.
63 Rogers St.
Gloucester
Massachusetts
978-281-6634
Pembroke Country Club's green, foliage-packed 6,532-yard course is known for its well-maintained landscaping, its challenging par 5 holes, and its sensual Jacuzzi water hazards. After warming up on the straight-shot first hole, you might find yourself sucker-punched by the well-bunkered third's undulating green, leftward water hazard, and punishing par 3. If you thrive on challenge, attempt to go where eagles dare with the sharply dog-legged 561-yard 13th hole or the pond-sloping greens on the 11th. Navigating the extensive grounds in the included golf cart will keep fatigue to a minimum. To improve their odds of overcoming the course's steepest obstacles, perfectionists can hone their wrist action at the practice area. Stock up on a last-minute package of golf tees at Pembroke's pro shop, as well as a replica of the golf clubs that Jimi Hendrix rebelliously set on fire at the Monterey Country Club.
94 W Elm St.
Pembroke
Massachusetts
David Calvo first picked up woodcarving as a college student at the University of Massachusetts more than 30 years ago. Since then, he's consistently showcased his skills at international woodworking trade shows, on nationally televised PBS programs such as The Woodwright's Shop and American Woodshop, and in woodworking-centric magazines, including Popular Woodworking and Woodshop News. David's studio splits its time between contemporary and classical styles, and its work—ranging from ornaments and furniture to custom-carved doors—has inhabited an impressive lineup of venues, including the Boston Architectural Center and Harvard University's renowned Sanders Theatre. Students hoping to learn the woodcarving craft can have David and his staff whittle skills and tips into their brains during a variety of classes, seminars, and multiday workshops offered at the studio.
235 E Main St.
Gloucester
Massachusetts
978-283-0231
A former art teach of 30 years, owner Patti Spinelli welcomes students of all ages into her studio to superimpose colorful imagery upon three-dimensional figurines and placards. More than 100 unique pieces beckon to painters, who are encouraged to don aprons, brushes, and paints to festoon pottery pieces with colors they draw from a vivid palette or channel through a past life as a kaleidoscope. The studio's lively instructors roam the workspace doling out encouraging words and helpful techniques. Patti also hosts intimate art classes, opens her studio to group parties, and stocks traditional canvases for those who prefer rendering still lifes or globes from a time when the Earth was flat.
157 Portland Ave.
Dover
New Hampshire
603-617-3595
---