Things to Do in Godfrey
---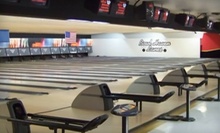 Rental shoes, single-topping pizza & bowling converge in colorful, kid-friendly establishment with onsite arcade
Use Tuesday 11:00am - 10:00pm
---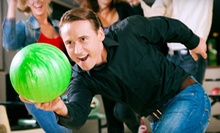 Groups of four toss strikes at a center outfitted with 32 lanes, automatic scoring, and free WiFi
Use Tuesday 9:00am - 11:45pm
---
Recommended Things to Do by Groupon Customers
---
Classic rock concerts. Basketball games. Rodeos. These are just a few of the many events at Family Arena, a modern event center in picturesque St. Charles. Inside the confines, visitors have milled about during trade shows, sang along to The Moody Blues' greatest hits, and gracefully caught pucks between their teeth during hockey games.
2002 Arena Pkwy.
St. Charles
Missouri
636-896-4200
The classically focused Alexandra Ballet entertains audiences with a well-rounded dance diet ranging from contemporary original pieces to traditional masterworks. The company's agile dancers have pirouetted their way to uproarious applause in past performances that include The Sleeping Beauty, Swan Lake, and Peter and the Wolf. Since 2003, the company has enriched the community through its educational-outreach programs, which provide youngsters with free learning materials and ballet performances throughout the school year.
One University Blvd.
St. Louis
Missouri
The pedal pioneers at Boschertown Grand Prix Racing have been facilitating high-speed adventures on one of the largest tracks in the Midwest for more than half a century. In the early days of racing, the course served as a venue for the homemade karts of avid individuals, but now houses a herd of go-karts, sprint-karts, and super-karts that eliminate the possibility of unfair home upgrades such as engines outfitted with nitrous or the flux-capacitor of a 1981 DeLorean. Drivers as young as 10 reach speeds of up to 17 mph in a standard kart; racers 16 or older helm 24 mph sprint-karts; and drivers 18 or older take control of 28 mph super-karts. Wheels roll over hairpin turns, banked corners, straightaways, and opponents' rights to call themselves "Greased Lightning" as drivers dominate laps around the 5/8-mile track.
3500 N Hwy. 94
St. Charles
Missouri
636-946-4848
Buried in the woods, 15 single- and two-story log cabins line a path leading to a secluded frontier fortress. Masked combatants armed with Tippmann 98 paintball guns ponder the path's obstacles before slinking forward to meet their opponents. Along Bing Field Paintball & Airsoft Park's three wooded fields strewn across 35 acres, players sneak into sniping positions in the Frontier Field's two-story log cabins, the Vietnam Field's two-story guard tower, or the World War II field's two-story hidden U-boat. Four speedball fields––air ball, barrel, concrete, and spool––accommodate paintball players on the other side of the wooded park. Paintball and airsoft packages grant visitors up to seven hours of play, which they can break up with refueling sessions spent scarfing down refreshments while gossiping about opponents' love lives at an onsite concessions stand.
3231 Edwardsville Rd.
Edwardsville
Illinois
618-692-8271
The Glass Workbench—a stained-glass and glass-making specialty store—began as a family-owned enterprise in 1975. Back then, owners Glen and Joanne Bishop chose an old-style building on South Main Street to create their shrine to the age-old art of glassmaking. Now on the National Register of Historic Places, the building's 2-foot-thick Burlington limestone walls enclose the shop's inventory of supplies and books about glass arts. They also house mosaic stained-glass artworks by Julie Bishop Day, Glen and Joanne's daughter, who developed the stepping-stone technique for glass decoration. Local crafters take advantage of glassmaking workshops and admire the work of the staff's resident artisans, whose custom stained-glass pieces portray nature imagery and legendary moments in history such as when Ben Franklin invented Windex.
318 S Main St.
Saint Charles
Missouri
636-946-2002
Chris and Pam Schmick had spent six months cleaning out the scrap metal from their abandoned silos and just finished drilling thousands of holes in its walls. With little time to spare, they prepared for their climbing gym's grand opening on September 2, 1995—a date on which they had already agreed to hold a regional JCCA competition. The effort they've expended in the nearly 20 intervening years shows: today, climbers scramble on top ropes, lead ropes, and more than 20,000 square feet of lava-free climbing surface.
Instructors prepare visitors to surmount the gym's features in a range of classes, such as Rock Gym 101, which is an introduction to top-rope climbing that covers climbing safety, basic technique, and equipment. Once climbers are equipped with gear from the pro-shop, staff shows them around a multi-level bouldering cave, a main climbing area with 30-foot walls shaped by arêtes, cracks, and waves, and the building's five original silos. Elsewhere inside the gym, six auto-belays safely cradle visitors who wish to climb without taking a class.
1874 Lackland Hill Parkway
St. Louis
Missouri
US
314-991-2516
---