Gold Camp, AZ Outdoor Activities
---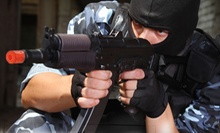 Tiny pellets speed toward combatants as players out-flank and ambush one another in 19,000 sq. ft. airsoft arena
Use Sunday 4:00pm - 8:00pm
---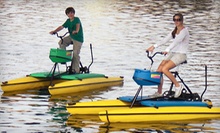 Up to three passengers sunbathe or sightsee on Tempe Town Lake in an open-air pedal boat
Use Today 8:00am - 11:00am
---
Recommended Outdoor Activities by Groupon Customers
---
The weekend before Cinco de Mayo, The Tucson Taco Festival pits 25 teams of taco craftsmen, ranging from amateurs to local restaurateurs, against each other in pursuit of a $5,000 prize as they feed thousands of attendees. Sporting Lucha Libre wrestling masks and working inside intricately decorated booths, the teams collectively produce 30,000 tacos, accompanied by sides such as salsa, guacamole, and more than 30 premium tequila brands. Meanwhile, bartenders rev their blenders in a margarita-making challenge, and visitors show off their ability to ingest spicy food without first ingesting an air conditioning unit during a hot-pepper eating contest. Live music from El Camino Royale and Shrimp Chaperone spurs bodies into motion, while youngsters can stop by the Kids Zone for festive face paint or a jaunt in the bouncy castle.
7025 E Via Soleri Blvd.
Scottsdale
Arizona
After joining the National League's West Division in 1998, it only took four seasons for the Arizona Diamondbacks to become World Series champions, making them the fastest expansion team to win it all in MLB history. Since then, the D-backs faithful continue to fill the stands of Chase Field, a 48,000-seat retractable-roof ballpark constructed for the team's inaugural season. The widest LED board in Major League Baseball replays crucial saves and high-flying hits in 136'x46' of high-definition glory, and just beyond the fence in right-center field, a swimming pool allows fans armed with foam noodles to whack opponents' home runs back into play. During the fourth inning of every game, kids can interact with D. Baxter the Bobcat in his upper-concourse Den equipped with slides and batting cages.
401 E Jefferson St.
Phoenix
Arizona
602-514-8400
Leave your friends in the dust with today's Groupon: $29 gets you three go-kart races at Speedway Raceway. With this deal, you get Speedway's Arrive & Race (three laps of practice and a 13-lap race) package times three. Bring two friends along for a speedway showdown, or keep this deal all to yourself and get loopy doing 40-plus turns around the track. With that much practice, you'll be fit enough to try out for the National Hot Rod Association.
2425 S 21st St.
Phoenix
Arizona
US
The experienced tour guides at Segway of Scottsdale lead fleets of two-wheelers through one of two scenic Arizona cities during an extensive schedule of rides. Guests gear up for either of the 90-minute tours by hopping aboard a segway, whose self-balancing technology allows riders to tilt handlebars gently for turns or quickly for back flips. Each session begins with a 30-minute orientation, followed by a narrated jaunt past the towering opulence of the JW Marriott Desert Ridge Resort in Scottsdale or around the city-flanked oasis of Tempe Town Lake. During the summer months, groups traverse the town's bridges and boulevards at dusk, stopping by landmarks such as Arizona State University and Sun Devil Stadium, whose eponymous student-athletes practice under solar-powered stadium lights to escape the chill of night.
13802 N Scottsdale Rd., Suite 132
Scottsdale
Arizona
Amid the smell of blooming hyacinths and the colorful ensigns of freshly emerged butterflies, one need only turn to Salt River Fields at Talking Stick for proof of an encroaching spring. As the spring-training grounds for both the Colorado Rockies and the Arizona Diamondbacks, the park—named as an homage to the Salt River Pima-Maricopa Indian Community—sports 12 baseball diamonds, giving fans ample opportunity to watch the action and practice voicing play-by-plays of groundskeepers mowing the adjacent fields. In addition to spring-training bouts, Salt River Fields also hosts numerous special events, such as arts festivals and charity sports events.
7555 N Pima Rd.
Scottsdale
Arizona
480-270-5000
Your two-hour instructional trapeze class starts you and your troupe of fellow acro-novices out on the ground, where experienced instructors will give one-on-one tutorials on the basics of aerial posturing. From there, you'll take turns spreading your wings and flexing your core on the outdoor trapeze as you slice through circus skies with uninhibited abandon. Or plummet into the soft, pillowy embrace of Trapeze U's many safety nets and cushy mats, then try again until you get it right.
14407 E Pecos Rd.
Gilbert
Arizona
---