Auto Repair in Golden
---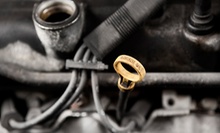 Use Today 7:30am - 5:00pm
---
---
Recommended Auto Repair by Groupon Customers
---
The certified repair specialists at Delta Auto Glass understand that dealing with a damaged windshield can be stressful, so they give their customers a little extra care. Technicians travel to homes and offices in the Denver area free of charge to replace entire windshields, repair chips and cracks, and compliment the smell of drivers' air fresheners. Whether they're providing a clear view for domestic or foreign cars, trucks, SUVs, or commercial vehicles, techs use glass that's been reinforced with primer and adhesives. They also guarantee the parts and installation against future leaks and stress breaks.
9251 E. Peakview Ave. Suite 7
Greenwood Village
Colorado
Seven cosmetic car-care packages attract soiled vehicles to Performance Window Tinting & Auto Detailing's shop, where dedicated motor maids vacuum, hand-wash, wax, and buff them until they're clean and idling happily. Thanks to the garage's tinting services, drivers can hide their autos' insides from prying eyes once technicians equip windows with SunTek or Hüper Optik films. The vehicle doctors also perform a number of auto-body repairs, patching up hail damage, fixing windshield chips, and nursing black headlights received in fights with bullying mail trucks.
3301 W Hampden Ave., Suite 1
Englewood
Colorado
US
The certified technicians at Advanced Automotive lead double lives. Before performing extended repairs or maintenance on cars, they act as chauffeurs to the vehicles' owners. The techs shuttle customers wherever they'd like to go—within reason, of course—including The Shoppes at Farmington Valley or a mani-pedi appointment at a local salon. This accommodating spirit, along with a commitment to fair and honest service, has kept the shop in business for more than 15 years.
In the office, Big Ron Dombrowski—Ron 2—runs the show, and his son and namesake—Ron 3—serves as the shop's foreman. With diverse skills that run the full gamut of foreign and domestic autos, team members tackle services such as repairing loose breaks, worn belts, or an uneven suspension, and they certify their hard work with a 24-month, 24,000-mile warranty on all parts and labor. Customers without errands to run can opt to wait in the onsite lounge, sipping complimentary coffee and using the free WiFi to buy a windshield-wiper metronome for their arrhythmic auto.
501 Orchard St.
Golden
Colorado
US
Auto Finishers Supply Co. owner Richard Trovato deals in more than just auto parts and accessories. He's also dedicated to customer service. Richard began working at the shop as an entry-level employee in 1969, then worked his way up to store manager in 1972. By 1986, he was the storeowner. Since he took the reins, Richard has instilled dedication to customers into every aspect of the business, from stocking quality car accessories, such as DuPont paints and Avital car systems, to employing ASE-certified technicians. Today, Richard and his children still run the shops' day-to-day operations, helping customers find car accessories from crystal clear stereos that house video screens to remote car starters that negate the need for car owners to politely ask it to start.
501 Orchard St
Golden
Colorado
US
Led by ASE Master Technicians, Advanced Automotive's staff hoists vehicles up on one of seven lift bays for maintenance and repair services including brake and drive-train work, new-tire mounting, and exhaustive 49-point vehicle inspections to pinpoint latent problems. Parts and labor are satisfaction guaranteed, and all repairs are warrantied for one year, 12,000 miles, or one dozen attempts to ford a river. Drivers can sip on free coffee and surf the Internet in Advanced Automotive's customer waiting area, whose checkerboard floors support walls festooned with vintage Coca-Cola memorabilia.
501 Orchard St.
Golden
Colorado
303-278-3704
At AutoHaus of Boulder, owners Nic Godebu and Mark Mauro, Jr., showcase their expertise in revamping German vehicles. The ASE-certified duo specializes in Audis, Volkswagens, BMWs, Porsches, and Minis; Godebu is factory trained in Audi's A3, A4, A6 all-road, and A8 models. They augment their handiwork with products from APR and Castrol and offer customers a complimentary initial diagnostic check and a waiting area designed by expert loungers.
4840 Sterling Dr., Suite B
Boulder
Colorado
303-468-1166
---