Auto Service in Golden
---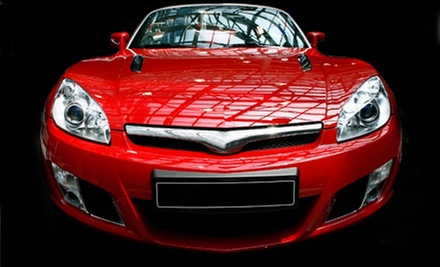 ---
Recommended Auto Service by Groupon Customers
---
Serving the Denver area for more than 20 years, the locally owned Autawash Car Wash and Detail has perfected the art of scouring and eliminating the dirty blemishes off of any in-need autos. By parking today's Groupon in their pocket, vehicle owners will receive a punch card for five Wheel Express Full-Service washes, each featuring a gentle washing of the exterior, plus rim scrubbing, a clear-coat protectant, interior vacuuming, and interior and exterior window cleaning. Positioned for all-over care, this wash also aims to keep treaded surfaces prim and proper, supplementing the sudsy soiree with an extensive tire cleaning and shine. To top off the trip, vehicles receive a triple-foam polish and an underbody wash that cleans up the automobile's well-weathered tummy.
3480 S Poplar St.
Denver
Colorado
US
Ready your ride for the pending holiday road trips and demolition derbies with today's Groupon: $25 for a premium oil change at Swis Tire and Automotive, a $50 value. Redeem your Groupon at any one of four locations, six days a week. Mile 3,001: You car will instantly explode or may just feel neglected, but either way is never going to trust you like it once did.
6995 Broadway
Denver
Colorado
US
The sludgy brew and poor periodicals stashed in most auto-repair shops only remind you of all the things you could be doing instead, such as wading in a kiddie pool filled with strawberry jam. Revamp your ride in a work-friendly space with today's Groupon, offering a comprehensive tune-up at Lube and Latte for $30 (an $80 value).
2595 Kipling St.
Lakewood
Colorado
US
Conveniently located near the intersection of Colorado Boulevard and I-25, South Denver Automotive is a 30-year-young, locally owned business with its own code of ethics and its A+ BBB rating tattooed on every employee's back. Denver's four-wheeled citizens love the gentle, professional care of its ASE-certified technicians, who always know just where to scratch them. South Denver Automotive's mechanics will pour your car, truck, or SUV of any make or model a tall glass of gourmet oil, switch out its filters, lubricate the old creaky parts, and conduct a complimentary 20-point inspection, always capped with a big hug.
4075 E Iliff Ave.
Denver
Colorado
At Richie's Express Carwash, cars roll through an automated, brush-free tunnel where a cutting-edge computer system hones in on each vehicle's dirtiest spots. It cleanses exteriors with soft cloths and a secret eight-ingredient solution, and then blasts away suds with high-pressure hoses. Patrons can build on this express package with luxurious extras such as underbody rust inhibitors, applications of Richie's Wheel Brite, and triple-coat protectants. At the end of each session—which takes about four minutes—cars travel through a drying tunnel whimsically decorated with stuffed animals. There, a system of 15 high-velocity fans brings exteriors to a spot-free shine. Drivers can blow raspberries at their newly cleaned rides from the viewing station before sprucing up interiors at complimentary self-serve vacuum stations.
9996 S Twenty Mile Rd.
Parker
Colorado
Kwik Car Wash is just that: Bring in your car and you can have it squeaky clean in as little as three minutes. Treat your ride to any of three car wash types, which include two, three, or four-stage washes with turbo dryers plus extras such as triple-foam conditionings and Simoniz tire shines. In addition, you can protect your auto with UV-blocking waxes and ensure its structural integrity with rust inhibitors. After exteriors are scrubbed spotless, you can grab an onsite vacuum free of charge to dispense with interior dust or backseat drivers.
All wash tunnels feature eco-friendly soaps and recycle 90% of water used. In case there's a storm or a tomato race right after your car wash, Kwik Car Wash also offers a complimentary re-wash within 24 hours.
16941 Lincoln Ave.
Parker
Colorado
---