Education & Classes in Golden
---
Education & Classes Deals
---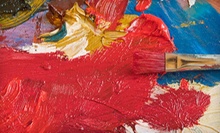 A certified expressive therapist fosters creativity during a painting party where artists decorate two wineglasses or one canvas
---
Recommended Education & Classes by Groupon Customers
---
Expert gourmand Jackie Rebideau has a peculiar passion for cheese. In an effort to share this ardor with the public, she created Fromage to Yours, a company that holds classes and special events to educate people about this celebrated edible. At the recently opened School of Cheese, Jackie teaches pupils about the art of making artisan cheeses such as mozzarella, ricotta, and paneer, demonstrating tasteful techniques and dispelling myths that the holes in swiss cheese are formed by mini meteors training for future journeys to the moon. Fromage to Yours also orchestrates special events such as the Colorado Cheese Festival, which more than 150 samples of artisanal American cheese.
4640 Pecos St., Suite G
Denver
Colorado
US
303-587-9740
With the mix of high-mountain air; private, personal instruction from real musicians; and professional-quality instruments and equipment, your kids will be shaking the walls before long. In addition to weekly 45-minute private lessons, a month's tuition also includes a weekly 90-minute to three-hour supervised rehearsal (depending on the student's skill level and the group he or she decides to join) with other students and all the glittery, sequined clothes you can safely gaze upon.
216 S. Grant St.
Denver
Colorado
Engaging chef instructors instill lessons of kitchen etiquette and safety in youngsters growing up in a world full of laser can-openers and sharp pasta rakes, giving children a capable handle on their surroundings as they journey into the land of food. Classes educate a variety of age groups, with specially catered classes for the kindergarten elite and junior line cooks, combining nutritional meals with basic food-prep skills that teach how to correctly follow a recipe to edible fruition. Senior flambéists are offered advanced classes that dig deeper into kitchen secrets and hone specific skills and techniques that expand the parameters of cooking creativity. Most classes last 90 minutes. The lessons learned from early cuisine classes spark a valuable communion between a child and a stove. Imaginations stretch as they contemplate the infinite possibilities that exist among ingredients, spices, and food presentations so astute they beg to be stapled to the refrigerator door.
10445 Town Center Dr., Ste. 300
Westminster
Colorado
Arthur Murray Dance Studios has been a leading name in social dance since 1912, when the entrepreneur began selling mail-order dance lessons. Expanding his reach, he enlisted teachers to spread his signature dance lessons on first-class steamships and skyrocketed to fame in the '30s after introducing the public to such dances as the Lambeth Walk and the Big Apple. By the 1950s, Arthur and his wife, Kathryn, were hosting their own highly popular TV show on ABC, the Arthur Murray Dance Party, which ran for 12 years. Today, Arthur Murray's team prepares students for rug cutting at special events and weekend nightclub jaunts. Clients who arrive to lessons partnerless will be paired up with certified instructors. Throughout lessons, instructors teach the foundations of two to four dances from a long list of styles that range from Latin to country-western, helping students to learn basic step patterns, timing, and the ability to lead or follow.
3355 S. Yarrow St. E-125
Lakewood
Colorado
The staff members at Sylvan Learning Center understand that each child learns differently. They design custom lessons based on the results of standardized testing, diagnostic tools, and one-on-one interviews.
Sylvan's instructors work with students from kindergarten through grade 12 to improve their confidence and independence leading to their educational success. Many of Sylvan's certified teachers work in local schools and have familiarized themselves with common practices, which help them understand how to gear lessons toward optimal results.
5091 Kipling St., Suite 300
Wheat Ridge
Colorado
The Colorado School of Acting's directors, Elizabeth Horne and Troy Horne, combine their dual loves of stage and screen to impart acting chops to students of all ages and experience levels. Elizabeth—who has acted in more than 25 plays and 12 movies—and Troy—a sitcom and film producer who appeared on Broadway in the Tony Award–winning musical _Rent_—staff their team with veteran acting instructors, each of whom have more than 10 years of experience in the biz. During their classes, they teach students to focus and perform under a variety of circumstances, with workshops in subjects ranging from improv and commercial work to audition skills and voiceovers. They welcome kids for acting summer camps, where they introduce fundamentals of memorization, character development, and rehearsal. Instructors also help thespians develop with more advanced training, including filmmaking summer camps for kids, and a certificate program for all age levels that requires students to audition or present a signed permission slip from David Schwimmer.
7500 W Mississippi Ave. , Suite B 150
Lakewood
Colorado
720-233-4832
---