Golden, CO Outdoor Activities
---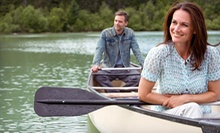 Log cabin surrounded by scenic mountains is situated on placid waters that host canoes, kayaks, and paddleboats
---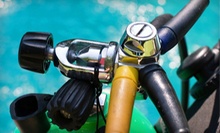 Seasoned dive instructors at PADI five-star training center help students master open-water diving or diving with enriched air.
---
Recommended Outdoor Activities by Groupon Customers
---
With the help of Shakespeare Golf, bunker-dwelling wedge-wielders and rough-slashing excursionists can finally bring balance to their game without the use of a 15-foot tightrope-walking pole. As a former Nationwide Tour professional, Greg Shakespeare draws on more than 30 years of steady-handed golf expertise to iron out swing kinks with the devastating energy efficiency of a solar-powered steamroller. By working with scores of current pro and amateur players alike, Greg has developed an efficient instruction regimen that molds loose-swinging players into taut, ball-launching bazookas. Students will benefit from effective practice drills that help them uncover their own game-changing swing, plus a video analysis that lets them see for themselves exactly what point in their follow-through elicits a sad trombone sound. Finally, instruction on proper practice methods and the psychology of golf will help ensure continued success, as well as nurture the ability to psych out opponents with casual quips about their outfits.
7301 W. Bowles Ave.
Littleton
Colorado
The Denver Outlaws joined Major League Lacrosse as an expansion team in 2006, immediately staking out their territory with a Western Conference title and a trip to the league championship. In the years since, they have never once missed the playoffs, even when something good was on TV. From their inception, the Outlaws have marauded the league record books, setting attendance records in their inaugural season and improving from there, with recent Fourth of July games drawing more than 30,000 fans to Sports Authority Field at Mile High. This year's Independence Day game continues the tradition of fireworks exploding over the field and a wave of apple pie filling flooding the parking lot.
1701 Bryant St.
Denver
Colorado
303-688-5297
Whether it's the tiny town buildings, flowering gardens, or obstacle-like oddities that capture one's imagination, Putter's Pride evokes an ambiance of adventure as guests traverse its three 18-hole mini golf courses. From a toilet seat left ajar to a pink windmill and a purple dragon protruding from the turf, the unusual hole designs keep golfers guessing and scratching their heads with their clubs as they match putts with opponents during a round, which takes about 45 minutes. Around the greens' edges, streams splash down tiered stone waterfalls, colorful blossoms overflow from wooden flowerboxes, and farm animals look out from the side of a pink barn to referee putter swordfights to determine the authenticity of an alleged hole-in-one.
The whimsical decor facilitates fun at birthday parties, where guests can chow down on their own snacks and cake around multicolored picnic tables before hitting the pintsize putting grounds.
3604 S Kipling St.
Denver
Colorado
303-985-3860
---