Things to Do in Golden Valley
---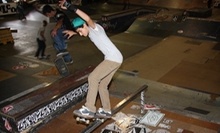 Robbinsdale - Crystal - New Hope
Skilled cement surfers teach budding skateboarders basic skills & tricks
Use Saturday 9:00am - 12:00pm
---
Recommended Things to Do by Groupon Customers
---
Featherbrook Farm's head trainer and instructor Lisa Avaloz draws upon a lifetime of equine experience and an international network of colleagues. The farm fosters interspecies cooperation through lessons, camps, and birthday parties. Riding lessons instill in young riders the importance of grooming, form, and confidence, rewarding proper handling skills with positive reinforcement. Beginning students start on a lunge line to improve their positioning, strengthen their seat, and gain a feel for their horse. Safety remains of utmost importance throughout the lesson. All students must wear helmets while riding and avoid giving horses celebratory piggyback rides after completing a session.
Featherbrook Farm conducts weekly camps from June to August for 6–14 youngsters at a time. Campers ride twice each day and establish a solid foundation of horsemanship through grooming, first aid, and studying horse anatomy. In addition to education, fun and excitement abound as children play games and make crafts with new friends.
20603 County Rd. 50
Corcoran
Minnesota
612-868-8506
Dappled light from an overhanging crystal chandelier catches the glittering fibers of yarn skeins arranged in displays, on tables, and covering the towering walls of StevenBe's high-ceilinged atrium. Store proprietor Steven Berg continues to redefine the traditional knitting methods he first learned as a child, infusing patterns with creative twists, nontraditional materials, and enough sparkle to rival a Swarovski Lite Brite. In an interview with Patch.com Berg stated, "We want the knitting experience to be] fun and playful, lighthearted—we want this to be a happy place where—whatever troubles you might have at home—you can leave them behind." StevenBe's eye-catching displays of chunky yarns, wools, cottons, and novelty materials wrap visiting knitters in a fibrous embrace faster than a lonely box of Wheaties, and paintings from local artists adorn the walls. Animal-print armchairs support a growing circle of crafters during special events and sun-soaked afternoons that may feature refreshments or live musicians' buzzing instruments above the gentle clicking of knitting needles.
3448 Chicago Ave.
Minneapolis
Minnesota
612-259-7525
Bead Basics lavishes jewelers of all skill levels with the necessary equipage and abilities to craft their own bead masterpieces. Instructors string together a monthly calendar of more than 25 classes that teach up to 16 students at a time techniques or specific projects such as Beading Basics, Tila Spiral Bracelet, and Viking Knit. The online catalog's virtual glass cases brim with exquisitely crafted pieces and the requisite tools for shaping bracelets, stringing necklaces, and swapping out the queen's jewels with decoys.
455 99th Avenue NorthWest
Coon Rapids
Minnesota
763-717-4200
A tall painted portrait, illuminated from above, shows a woman standing barefoot holding a lamb. Follow her glance downwards and sideways, and you'll sight row upon brightly colored row of carefully stacked skeins of yarn from brands such as Blue Sky and Spud & Chloë. Classes teach tender-footed knitters to wield these materials with care, and more advanced offerings cover refined and specialized stitching skills. The shop also carries its own line of all-natural soaps, household cleaners, and moisturizers designed to soften hands toughened by efforts to wrestle needles away from uncooperative porcupines.
2010 2nd Ave. N.
Anoka
Minnesota
US
763-434-7453
---