Goldsboro, NC Outdoor Activities
---
---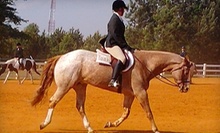 Equestrians guide horse-straddling neophytes through riding basics during private lessons
Use Today 9:00am - 7:00pm
---
Recommended Outdoor Activities by Groupon Customers
---
The sound of swooshing nets fills the rafters of the PNC Arena as the NCAA women's basketball tournament shuffles into the Sweet Sixteen and Elite Eight rounds, pinning the Raleigh Division's top remaining teams against each other in a do-or-die sprint toward the Final Four. Rather than getting pelted with constant shots while reclining in the backboards' cozy round hammocks, hoops fans can perch in 100-level seats to witness the on-court madness, which has already seen the 13th-seeded Marist Red Foxes bust brackets by ousting fourth-seeded Georgia in the opening round. The Elite Eight game on March 27 will crown a regional champion, sending them on a trip to the national semifinal in Denver, where the Kingston Region's own victor awaits the chance to play rock-paper-scissors for a coveted spot in the title game.
5400 Trinity Rd., Suite 407
Raleigh
North Carolina
The European-designed go-karts at RushHour Karting mean business. At no-nonsense speeds of up to 40 mph, they whip around a third-mile indoor track that remains open year round and boasts an observation deck and real pit lines. Overhead, digital projections display racers' track times. Drivers refuel at The Pit Stop, where chef Merlin cooks up gourmet burgers, hot dogs, and salads and serves them amid the glow of seven high-definition plasmas and a 123" high-definition projector.
5335 Raynor Rd.
Garner
North Carolina
919-662-9101
In 2002, Mike Southard took a leap of faith worthy of The Dukes of Hazzard. He left a career in the elevator industry and decided to pursue his true passion: stock-car driving. Southard launched Try It Racing and On Track Racing Experience, determined to share with others the thrill he had felt many times in the victory lane of late-model stock-car races. His business has grown from a few humble events and clients each year to a fully packed schedule at some of the country's longest running and most renowned racetracks. Some things haven't changed, however—you can still find Southard behind the wheel of the two-seat ride-along car, taking patrons around curves and straightaways at top speed.
Adrenaline fiends satisfy their cravings while driving or riding around tracks such as Orange County Speedway, where industry legends Jeff Gordon and Scott Riggs have burned their share of rubber. A professional photographer and in-car video cameras can capture the excitement at each event, memorializing guests' wide-open eyes, exhilarated smiles, and high-intensity games of I Spy.
8071 Newsome Mill Rd.
Lucama
North Carolina
703-368-3232
Lunar Mini Golf's two 18-hole indoor courses whisks putters away to a black-lit labyrinth sculpted through a phosphorescent dreamscape of vibrant murals and neon obstacles. Tiny neon walls frame the pitch-black corridors of each hole, which gives the impression that patrons are rolling orbs across the rayless expanse of the cosmos or through their neighbors' radioactive crawlspaces. Clubbers clad in white will shine like gleaming apparitions as they read tricky breaks and keep the yips at bay, and Lunar Mini Golf offers glowing necklaces for clients to wear to capitalize on the visually mesmerizing lure of the black lights. Catering to large groups, Lunar Mini Golf also features a complimentary party zone available upon request for birthdays, corporate gatherings, and ceremonies unveiling new neon eyebrow tattoos.
5959 Triangle Town Blvd.
Raleigh
North Carolina
Dead Broke Farm's name derives not only from the cost of owning horses, but also from the terminology for teaching a horse to wear a saddle—known in the industry as "breaking a horse to ride." Trainers stable "dead broke," or thoroughly saddle-trained, horses, alongside more spirited animals on the 110-acre farm. They also house steeds saved through their horse-rescue program, with more than 70 of their mounts avoiding fates in slaughterhouses and other undesirable ends since 2004.
Horses show off their trotting chops during farm trail rides, carrying riders on explorations of the rolling hills and whispering creeks scattered across more than 10 miles of bridle trails cut through woods populated by deer, cranes, and other wildlife. Private rides allow for more personalized routes and can incorporate stops at scenic ponds for proposals or more challenging terrain for advanced riders. Instructors also schedule horseback-riding lessons, teaching balance through rides over undulating terrain rather than through exercises such as riding a horse that is riding a seesaw.
6921 Wildlife Trl.
Raleigh
North Carolina
919-596-8975
After assessing your golf background and problem areas, Williams will tailor your lesson to your needs. Beginners are welcome, or more experienced golfers can use the lesson to improve their swing. Lessons at Perfect Fit include instruction and usage of the Explanar golf-swing training system, which improves swing technique by guiding movement through a large, adjustable hoop made of wishes. You'll go home with written notes for practice as well as a DVD copy of a swing video with voice-over commentary.
4750 Auburn Knightdale Rd.
Raleigh
North Carolina
---