Theme & Amusement Parks in Goldsboro
---
Theme & Amusement Park Deals
---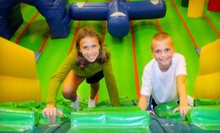 Wee ones caper about the inflatable playground, as guardians monitor playtime while sipping Seattle's Best coffee in the adults' lounge
Use Today 10:00am - 6:00pm
---
Recommended Theme & Amusement Parks by Groupon Customers
---
The European-designed go-karts at RushHour Karting mean business. At no-nonsense speeds of up to 40 mph, they whip around a third-mile indoor track that remains open year round and boasts an observation deck and real pit lines. Overhead, digital projections display racers' track times. Drivers refuel at The Pit Stop, where chef Merlin cooks up gourmet burgers, hot dogs, and salads and serves them amid the glow of seven high-definition plasmas and a 123" high-definition projector.
5335 Raynor Rd.
Garner
North Carolina
919-662-9101
Attractions such as miniature golf, batting cages, and laser tag make Adventure Landing an ideal location for getting in fun, interactive family time. Whether the kids opt for a heart-accelerating whip around the go-kart track or a few swings of the bat, the fun center gives families every excuse to band together or square off against one another in friendly competition. School, church, and corporate outings are available as well, giving groups of all ages a place to gather, nosh on pizza, and create complex victory dances.
3311 Capital Blvd.
Raleigh
North Carolina
Lunar Mini Golf's two 18-hole indoor courses whisks putters away to a black-lit labyrinth sculpted through a phosphorescent dreamscape of vibrant murals and neon obstacles. Tiny neon walls frame the pitch-black corridors of each hole, which gives the impression that patrons are rolling orbs across the rayless expanse of the cosmos or through their neighbors' radioactive crawlspaces. Clubbers clad in white will shine like gleaming apparitions as they read tricky breaks and keep the yips at bay, and Lunar Mini Golf offers glowing necklaces for clients to wear to capitalize on the visually mesmerizing lure of the black lights. Catering to large groups, Lunar Mini Golf also features a complimentary party zone available upon request for birthdays, corporate gatherings, and ceremonies unveiling new neon eyebrow tattoos.
5959 Triangle Town Blvd.
Raleigh
North Carolina
For more than a decade, the staffers of InterSkate Family Fun Center have welcomed visitors of all ages to glide around their facility's indoor rink on rented skates, score tickets from arcade machines, and celebrate birthdays by chugging pitchers of soda. The family-owned rink offers open skate Friday–Sunday and regularly hosts special events. InterSkate also hosts fitness classes for kids and adults in partnership with Xtreme Sports, offering courses in roller hockey, indoor soccer, and indoor soccer on roller skates.
131 Guy Rd.
Clayton
North Carolina
919-359-2252
Kidz-N-Play's indoor-play facility enthralls youngsters with its plethora of educational and recreational toys, structures, and activities. The masterminds behind the playground flank their moon bounce with two slides and a spacious jumping area, and crowd a large table with a wooden-train set. Their lego table gives kids a chance to practice building skills or explore a policy of aggressive economic expansion. A dance area equipped with Just Dance Kids for Xbox Kinect eliminates calories during lengthy boogying sessions, and a toddler play area sets tots on a foam-cushioned floor awash in age-appropriate toys. When designing the indoor playground, the owners didn't forget about parent and guardian visitors and equipped a seating area overlooking the playrooms with free WiFi and televisions.
2431 Spring Forest Rd., Suite 157
Raleigh
North Carolina
919-876-1119
In a 2011 interview with the Rocky Mount Telegram, George Millar reveals he has been a facilitating fun for a long time. "Soccer wasn't in existence when we started," he points out, and neither were home video games. Noticing a dearth of places in his hometown where kids and families could safely enjoy themselves, he put his skills as a professional contractor to work. In 10 outdoor batting cages, he installed pitching machines that sling baseballs and softballs from T-ball speeds up to 80 miles per hour. Next, he and his crew of five guys—all of whom are still operating the business today—built an 18-hole mini-golf course modeled after those in Myrtle Beach, designing a path that winds past waterfalls, natural plantings, and tricky bunkers filled with saltwater taffy. An arcade blares with games and the crack of pool balls ricocheting inside, and an elephant-shaped inflatable bounce house bobs with jumpers inside until they come zipping out down its slide.
1265 Independence Drive
Rocky Mount
North Carolina
252-442-4774
---