Things to Do in Goldsboro
---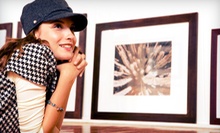 On-site custom framing with hundreds of mats & Larson-Juhl mouldings, including advice on matching frames with decor
Use Saturday 10:00am - 1:30pm
---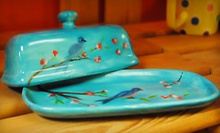 Clay pots, plates & mugs line walls, ready to soak up pigments, carry stenciled designs or custom artwork
Use Today 10:00am - 4:00pm
---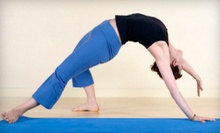 On the whorls of polished, wood floors, instructors introduce yoga basics or poses for seniors and expectant mothers in a range of classes
Use Tuesday 6:00am - 9:00am
---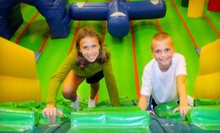 Wee ones caper about the inflatable playground, as guardians monitor playtime while sipping Seattle's Best coffee in the adults' lounge
Use Today 10:00am - 6:00pm
---
---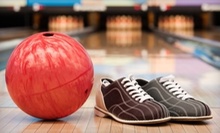 Up to six players obliterate pins during starlight bowling Friday & Saturday from 11 a.m. to 1 a.m. at 32-lane bowling center
Use Friday 10:15pm - 11:45pm
---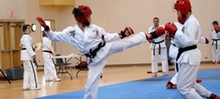 Use Monday 1:00pm - 4:00pm
---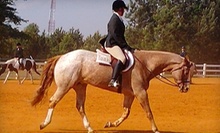 Equestrians guide horse-straddling neophytes through riding basics during private lessons
Use Today 9:00am - 7:00pm
---
Recommended Things to Do by Groupon Customers
---
Start by selecting any plate, bowl, vase, mug, jug, or spittoon from Bisque Art's collection of more than 800 finely crafted artifacts (pieces start at $2.50). After you make a sketch and pick out paint colors, carefully direct your brush in tune with your dreams and wishes, letting your creative juices flow wildly onto the dinnerware of your choosing and spill onto the floor that is thoughtfully provided. Once you're finished, leave the mess and masterpiece on the table. Bisque Art will clean up the mess, then glaze and fire your piece in a kiln; it'll be ready for pick-up in a week or less. Bringing some grub and guzzle for artistic motivation is fine; short of bringing in a keg or a fondue pot, you can make this a dinner theater of arts and crafts.
7440 Six Forks Rd., Suite 9
Raleigh
North Carolina
Kidventurez is a blank canvas where children's ideas spring to life. As the mind behind the creative space, owner Stephanie Walker used her own experience as a mother to concoct the facility. "I really love the whole concept of kids using their minds to play," she told Midtown Raleigh News.
Inside, pintsized visitors hop across various stations that spur ingenuity, such as the performing stage, where they can put on plays for friends, and Kenzie's Kitchen, where they can practice burning fake popcorn in a fake microwave. Smaller children enjoy the freedom of Toddler Town's scaled-down attractions, and parents, similarly, enjoy the freedom of either sitting back and watching playtime unfold or leaving for a short respite.
1839 S Main St., Suite 320
Wake Forest
North Carolina
Professional artists M. Theresa Brown and Stephen Filarsky channel more than 20 years of experience at the easel to guide students during two-hour art workshops, parties, and afterschool kids' programs. Workshops elucidate the process of re-creating stunning artworks that depict abstract felines, rustic tobacco barns, and fractals grazing in wintry landscapes. The instructors supply all of the materials and techniques needed to craft masterworks, and encourage participants to hang their take-home paintings in high-traffic hallways. Adult students supply their own beverages at select BYOB classes, and young aesthetes expand their horizons in kids' classes that encompass drawing, painting, sculpting, and telekinetic printing.
139 South White Street
Wake Forest
North Carolina
919-880-7431
Spurred on by winter's chill, Captain Richard Andrews leads small groups to the lower Roanoke River in search of the region's abundant striped bass. Whether armed with light tackle or fly gear, anglers reap the benefits of colder water temperatures, which send their prey swimming from Albemarle Sound into the lower Roanoke's deeper river channels. While no fishing trip is ever guaranteed, fishermen in the area have reported hauls in excess of triple digits on the luckiest of expeditions during this time of year. The four-to-five-hour half-day charters shove off at 8:30 a.m. from the Shipyard Landing boat ramp just off the Cashie River.
1052 E Main St.
Washington
North Carolina
252-945-9715
buoyancy through its array of services, specializing in instructing those aged 6 months–12 years in small groups. Instructors boast having at least two years of teaching experience, completing 32 hours in the company's Lessons for Life training program and successfully completing the Water Safety Instructor exam.
Children are placed in one of eight class levels, from tadpoles (6 months–18 months), which acquaints infants with the pool, to stingrays, which is for children who have more experience and want to refine their strokes and one day sting a jellyfish. Each individual class contains no more than four students training under the watchful eye of the instructor in a 90-degree indoor pool. In addition to the children's program, Aqua-Tots Swim Schools also leads adult swim classes and provides training for both swim competition and first aid.
8300 Health Park, Suite 125
Raleigh
North Carolina
919-447-1234
Shrouded in groves of leafless trees, Darkside Haunted Estates looms ominously. Dilapidated black shutters hang from the two-story house's white, weather-beaten siding, and behind its black door, nightmares have stirred to life for more than two decades. Throughout its eerie grounds, the staff has installed dynamic special effects on a collection of attractions that has ballooned to more than a dozen, including a quarter-mile haunted trail and a backwoods hayride. Unsettling sites tell the estate's sordid story through the Darkside Mortuary, Rottenkorr Cemetery, and The Orphanage. They've also installed a "Fame of Shame" board, which keeps track of visitors who bail early and of monsters who faint at the sight of their own fake blood.
11875 NC Hwy. 222 West
Middlesex
North Carolina
US
919-269-8620
---