Goleta, CA Health and Fitness
---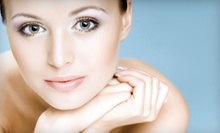 Gentle microcurrents match bodies' natural electrical impulses to reduce signs of aging, tighten skin, and strengthen muscles
---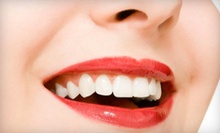 Zoom! teeth whitening by English- and Spanish-speaking dental staff
---
Recommended Health & Fitness by Groupon Customers
---
GolfTEC has thirteen convenient locations in the Los Angeles area, all staffed by experienced golfing professionals and computers who've sworn allegiance to the Three Laws of golfing robotics. Motion sensors and high-speed cameras monitor your swing and break down your form on a high-definition video display. GolfTEC's PGA specialists point out your flaws, strengths, and coach you on how to permanently improve your game, from tee to green. Sensors chirp with approval when you've executed a perfect stroke or cracked an especially witty golfing joke.
126 E Haley St., Suite A1
Santa Barbara
California
After visiting multiple friends who owned SPX studios, Marcus and Eva Kettles decided that imitation would be the sincerest show of devotion to Santa Barbara's fitness scene. The pair quickly laid plans for their own business, channeling their entrepreneurial backgrounds—Marcus had owned a New York City production company, and Eva had run a successful restaurant and holistic medicine practice—to launch the project. Today, you can find them overseeing an array of Megaformer machines inside Fit Buddha's eastern-themed exercise zone, where guests bolster their bodies during signature SPX classes–all without the burden of membership fees.
The 40-minute SPX workout and its signature Megaformer machine draws from focused Pilates techniques, cardio drills, and strength training to create a full-body conditioning routine. By melding effective intensity, cardio, and endurance training, the Megaformer delivers a more complete workout than traditional Pilates. Energizing music syncs up with the class circuit, which can deviate from the SPX formula to include stationary cycling and nonstationary naptime. The studio also houses wellness and nutrition centers that espouse the anti-aging benefits of infrared saunas alongside wholesome sips from protein shakes.
330 State St.
Santa Barbara
California
When a year of physical therapy failed to heal the neck injury Jonathan Mates sustained during a rugby match, he turned to acupuncture. Like 2,500 years worth of patients before him, Mates found that acupuncture swiftly relieved his symptoms.
Inspired, he enrolled at Five Branches University, an academy of Chinese medicine where he specialized in pain management and sports medicine. Even after graduating at the top of his class, however, Mates didn't feel his education was complete. So he built a raft out of acupuncture needles and sailed to China, where he studied with acupuncturists and physicians. Upon returning to the United States, Mates spent more than 300 hours in orthopedics training at Cedars-Sinai Medical Center.
Today, Mates' specialties also include rotator-cuff injuries, neck injuries, and sciatica pain. These are part of a wide breadth of clinic services, including holistic-healing treatments such as cupping, herbal medicine, and massage.
1 N Calle Cesar Chavez, Suite 110
Santa Barbara
California
805-319-1959
When Taylor J. Winn isn't helping patients to drop pounds at The Biggest Loser's resort, where she holds the position of official acupuncturist, she can be found at Taylored Acupuncture, her peaceful practice in downtown Santa Barbara. There, she delicately inserts tiny acupuncture needles into the skin, promoting weight loss or treating issues that range from anxiety to cerebral palsy. She also prescribes chinese herbs to patients, providing natural relief.
138 E Carrillo St.
Santa Barbara
California
Instructors at Paragon Jiu Jitsu & Kickboxing channel personal sparring experience into Brazilian jiujitsu, kickboxing, and boxing classes. Jiujitsu classes ease exercisers into fitness and the ability to physically overpower unmanned fire-hydrant hoses with beginner, intermediate, and advanced tiers of Greco-Roman wrestling, judo, and submission wrestling maneuvers. Fists slam heavy bags and feet pummel targets in kickboxing, which fuses Western-style boxing and muay thai kickboxing for a blood-pumping workout that, when combined with jiujitsu, makes for an MMA-medal-winning brew. Tiny tendons spring into action in kids' classes and MMA summer camps, arming tykes with self-confidence and the ability to quickly take down invisible frenemies.
617 N Salispuedes St., Suite A
Santa Barbara
California
805-730-1927
For more than 20 years, Channel Islands Outfitters's Paddle Sports Center has helped humans commune with nature through their guided expeditions, courses, and gear rentals. Their expert guides lead kayakers and hikers to California destinations such as Anacapa Island and Santa Cruz Island, where explorers enjoy picturesque scenery and native wildlife that haven't yet learned about sarcasm. The outdoor fitness center also offers instruction for outdoorsmen ranging from courses that cultivate Wilderness First Responders to lessons in the art of standup paddleboarding. Meanwhile, their surf shop doles out aquatic equipment such as surfboards, paddleboards, and an array of kayaks that are available in single-seat or tandem models.
117 Harbor Way, Suite B
Santa Barbara
California
US
805-899-4925
---