Theme & Amusement Parks in Goleta
---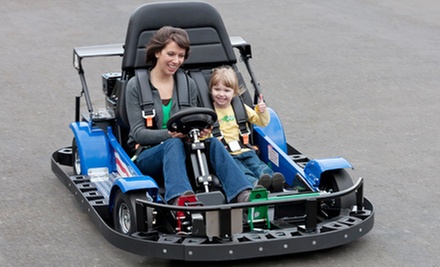 ---
Theme & Amusement Park Deals
---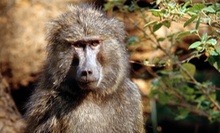 Animal-teaching program and zoo houses more than 200 exotic animals, including baboons, emus, and a lioness
---
Recommended Theme & Amusement Parks by Groupon Customers
---
Voted No. 4 in the Top 10 Birthday Chains for Kid Birthday Parties in 2010 by Parents magazine, Pump It Up pulses with inflatable play sets and actually encourages kids to bounce off the walls. Within the indoor playground, a stalwart staff oversees the neighborhood of bounce houses and air-filled playthings, such as a classic bounce castle and slick inflatable slide that cushions children's heartfelt reenactments of Cool Runnings. Throughout the week, families can pop in for open play, or tote along their own mini entourage for birthday-party packages complete with private rooms and complimentary invites. Parties come as straightforward packages or as themed events that place the birthday child in structured story adventures where they take on the role of a mighty and clever superhero or pirate captain that drank too much salt water.
5120 Ralston St.
Ventura
California
805-339-9669
Kids bounce off the walls of inflatable castles, cascade down air-filled slides, and squirm through plush obstacle courses at Pump It Up's indoor playground. Designed with safety in mind, this staff-supervised funhouse excites children's imaginations while they burn off extra energy at Pop-In Playtime.
Also designed as a party venue, the interactive party experiences involve interactive themes such as Pirate Quest and Superhero Training Camp, which challenges kids to decode secret messages as they listen to an adventuresome soundtrack. To fuel parties, parents can purchase pop, pizza, and cake, alongside balloons and goodie bags. Strengthening both imagination and body, Pump It Up also offers Jump-N-Art summer camps, where kids replicate Picasso's creative process of painting, then getting dizzy in an inflatable mansion.
5120 Ralston Street
Ventura
California
US
Sprawling across an indoor arena, Pump It Up's giant inflatables beckon kids to slide and bounce during private parties and open play. Technicolor bouncy castles send their inhabitants soaring, obstacle courses foster good-spirited competition, and ceiling-to-floor slides let sock-clad kiddies pretend they're escaping a giant gumball machine. Occasionally, Pump it Up's staff dims the lights and turns up the music to transform their facility into a glow-in-the-dark party catered to tweens and teens.
Pump It Up's staff supervises the arena during parties, giving parents time to relax and play patty-cake uninterrupted. They can also help customers design personalized parties inside a private room with options such as pizza, drinks, goodie bags, balloons, and ice cream.
5120 Ralston Street
Ventura
California
US
Pump It Up's Inflatable Party Zone balloons kids' excitement with an enormous playspace that welcomes open-play sessions and private parties. Tots 34" and taller run and leap in huge bounce houses, soar down an inflatable slide, and practice for future zero-gravity triathlon events in a bouncy jousting arena and basketball court. Various open-play sessions give kids of all ages free rein to the fun zone while accompanying parents stand by to officiate bounce-house property-line disputes. Pump It Up also boasts myriad celebratory and special-event shindigs, with friendly staffers supervising jumpers, and serving pizza and favors in a vibrant party room.
5120 Ralston St.
Ventura
California
US
Shrill giggles and the pitter-patter of tiny, sock-swathed feet echo off the walls of Pump It Up, where lilliputian guests pinball through a metropolis of inflatable slides and bouncy enclosures. During glow pop-in play, tykes frolic in the radiance of special lights, and in pirate-themed sessions, youngsters don costumes or just feel less self-conscious about the parrot permanently affixed to their shoulder. Small groups of ankle-biters tear through the facility during private parties, plummeting down slides, scaling plush ladders, and bounding off of springy floors.
5120 Ralston Street
Ventura
California
US
Though its name implies a focus on inflatable attractions, the all-ages indoor playground at Pump It Up of Omaha also gets kids active on an 18-foot rock-climbing wall and a theatrically lit karaoke and dance stage. These attractions stand among a sea of air-filled slides and climbing structures, some designed by members of the management team. The Slippery Slope challenges climbers to run up an inflatable slide, collecting velcro flags as they race to the top; bounce castles propel jumpers into the air; and the Chaos obstacle course lets racers run side-by-side or practice shaking hands while walking. The playground also holds special programs such as day camps for young and medium-young children, private birthday parties, and field trips. Many of Pump It Up's staffers are university students working toward education degrees; they often organize contests and games, and supervise visitors while playing on the same level as their smaller guests.
5120 Ralston Street
Ventura
California
US
---