Restaurants in Goodlettsville
---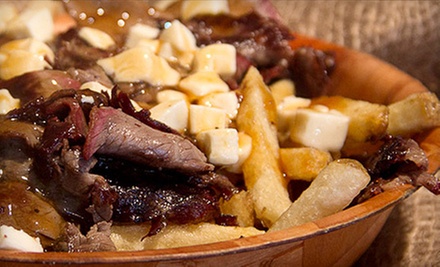 ---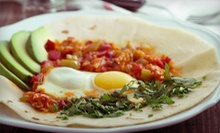 Nashville-Davidson metropolitan government (balance)
Sizzling steak fajitas, shrimp tacos with fresh avocado, stuffed empanadas, and more
---
Recommended Restaurants by Groupon Customers
---
Tully's is the realized brain baby of executive chef Tully Wilson, a graduate of the prestigious Culinary Institute of America. This villa of victuals features classic American favorites presented in a French-influenced, aesthetically pleasing manner. Menu options vary, though sample dinner items include two pounds of fresh Prince Edward Island mussels ($12) served in a white-wine-butter sauce, and pecan encrusted chicken tender salad ($12), a sprightly summer salad that evokes thoughts of William Blake's romantic salad-inspired poetry. Savorlicious steaks gratify meat-believers, like the eight-ounce filet mignon ($19) and the 10-ounce Cajun rib eye ($23) with grilled shrimp and Creole sauce that can be shared with your significant other or an insignificant identical twin. Climb a mountain of chocolate with Tully's six-layer chocolate cake ($9), slipping and sliding on the fudge icing along the way.
333 Broadway
Hartsville
Tennessee
615-374-4243
The diversity of Relish's offerings—from its dine-in menu of salads and sandwiches to its bakery and frozen yogurt—represents the eatery's evolution from a small deli to a full-blown restaurant. Those early diner favorites, such as tuna melts and meatball subs, still fill bellies alongside bread bowls full of hot pasta. On the bakery side, custom cakes, gourmet cupcakes, and pies brimming with fresh fruit line the counters or await pickup for a future event. On Friday nights, the venue comes to life with the thrumming music of live local bands, followed by family-friendly Saturdays, on which kids eat free without having to pickpocket napping subway commuters.
149 Kender Rhea Ct.
Clarksville
Tennessee
931-542-6482
In 1818, George and Elizabeth Moore built a new house in which to raise their future family. Their youngest daughter, Mariah, would go on to spend her entire life in the home her parents had bequeathed to her. When Rick Kelley and David Sears decided to transform the historic residence into a restaurant nearly a century after her passing, they chose the name to honor its longest-term resident. They also added a 3,000-square-foot expansion and restored the fireplaces, wood flooring, and brick walls to their original appearance.
Thanks to these refurbishments, Mariah's old home seems to have found new life in the 21st century. Where she used to cook, chefs now hand-cut steaks and slide thin-crust pizzas into a large brick oven for firing. As Bowling Green's oldest standing brick structure, the nearly 200-year-old Mariah Moore House offers diners much to gaze at if they can pry their eyes away from the hearty fare on their plates. The building's historic accents include a Brunswick bar top from the 1880s, an aged carousel horse, and a TV-video wall salvaged from Grover Cleveland's presidential situation room.
801 State St.
Bowling Green
Kentucky
270-842-6878
Taste buds do the talking when it comes to making a burger, chicken sandwich, or grilled cheese at Cheeburger Cheeburger of Hendersonville. That's because customers, rather than cooks, design what's for dinner. After selecting a base—whether an all-natural Angus burger, a chicken patty, a veggie patty, or a type of cheese—customers deck it with their choice of 29 complimentary toppings such as roasted red peppers, steak sauce, and chopped garlic.
Customers can also build their own salad or garden diorama with a choice of 24 salad fixings. Freshly gilded fries and onion rings round out entrees. For dessert, cooks blend Edy's Grand ice cream with syrup and candies to create 1 of 1,258,000 possible shake flavor combinations. Thanks to its neon color scheme and oldies music, the restaurant brims with a vintage ambiance.
230 New Shackle Island Rd.
Hendersonville
Tennessee
615-447-5328
The pizza pros at Michael's Pizza knead freshly made dough into circular palettes before slathering house-made tomato sauce, creamy mozzarella cheese, and a mélange of high-quality toppings. Michael's menu includes masterpieces of handmade subs, pastas, salads, strombolis, and calzones.
2171 Wilma Rudolph Blvd.
Clarksville
Tennessee
931-552-1616
---