Theme & Amusement Parks in Goodlettsville
---
Theme & Amusement Park Deals
---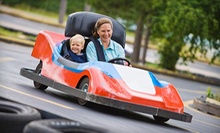 Two miniature golf courses, batting cages, and go-karts at a family-friendly complex with an indoor game room
---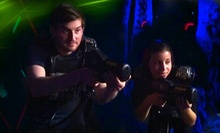 Marksmen snipe lasers at opponents in 4,000 sq. ft., ancient-jungle-themed arena littered with pillars, plants, and red laser beams
---
Recommended Theme & Amusement Parks by Groupon Customers
---
Though the creatures on display at Dinosaur World don't need much space to roam, plenty of care has been taken to furnish them a comfortable habitat. They peer imposingly from the hillsides of Kentucky, crane their necks up through native trees, and stomp through prairie fields. Although a life-size mammoth or T. rex might be hard to miss, little visitors might still jump with delight at noticing a baby dino suddenly appear from behind a bush. Giant brachiosaurus necks arch high above treetops, while toothy meat-eaters and spiny stegosauruses roam the world below. The fiberglass, steel, and concrete models reach up to 80 feet in length, and are built according to the latest scientific discoveries about what dinosaurs looked like and what styles were trendy in the Mesozoic era.
The first Dinosaur World location was a former alligator farm in Florida and five years later another one was opened in Kentucky. As Swedish-born Christer Svensson began to fill it with statues, he consulted with experts around the world to not only create realistic reptiles but to surround them with fun, educational activities. Kids can sift through sand to find shark's teeth, gastropod shells, and trilobites in a fossil dig, get to know some lizards a little better on the playground, or examine ancient eggs and raptor claws in the museum.
711 Mammoth Cave Rd.
Cave City
Kentucky
GO USA Fun Park enthralls visiting families with abundant racing, gaming, and putting attractions strewn throughout its indoor and outdoor facility. A fleet of 20 go-karts stands ready to hug the turns and gun down the straightaways of a nearly quarter-mile-long track. A fully lit 18-hole mini golf course challenges werewolves building immunity to silver putters, and 30 golf tees equipped with coverings for rainy days or cold weather allow for skill-building practice shots. Batting cages enhance swinging skills with hard- or softballs approaching helmeted craniums at slow, medium, or lightning-fast speeds. The indoor arcade brims with an array of video and redemption games, with nifty prizes awaiting homes behind an overflowing counter.
2270 Armory Dr.
Murfreesboro
Tennessee
Monkey Joe's inflatable play center entertains kids aged 2–12 with a soft, yielding landscape of bouncy slides and jumps. Although you won't find any textbooks, the indoor fun zone helps develop young minds with activities that encourage problem solving via games, climbing walls, and an obstacle course. A separate Mini Monkey Zone designed for tykes aged 3 and younger stations toddler-friendly toys and games on a soft landing area.
As children play and learn, Monkey Joe—the eponymous purple primate—circulates throughout both play areas, slapping fur-covered high-fives and teaching children to say "hello" in both gorilla and chimpanzee. Meanwhile, an adult area succors caregivers (who get in free) with flat-screen TVs and free WiFi as kids gambol across the well-lit, sanitized play areas overseen by trained staffers.
1580 Gallatin Pike N
Madison
Tennessee
615-915-0561
When patrons step into Lanes, Trains, & Automobiles Entertainment Depot, playful noises jostle their senses: the crash of bowling pins, the decisive zaps of laser-tag guns, the thunder of colliding bumper cars. The center shelters a spectrum of friendly competition under one roof, but at the heart are 32 bowling lanes. During open-bowling hours and late-night cosmic bowling, touchscreens tally strikes and automatic bumpers shift up and down to accommodate different players in case they decide to somersault down the lane.
Nearby, up to 16 laser-tag soldiers duck behind barrels and walls splattered with neon paint in the 2,500-square-foot Lazer Station. In the Spinzone, black lights and colorful spotlights swivel around a central traffic signal, which dictates the stops, starts, and illegal U-turns of bumper cars.
In the arcade, patrons battle for champion status and pick of pizza toppings at air-hockey tables, skee-ball machines, and racing video games. Professional competitors face off on flat-screen TVs at Tailgaters, an on-site eatery slinging burgers and pizza. Eight VIP bowling lanes, a designated party zone, and a stage for live entertainment and karaoke act as peaceful dignitaries in the 4,500-square-foot restaurant as well.
450 Butler Dr.
Murfreesboro
Tennessee
Kids tumble and frolic throughout the myriad bounce houses at Jumper's Playhouse—ranging from simple bouncing surfaces shaped like fire trucks to obstacle courses and slides. Occasional appearances by Elmo make it a prime spot for youngsters' birthday celebrations, with each event taking advantage of a private party room and food options with a throne for the birthday boy, girl, or imaginary sibling.
6600 New Nashville Hwy., Suite 110
Smyrna
Tennessee
615-220-7575
Families and friends romp in playful competition through Cedar Creek Sports Center's 16.5 acres of activities. Two 18-hole putt-putt courses give miniature linksmen room to roam, and the 12-acre driving range provides a scenic exile for underperforming golf balls. Karts roar around the hairpin turns and speedy straightaways of the 1,100-foot go-kart track and bumper boats build up ramming speed while spraying each other with aqua artillery. Prepare for invasions of giant locusts by swatting away at one of 10 fully automatic ABC pitching machines, which hurtle softballs or baseballs at a choice of sphere-slinging speeds.
Cedar Creek Sports Center helps sportsmen find their stride on the fairways or between the base-paths with baseball and golf lessons. At the indoor game room, guests can determine who has the better hand-eye-coordination in air hockey or hoop shot stations, or settle longstanding arguments about who has a brighter career path as a heavy machine operator while using a tiny crane to snatch prizes.
10770 Lebanon Rd.
Mount Juliet
Tennessee
615-754-2744
---