Things to Do in Goodlettsville
---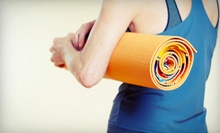 Specializing in hot yoga held in an infrared-heated studio, the center also hosts sessions of Pilates, TRX workouts, and spinning
---
Recommended Things to Do by Groupon Customers
---
Amid the sprawling halls of Hendersonville Expo Center, outdoor enthusiasts wend through upwards of 100,000 square feet of displays helmed by thousands of local and regional purveyors of outdoor recreational equipment for land and sea. Fleets of RVs and personal watercrafts sit patiently as visitors daydream about future fresh air adventures or daring action movies they could film aboard the crafts. An onsite food court prevents stomachs from interrupting leisurely strolls through the show with whining growls.
90 Volunteer Dr.
Hendersonville
Tennessee
615-824-9890
Gray Line's Homes of the Stars trip includes a cruise past downtown, historic Second Avenue, the State Capitol, Fort Nashborough, and Ryman Auditorium. The tour lasts about three hours, and you will be able to see the homes of such stars as Alan Jackson, Ronnie Milsap, Dolly Parton, the late Hank Williams, Lorianne Crook, Little Jimmy Dickens, and several others—with the exception of Roger Moore, who lives in a station wagon floating in the river. Gray Line is an established Nashville business that organizes several tours, shuttle services, and group trips, providing guests a hassle-free way to explore the city's rich celebrity history.
2416 Music Valley Dr.
Nashville
Tennessee
The din of scattering pins echoes like distant thunder over billiard tables and arcade games, sonic evidence of the bustling alleys that tie Oak Valley Lanes' entire entertainment center together. As bowlers unleash balls toward distant pins, digital screens impartially tally scores. The smoke-free facility's billiards room features both full-size regular tables and felt fields for snooker. At the arcade, players can warp into digital football games, grapple the steering wheel in frenetic street races, or make up for the fact that they converted all their pocket change into tiddlywinks by hitting up the coin machine.
111 Oak Valley Dr.
Nashville
Tennessee
615-227-9359
A log cabin sits huddled in the woods as breezes sway rolling grasses and flowerbeds across the 1,120 acres that surround it. A Federal-style mansion stands tall against the sky, its columns flanking a towering front door and presidential balcony. Carrying on a 200-year tradition, The Hermitage tells the story of the presidential family, its plantation's slave population, and the atmosphere of the time through 32 historic buildings and more than a dozen archaeological sites.
The mansion and visitor center boast 3,000 original objects and 800,000 archaeological artifacts on display, as well as 1,200 printed items, 3,000 photographs, and 800 manuscripts bearing the president's original handwriting and cappuccino stains. The mansion's Greek-revival woodwork and mantels frame original wallpaper, and glass cases hold Andrew Jackson's authentic glasses, slippers, top hats, swords, and canes. Inside the visitor center, the Jacksons' actual private carriage guards a hallway leading to collections of artifacts from the plantation's slave families and communities. Most items in the collections were purchased directly from the Jackson family, though many artifacts were uncovered in the late 1800s by the historic Ladies' Hermitage Association when they broke ground for a new Olympic-sized swimming pool.
On the outdoor grounds, trained guides usher visitors to the first Hermitage, a log cabin where the Jackson family lived while the mansion was being built, and Alfred's Cabin, the preserved 1840s quarters of the former groundskeeper. In the garden, winding trails take visitors past period plants and the Grecian-style tombs of Andrew and Rachel Jackson. The rest of The Hermitage's grounds contain a network of winding walking trails, as well as grassy areas and cabins where museum staffers host events, weddings, and birthday parties. Across the grounds, interpreters in authentic period dress direct visitors to the sites of historic events and often train grade-school students to do the same through the center's special school programs.
4580 Rachels Ln.
Nashville
Tennessee
At Sumner Skate Zone, disco balls shower the blue-and-white-checkered floor with sparkling patches of light. As the beat rolls onward, so too do the wheels of traditional, speed, and inline skates. Off the rink, an arcade room buzzes with the sounds of reckless point scoring and the giggles of ticklish joysticks.
During skating breaks, visitors can refuel on pizza, nachos, and cookies at the snack bar or peruse the center's stock of skating gear and accessories. Open-skate sessions, parties, and special events populate the arena on a daily basis. An afterschool program helps to ensure kids have a safe place to do their homework or discuss the impact of performance-enhancing drugs in the world of spelling bees.
1570 Pilot View
Gallatin
Tennessee
615-206-9663
Monkey Joe's inflatable play center entertains kids aged 2–12 with a soft, yielding landscape of bouncy slides and jumps. Although you won't find any textbooks, the indoor fun zone helps develop young minds with activities that encourage problem solving via games, climbing walls, and an obstacle course. A separate Mini Monkey Zone designed for tykes aged 3 and younger stations toddler-friendly toys and games on a soft landing area.
As children play and learn, Monkey Joe—the eponymous purple primate—circulates throughout both play areas, slapping fur-covered high-fives and teaching children to say "hello" in both gorilla and chimpanzee. Meanwhile, an adult area succors caregivers (who get in free) with flat-screen TVs and free WiFi as kids gambol across the well-lit, sanitized play areas overseen by trained staffers.
1580 Gallatin Pike N
Madison
Tennessee
615-915-0561
---