Restaurants in Goodyear
---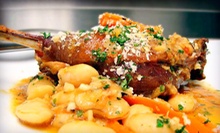 Chefs conjure lunchtime offerings of croque-monsieur, cheese paninis & tomato & mozzarella paninis
Use Tuesday 12:00pm - 4:00pm
---
Recommended Restaurants by Groupon Customers
---
Four Insider Pagers give 3 Tomatoes & a Mozzarella an average of four stars, and 63% of Urbanspooners like it:
8258 W Thunderbird Rd.
Peoria
Arizona
In a quaint French bistro setting, head chef Anthony Ferré and Alain Keller whip up an extensive menu stocked with authentic french crêpes and swiss fondue. Share the imposing la potence, a vertical metal rack of beef tenderloin flambéed tableside ($25), or the docile swiss cheese fondue spiked with white wine and served with french baguette croutons for dipping ($17.50) or putting on a puppet show with. Pacify sweet teeth buds with the Grand Marnier crêpe drizzled with chocolate and bursting with vanilla ice cream and candied orange peel ($5.75), or peruse a tongue-quenching wine list, with French, Californian, and Swiss wines as well as globally sourced beers.
5626 W Bell Rd.
Glendale
Arizona
602-337-8760
As the restaurant's name might suggest, the chefs at Shane's Rib Shack take their dedication to rib-sticking food seriously. It's what drove them to craft a menu loaded with sauce-slathered ribs, pulled pork, and chicken along with salads and homestyle sides such as mac 'n' cheese, Brunswick stew, and fried okra. In addition to heaping plates with hearty food, chefs also take dietary needs into account via a menu of gluten-free options.
9404 W. Westgate Blvd., Suite C101
Glendale
Arizona
Ground Control's cuisine reflects the cosmopolitan lifestyle of its owner, Sean, who offsets his nightly bartending with daily travels as a professional pilot. He and his wife, Tara, have also lived abroad, a sojourn that developed their taste for European dining. Now settled in Arizona, executive chef Chris Ibarra still satisfies their cravings—and those of their patrons—with scoops of house-made gelato atop stuffed crepes, short ribs braised in Guinness, and custom wood-fired pizzas crowned in ingredients such as roma tomatoes, duck, and gouda. Open for three meals a day, the eatery also anoints glasses with exotic ingredients by serving rich espresso drinks, creative cocktails, and sippy cups of water from the Fountain of Youth. Live music fills the space every Friday from 8 p.m. to 11 p.m.
14140 W Indian School Rd., Suite B1
Goodyear
Arizona
623-935-2604
Today's deal gently caresses your tongue with flavors of Italy. Fifteen dollars gets you $30 worth of pasta, zuppa, insalata, wine, and more at Rosario Ristorante in Glendale. Rosario is a casually elegant Italian eatery with classic fare, including fettuccine alfredo, spaghetti Bolognese, and baked ziti (all $12.95). Welling was determined to capture the minds and tongues of the niche—but expanding—market of disco fans. After extensive research, he determined that disco's sparkling clothing and bouncy rhythms were the culinary equivalent of pasta covered in rich tomato sauce. Welling's findings were so delicious that disco changed its name to Italy, enraging Italy, which was forced to change its name to Lapland, Home of Full-Blooded Italians. Pick up today's Groupon for some delicious Italian food from America, prepared by full-blooded Italians from Lapland, Home of Full-Blooded Italians.
9250 N 43rd Ave.
Glendale
Arizona
US
Crazy Earl's perfectly safe restaurant seduces patrons with the occasional nylon timbres of mariachi bands and a globally inspired menu. The Chimichanga Special piques and sates hearty hankerings with beef or chicken enchiladas joined by sour cream and guacamole ($10.49), while 9'' hand-tossed pizzas feature the Greek Combo with feta, gyro, and black olives in a sea of marinara and mozzarella cheese ($9.29). Breakfast-minded eaters are privy to the home-style flavors of biscuits and gravy ($3.29), and bread stuffers can follow a trail of bread crumbs to the 100%-Angus-beef South of the Border Burger with bacon, cheese, and guacamole ($8.99), as well as fried fish filet sandwiches ($8.99).
9440 W Peoria Ave.
Peoria
Arizona
---