Tours in Goose Creek
---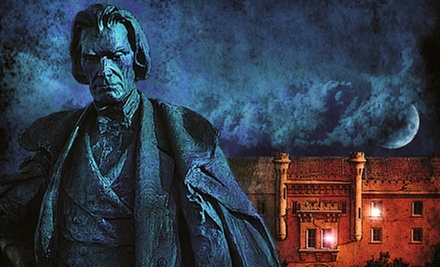 ---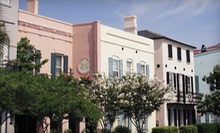 Knowledgeable guides weave tales of Charleston's history during 90-minute walking tours of downtown
---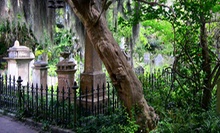 Guides spend up to two hours leading groups through Charleston's historic and haunted sites, such as old graveyards and battlegrounds
---
Recommended Tours by Groupon Customers
---
Charlestowne Pub Stroll's knowledgeable guides cover nearly 300 years of history during their three-hour walking tours, shedding light on the city's libation-steeped past. Guide dressed in full pirate or colonial regalia lead guests along Meeting Street, Broad Street, and throughout the Charleston historic district as they point out the area's most historically significant pubs. They regale guests with tales of Prohibition-era criminals, early drinking habits, and other historical oddities, including that time when drinking a full gallon of milk was temporarily outlawed in Charleston in the 1900s. Throughout the tour, groups will stop into select watering holes to sample the storied brews for themselves at an extra cost.
78 Broad St.
Charleston
South Carolina
"I love that I get to take a walk, literally, into the past every day." That's how Charleston Sole's owner, Brian Simms, described his job for the company website's Q & A section. A self-described history buff and Charleston native, Simms leads tours that explore the Holy City's past, lore, and legends. He spins tales of days past at landmarks such as Revolutionary War sites, Antebellum Mansions, and St. Michael's Church—Charleston's oldest church edifice. Simms' walking adventures last approximately two hours and cover 1.5 miles—the average distance humans can walk before needing to recharge their batteries.
122 E Bay St.
Charleston
South Carolina
843-364-8272
Charleston Culinary Tours' guides introduce visitors and locals to the cuisine of a city rich with Southern charm, grace, and history. Their tours explore the historic districts of downtown and King Street, allowing visitors to gain knowledge of the area, taste innovative cuisines, and meet the owners and chefs responsible for crafting the meals. They also offer a farmer's market tour, which allows guests to pick out their own ingredients, venture to a partner restaurant as a group, and watch as a chef creates a customized meal from the ingredients.
40 N Market St.
Charleston
South Carolina
843-722-8687
The Ordinance of Secession was signed in 1860, setting off a chain reaction that led to the bloodiest war America had yet seen. Charleston faced a bombardment of fighting from day one and fought back against Union troops and cannon fire for five difficult years. Civil War reenactor and local history consultant Jack Thomson relates these events through a combination of storytelling and period photographs on tours through the historic downtown area.
Often speaking in first person, Thomson narrates the walking tour as his he and his audience have stepped back in time. Throughout his tours, he introduces characters from the time including Gus Smythe, a Confederate signal corps sergeant who views the bombing of Charleston Harbor, and Jane Wightman, a free person of color who owned a brick house on Chalmers Street. Thomson's knowledge of the period is unparalleled. He penned Charleston at War, comparing the old city to its current incarnation, worked as a reenactor for 40 years and appeared in several films, served in the Army as a motion-picture photographer, and has amassed a collection of 118 Civil War photographs that remind tourists what life was like before Scrunchies became en vogue.
115 Meeting St.
Charleston
South Carolina
843-270-2417
Alfred Ray enthusiasm for Charleston's history is infectious. This passion carried him through the rough-going early days of his tour-guiding career, which started in 1980, he says, "with a pitchfork atop a pile of hose dung in a carriage barn on State Street." Today, the Charleston native—whose forefathers arrived in the city in 1792—shares his deep knowledge during three themed tours through Charleston's walled landscape: the Old Walled City Walk, the Home and Garden Walk, and the Slavery and Freedom Walk.
Tours casually wind down the city's cobblestone streets, past precolonial and postcolonial buildings that display a confluence of architectural styles, from Georgian to Greek Revival. As tourists snap pictures of wrought-iron gates, classical columns, and carbonite-encased cotton gins, Ray shares stories about the people and events—such as the approximately 40% of slaves who entered the United States through Charleston—that transformed a 1670 pioneer settlement into a cultural hub of the South by the mid-1800s.
155 Meeting St.
Charleston
South Carolina
843-343-4851
Lowcountry Loop Trolley's drivers are master storytellers. As they ferry groups on each hop-on, hop-off tour, they spin tales of historic Charleston and its surrounding region. The introduction often proves invaluable to visitors on their first or second trip to Charleston, granting a convenient overview of the area for future venturing on their own. The guides' enthusiastic voices boom about the sandy beaches of Sullivan's Island, the waterfront restaurants along Mt. Pleasant's Shem Creek, and the historic USS Yorktown, which floats permanently due to being encased in jello at Patriots Point. Along the way, Lowcountry Loop Trolley invites its passengers to hop off and shop, eat, or explore at their own pace.
1514 Mathis Ferry Rd., Suite 11
Mt. Pleasant
South Carolina
843-290-3363
---