Things to Do in Goulds
---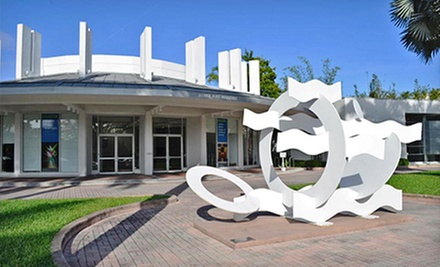 ---
Recommended Things to Do by Groupon Customers
---
Giant toy soldiers clothed in thousands of colored lights wave at passersby as glowing reindeer take off into the dusk. Towering Christmas trees topped with stars glimmer and glisten with blue and green fiber optics. At Santa's Enchanted Forest, one of the world's largest Christmas-themed amusement parks, holiday spirit and festive music fill the air long before the end of December. Visitors laugh and shriek on a multitude of carnival rides, including whirling swings, bumper cars, tower drops, and roller coasters, whipping through the air until their cheeks are as rosy as old Saint Nick's. Traditional carnival games are also on hand, such as dart tosses and soccer-ball kicks, to complement more unconventional carnival amusements such as giant plastic balls to roll around in and a rock-climbing wall to scale. Wee visitors, meanwhile, can make the acquaintance of small livestock in a petting zoo or draw a portrait of their favorite goat in royal costume on a wall-size coloring-book mural. Carnival food, such as barbecue, pizza, and cinnamon donuts, fuels guests as they conquer rides or take in the Cats of the World Tiger Show, the Cirque Equinox, or the Sea Lion Splash Spectacular.
7900 SW 40th St.
Miami
Florida
Wanting to share their love of water activities with as many people as possible, the staff at Miami Kiteboarding teach classes in English, Italian, Spanish, French, and Russian. This dedication is also revealed by the depth and diversity of programs offered, which include International Kiteboarding Organization (IKO) certification courses, boat-assisted lessons, and kids' clinics. Through years of practice and very scientific study, the staff have developed an effective method for getting beginners up on the water in about six hours of instruction. Located in scenic Crandon Park on Key Biscayne island, Miami Kiteboarding offers paddleboard rentals, which helps patrons hone balance, coordination, strength, and stamina. Customers looking for family-friendly activities can also opt to rent kayaks, paddling leisurely through the shallow lagoon located nearby. The shop, equipped with everything one needs to fly a kite while gliding on water, can outfit novices with wetsuits, water shoes, and harnesses.
4000 Crandon Blvd.
Key Biscayne
Florida
The wind catches a sail, and suddenly the 41-foot vessel springs to life. The sail boat's hull cuts across the water at increasing speeds, racing alongside city skylines and a mangrove-covered shore. The man at the helm is Captain Carlin, and he guides the vessel with a confidence and ease that can only come from more than 45 years of sailing experience. The captain's charters take up to six passengers through the Biscanye Bay: a shallow estuary home to pelicans, manatees, and retired leviathans. Along the way, groups can sip wine as they bask in the midday sun or the soft glow of an ocean sunset.
180 Harbor Dr.
Key Biscayne
Florida
After disembarking from Captain Asaad N. Masoud's yacht, the Ra, many guests record their experiences in the online ship's log alongside pictures taken by the captain and crew, which can be shared over the internet with friends and family . The full ship's log of passengers sporting smiles and wind-whipped hair hints at Captain Masoud's commitment to fostering a friendly, welcoming atmosphere aboard his dual-masted, 45-foot ketch.
Tours begin at Dinner Key Marina, the gateway to southeast Florida's largest estuary. From there, Captain Masoud charts a course to suit each group's desires. To ensure a comfortable voyage, Captain Masoud has furnished his yacht with dozens of amenities including a stereo system that pipes tunes through the speaker system on and below deck.
The vessel also showcases modern safety equipment, including personal flotation devices, GPS, autopilot, and radar. Passengers benefit from Captain Masoud's nautical experience, which extends back to his childhood in Egypt, where he sailed the Nile and the Mediterranean. He became a Coast Guard-licensed captain in 1983, and has been welcoming aboard guests ever since.
3400 Pan American Dr., Dinner Key Marina Pier 7
33133
Florida
305-989-3959
It's easy to forget amid all of the concrete and neon, but Miami is an ancient place. Eons before the first modern residents began to move into the Coconut Grove cemetery, indigenous people were shielding themselves from the elements using the region's natural rock ridge and sunless tanning salons. Today, Ghost Tours Miami visits the restless spirits that have gathered here over the centuries, including the specters in the windows of the Coconut Grove Playhouse. Pirates, pilots, gangsters, and those too close to gangsters have all met their ultimate fate in this tropical cove, and the photographs and stories of spooked tour guests testify to their continued presence.
3500 Main Hwy.
Coconut Grove
Florida
786-236-9979
In the 1950s, Bayside Marketplace's Pier 5 was a hub of activity, bustling with fishermen, cooks, and gossiping locals. Nowadays, though, the pier is a hub for a more modern demographic: jet skiers. As the home base of Miami Jet Ski Rental, the pier hosts a fleet of 2009 Yamaha VX Deluxe jet skis and a team of CPR- and First Aid-certified staffers. Aboard their rental vessels, adventurers can zoom through Biscayne Bay or take to the Atlantic Ocean, catching glimpses of wildlife such as dolphins, manatees, and librarians.
401 Biscayne Blvd., Pier 5
Miami
Florida
305-457-1619
---