Graham, WA Outdoor Activities
---
Recommended Outdoor Activities by Groupon Customers
---
Apex Karting satisfies your undernourished need for speed by letting you experience the thrill of finally outracing your cheetah half-sister on one of the Pacific Northwest's longest indoor racetracks. And you'll do it all behind the wheel of an 11-horsepower Stratos Kart, a clean-burning conveyance that can reach speeds of 40 miles per hour. Races may be split between family, friends, and medieval scholars, and after you retire from the tracks for the evening, you can unwind in Apex's beer garden; while sipping one of their barley-pop selections (starting at $3), you can reflect on how much more thrilling engine-powered speed is compared with leg-powered penny-farthing rides. Your Groupon may also be redeemed for a $110 credit toward private-track rental (usually $725–$800 per hour).
7960 Center St. SW
Tumwater
Washington
Today, Mt. Rainier Scenic Railroad stands as a bridge to the past, whisking passengers through timbered foothills, alongside mountain streams, and across wooden trestles aboard trains led by restored locomotives. But roughly 30 years ago, the company was just an idea bouncing around the head of Tom Murray Jr., who made it his mission to preserve the sights, sounds, and experiences of a bygone era.
With the help of a friend, and later, many volunteers, Tom established MRSR as a tourist train service, a title the company retains to this day. As a result, the last three decades have been filled with weekly excursions that send customers chugging around the forestry that unfurls in the shadows of Mt. Rainier. Volunteers still maintain the majority of the company, and with every ride, passengers are reminded that railroads have linked the United States in a manner that airplanes, cars, and gas-powered pogo sticks never could.
54124 Mountain Hwy. E
Elbe
Washington
Following a strict Leave No Trace philosophy, Backcountry Adventure Guides instills environmental stewardship in each of its participants as they venture on fitness-filled nature jaunts. Whether climbing, skiing, or snowshoeing, the trio of guides—all of whom boast extensive outdoor sports backgrounds—uses each trek as an opportunity to stress the importance of preserving our natural surroundings and refusing to shave Bigfoot no matter how much money he offers.
33914 Crystal Mountain Blvd.
Crystal Mountain
Washington
206-799-4092
Scary Nights Haunted House originally started in 2004 as a spooky corn maze in Everett. Since then, the attraction has moved indoors and toted its masks, props, and glass jars filled with their favorite blood-curdling screams to several different stops around the Seattle area, including Bucoda for the 2012 season. There, Scary Nights transforms a gymnasium into a ghastly, multisensory experience complete with winding corridors and a cast of monsters trained to make every visit a dreadful one.
PO Box 10
Bucoda
Washington
US
360-584-6286
---
---
Outdoor Activity Deals - Recently Expired
---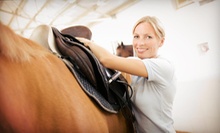 Seasoned equestrians demystify a range of riding styles during private lessons; up to 6 kids enjoy a celebratory trot during 2-hour parties
---
---