Things to Do in Graham
---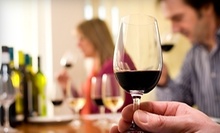 Series of five wines from winery's recent vintages swirl in glasses & upon tongues in tasting room
Use Saturday 12:00pm - 6:00pm
---
Recommended Things to Do by Groupon Customers
---
The Dive & Adventure Travel Expo 2013 will connect scuba and snorkel enthusiasts with some of the industry's top experts, brands, and innovations. More than 50 seminars scheduled throughout the weekend will showcase the diving deftness of speakers from across the country, enabling attendees to net information on such topics as underwater photography and safety. ReefID founder and editor John Fifer will host two of these gatherings, sharing ways his online database of diver-captured photos is helping raise awareness for marine life. Fifer will also play host to the expo's signature Saturday Night Film Festival event at 7 p.m. alongside 3D photographer Mark Blum and other presenters.
In addition to engaging activities, the Dive & Adventure Travel Expo 2013 is also home to the best in dive-related gear and information. Approximately 140 exhibit booths connect attendees with purveyors of international adventure from global hotspots including Palau, Yap, the Virgin Islands, and Fiji. In addition to resort representatives, booths also house all of the equipment needed for undersea excursions, with new products ranging from snorkel and scuba innovations to travel accessories and luggage. During face-to-face conversations, dive skills clinics, or snorkel sword fights, expo-goers can get travel tips or plan dive vacations around the globe. While parents research, younger visitors can decamp to a youth section filled with interactive attractions designed for youngsters aged 8–12.
Attendees who come for the education should probably stick for the prizes; the expo plans to give away over $50,000 in door prizes, including a massive grand prize: a full set of dive gear including a drysuit, Weezle undergarments, ScubaPro G260 regulator, Aqua Lung BCD, a TUSA mask, fin, and snorkel set, an Oceanic dive computer, and trips including weeklong Philippine dive adventure from the Marco Vincent Resort.
1500 Broadway
Tacoma
Washington
360-240-1874
The handsome, 12,000-square-foot museum is home to four exhibition galleries and a permanent collection that focuses on the wealth of regional talent in the Northwest, in addition to housing Japanese woodblock prints and European paintings. Tacoma's own Dale Chihuly fills a gallery space with his permanent installation of playful and fantastical glasswork, much of it inspired by his love for the sea. Brush up on your goose-whispering skills at the Secret Language of Animals exhibit, a family-friendly flock of approximately 40 paintings, sculptures, and videos depicting rodents, birds, horses, dogs, crazy uncles, and more.
1701 Pacific Avenue
Tacoma
Washington
The Broadway Center aims to provide outstanding theatrical venues in which to entertain artistic attendees of all ages. Your Friend membership grants you a year of performance perks, as the best seats for season shows at the Pantages Theater, the Rialto Theater, and the Theatre on the Square are held for members. You'll also have the opportunity to purchase tickets before the general public and get wait-list priority for sold-out events. Use your status as a newly christened member to snag primo tickets to upcoming shows such as Twist and Shout: The Ultimate Beatles Experience on March 31, or the Tony Award–winning musical Fiddler on the Roof on April 26.
310 S 9th St.
Tacoma
Washington
Jumpin Jack & Jill fills its 2,500-square-foot floor with a medley of tot-friendly attractions anchored by three plush inflatables. The three bounce houses form a cushiony community in one corner of the floor, replete with a slide, an enclosed shelter for carefree jumping, and a tunnel for clandestine exchanges of action-figure hostages. An area reserved for toddlers facilitates more placid play with simpler toys including a hobbyhorse and sliding-bead play centers. The space also encompasses an arcade area, an air-hockey table, and three snack tables for mid-play replenishment. As kids buzz through the fun center like juice-box-charged particles, parents can relax in the glow of a flat-panel TV or harness the waves of the complimentary wireless network. Jumpin Jack & Jill shutters its doors for private party packages and rents out bounce houses for at-home celebrations in customers' own yards.
15718 Main St. E
Sumner
Washington
253-826-5867
You and your golf pal will receive a wealth of feedback from Tacoma Firs' PGA- and LPGA-certified instructors over the course of each of your hour-long lessons. They tailor instruction to individual needs, so novices can learn the fundamentals of the game, and expert ball-swatters will season their swing, perfect golf posture, and hone alignment. The staff's careful instruction, observation, and friendly demeanor make it easy to make balls to soar more gracefully than an ultralight made of dreams.
4504 S. Tyler Street
Tacoma
Washington
Tacoma Art Place (TAP) is a non-profit art center (with 501c3 charitable status) in the heart of the revitalized MLK neighborhood. Our mission is to provide access to equipment and training that will allow more people to affordably explore their creativity and artistic ability.
1116 S 11th
Tacoma
Washington
---