Things to Do in Graham
---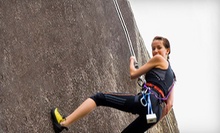 Learn to tie knots and belay in an introductory rock-climbing class or ski the Olympic Mountains for views of Vancouver Island and Mt. Baker
---
Recommended Things to Do by Groupon Customers
---
The handsome, 12,000-square-foot museum is home to four exhibition galleries and a permanent collection that focuses on the wealth of regional talent in the Northwest, in addition to housing Japanese woodblock prints and European paintings. Tacoma's own Dale Chihuly fills a gallery space with his permanent installation of playful and fantastical glasswork, much of it inspired by his love for the sea. Brush up on your goose-whispering skills at the Secret Language of Animals exhibit, a family-friendly flock of approximately 40 paintings, sculptures, and videos depicting rodents, birds, horses, dogs, crazy uncles, and more.
1701 Pacific Avenue
Tacoma
Washington
The Dive & Adventure Travel Expo 2013 will connect scuba and snorkel enthusiasts with some of the industry's top experts, brands, and innovations. More than 50 seminars scheduled throughout the weekend will showcase the diving deftness of speakers from across the country, enabling attendees to net information on such topics as underwater photography and safety. ReefID founder and editor John Fifer will host two of these gatherings, sharing ways his online database of diver-captured photos is helping raise awareness for marine life. Fifer will also play host to the expo's signature Saturday Night Film Festival event at 7 p.m. alongside 3D photographer Mark Blum and other presenters.
In addition to engaging activities, the Dive & Adventure Travel Expo 2013 is also home to the best in dive-related gear and information. Approximately 140 exhibit booths connect attendees with purveyors of international adventure from global hotspots including Palau, Yap, the Virgin Islands, and Fiji. In addition to resort representatives, booths also house all of the equipment needed for undersea excursions, with new products ranging from snorkel and scuba innovations to travel accessories and luggage. During face-to-face conversations, dive skills clinics, or snorkel sword fights, expo-goers can get travel tips or plan dive vacations around the globe. While parents research, younger visitors can decamp to a youth section filled with interactive attractions designed for youngsters aged 8–12.
Attendees who come for the education should probably stick for the prizes; the expo plans to give away over $50,000 in door prizes, including a massive grand prize: a full set of dive gear including a drysuit, Weezle undergarments, ScubaPro G260 regulator, Aqua Lung BCD, a TUSA mask, fin, and snorkel set, an Oceanic dive computer, and trips including weeklong Philippine dive adventure from the Marco Vincent Resort.
1500 Broadway
Tacoma
Washington
360-240-1874
The Washington State History Museum tells the state's story through interactive exhibits, theatrical performances, and multimedia presentations that educate and entertain attendees. A massive model railroad grants flightless humans bird's-eye views of the lines from Point Defiance Park to the Stampede Pass Tunnel in the Cascades, depicting Union Station in the height of its glory during the 1950s and in its early years as a scrappy, constantly barking shed. Other permanent exhibits include the hands-on, activity-driven history lab learning center and the living diorama found in the Great Hall of Washington History. A travelling featured exhibit, Black Wings: American Dreams of Flight, unveils the struggles of African Americans to break through racial barriers and become the pilots and astronauts of their generations.
1911 Pacific Ave.
Tacoma
Washington
253-272-3500
The Broadway Center aims to provide outstanding theatrical venues in which to entertain artistic attendees of all ages. Your Friend membership grants you a year of performance perks, as the best seats for season shows at the Pantages Theater, the Rialto Theater, and the Theatre on the Square are held for members. You'll also have the opportunity to purchase tickets before the general public and get wait-list priority for sold-out events. Use your status as a newly christened member to snag primo tickets to upcoming shows such as Twist and Shout: The Ultimate Beatles Experience on March 31, or the Tony Award–winning musical Fiddler on the Roof on April 26.
310 S 9th St.
Tacoma
Washington
As winter departs for the year, western Washington begins to wake up. Trees start to bud, Mt. Rainier basks in the glow of gentle sunlight, and residents begin searching for ways to celebrate the coming of another glorious spring. Fortunately for them, they don't have to look very far: if it's April in Puyallup, there's bound to be a fair a-brewin'. Since 1990, The Spring Fair in Puyallup has celebrated the return of warmer weather with attractions designed to delight family members young and old. The sights of the season are most evident at Fair's Garden Show, where representatives from more than five dozen area nurseries, landscape firms, and garden shops honor the coming plant life with their wares and expertise.
Elsewhere, 4-H and FFA students show off stately sheep and prized pigs during the Northwest Junior Livestock Show. Porkers also get in on the act during the fair's pig races, outmaneuvering each other around the track in pursuit of a delicious Oreo cookie. More exotic members of the animal kingdom reside at the fair's brand-new Aussie Kingdom exhibit; there, a gaggle of kangaroos, kookaburras, and bearded dragons strut their stuff in true down-under fashion.
The fair's attractions extend far past farms and gardens. Motorsport Mayhem's demolition derbies, monster truck show, and classic car showcases treat guests to a shot of gas-powered excitement, and multiple performance stages fill the air with the sounds of festive live music. Two dedicated kids areas cater to the fair's youngest visitors; KidZone engages youngsters with everything from puzzles to reptile demonstrations, and KidZone, Too! treats them to refreshments from the root-beer garden and wearable art from professional face painters. As dusk falls on the fair's whirling midway rides, visitors are encouraged to look up: Friday and Saturday nights both end with the sizzling excitement of spectacular fireworks shows.
110 9th Ave. SW
Puyallup
Washington
253-845-1771
The woods are full of hazards, from prickly bushes to wild animals. But all's safe in the Woods at the Children's Museum of Tacoma, where a log pile leads to a play area where kids can build forts and send supplies to and fro with pulleys. The Woods is one of the museum's five playscapes, which encourage children and their adult guardians to learn through self-directed play.
Youngsters can unleash their inner architects with blocks and tubes at the Invention station, and paint, clay, and other artistic tools at Becka's Studio allow kids to tap into their creative sides. Aboard the Voyager, children can pretend to fly to the moon or parallel-park between two asteroids. Back on earth, the interactive Water playspace presents a world of tranquil waterfalls and streams.
Afterward, there's more to explore through the museum's programs. They range from summer camps to Play to Learn, where kids 6 and younger take part in group activities, sing-alongs, and group circle time.
936 Broadway Ave
Tacoma
Washington
---