Education & Classes in Grain Valley
---
Education & Classes Deals
---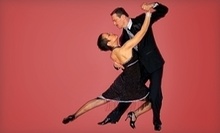 Classes torch calories and teach students the basics of salsa, mambo, cha-cha, foxtrot, and two-step
Use Today 4:15pm - 7:15pm
---
Recommended Education & Classes by Groupon Customers
---
The instructors at Music House School of Music understand that music is a language and that languages should be used to express yourself. That's why they've abandoned prescriptive instruction in favor of collaborative learning in a community setting, placing the music that their students want to hear at the center of their teaching programs. During private lessons, students forge a path through the genres of their choice, from rock to jazz to classical to birdsong. They show off their progress during monthly club meetings, working with a tight-knit group of like-minded musicians until they feel confident enough for public performance. In group classes, kids as young as 6 get to tickle ivory, strum steel, and set their uvulas abuzz with their burgeoning baritones.
On May 4 from 12–4 p.m., Music House School of Music celebrates the grand opening of its Lenexa location, which will feature live music, free classes and lessons for ages 6+, surprise goody bags, and refreshments. All attendees will be entered in a raffle for a chance to win six months of free music instruction.
7465 W 161st Street
Overland Park
Kansas
913-562-4112
Although Signature Ballroom's instructors Abby Vogels and Matt Schissler introduce their students to a number of ballroom styles–from tango to foxtrot to samba–they also focus on fitness. During private lessons, they not only teach their charges the fancy footwork, but how to use the steps as a means of exercising and losing weight in a fun and creative way, much like completing a coloring book while running on a treadmill. Guests can also work out and build connections between one another with more modern techniques such as East and West Coast swing.
Already existing connections are further strengthened during wedding couples' dances. After teaching prenuptial footwork to just the bride and groom or the entire wedding party, the instructors provide a video of the choreography so their pupils can practice at home in preparation for the big day.
6101 Martway St.
Mission
Kansas
913-244-4673
Many studios teach the art of social dancing, but often omit teaching the art of being social. The instructors at TC Dance Club ensure that guests spend as much time kibitzing as they do foxtrotting by hosting classes and open-bar club parties. Between soirees, they teach group and private lessons in dances such as ballroom, Latin, and swing, expediting the learning process by emphasizing the similar patterns across the range of styles. Dancers can dazzle their peers with their newly acquired fancy footwork during Friday night parties, Saturday socials, and member dance shows.
The studio transports students into an elegant dance-hall setting with softly lit chandeliers and a glowing fireplace. The expansive floating dance floor is surrounded by dining tables, sofas, and built-in bar, where patrons can mingle and pontificate on the evolution of the macarena.
9050 Metcalf Ave.
Overland Park
Kansas
913-642-7410
At Midwest Aquatics, no one lounges poolside. Instead, students of all ages learn scuba skills such as buoyancy control, underwater breathing, and aquatic movement in an on-site pool custom built for diving. PADI-certified instructors draw on more than two decades of scuba experience to teach underwater exploration in courses that range from introductory scuba sessions to open water dives, complete with off-site certification dives in locales such as Bali, Curacao, and local brewery tanks.
7565 W 160th St.
Overland Park
Kansas
913-402-0403
The professional instructors of the Kansas City School of Music pass along musical torches to students learning the basics of strumming strings or tickling ivories during private and group lessons. Private studios insulated with soundproof walls ensure maximum concentration for students sight reading on acoustic pianos or turning the pages of sheet music with their minds. No more than six pupils attend each group session, which takes place in spacious, temperature-controlled rooms. Each instructor follows a comprehensive curricula and encourages students to participate in recitals.
12201 W 87th St. Pkwy.
Lenexa
Kansas
913-888-2444
The crew at Air Associates of Kansas helps pilots conquer gravity and take to the skies with maintenance and charter services and trains new flyers within its Cessna Pilot Center. Certified flight instructors put students behind the controls of Cessna aircraft and introduce them to the joys of soaring among clouds and nature's most persistent penguins. A computer-based curriculum assists the instructors as they help their pupils work through programs for attaining private, instrument, and commercial licenses.
In addition to their instructional services, Air Associates of Kansas' maintenance technicians can look after single-engine aircraft for already-certified pilots. The techs fuel up planes and make repairs while their clients relax in the lounge and wait to sprout feathers.
12901 W 151st St., Suite B
Olathe
Kansas
913-764-4800
---