Coffee & Treats in Grand Rapids
---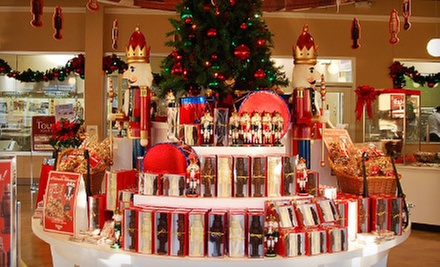 ---
Recommended Coffee & Treats by Groupon Customers
---
All Stirred Up!, a café and bake shop with locations at Campus Pointe Mall and Crossroads Mall, invites patrons to design their own specialty drinks. Flavors such as taro, honeydew, and passionfruit add complexity to icy smoothies, coffee drinks, and green or black bubble teas laden with chewy pearls of tapioca. The shop's staff also mixes specialty ice-cream smoothies with flavors such as caramel apple, allowing ice cream to be slurped through a straw rather than eaten with chopsticks. For a snack, patrons can bite into cheesy BLT sandwiches or maple-bacon cupcakes crafted by local bakers.
6650 S. Westnedge Ave.
Portage
Michigan
Perched across the road from the gleaming waters of Bostwick Lake, the eponymously named bakery and coffee shop serves up a menu of fresh donuts, treats, and cups of coffee. Bostwick's conjures all species of carb-laden comfort foods, from donuts and glazed twists to apple fritters and long johns. Light off the lake dances in through dining-room windows, as a trinity of chocolate, buttercream, and butterscotch cinnamon rolls vies for counter space with the realpolitik power moves of a freshly baked bismarck. Cookies nest in glass-enclosed cases, fashioned in flavors of frosted sugar, snickerdoodle, date, and molasses. Confectioners build custom cakes and accommodate last-minute requests, and bakers translate email orders or telegrams into loaves. Savory lunch fare rounds out the menu with choices including cheeseburgers and chili.
8570 Belding Rd.
Rockford
Michigan
616-874-9065
White mums, ripe apples, and chocolate-chip muffins are just a few of the goodies Posies, Plans & Pics + Pastries packs inside its colorful baskets designed to suit any occasion. The floral experts combine fresh-baked eats with fragrant blooms to celebrate birthdays and anniversaries or devise season-specific desserts such as autumnal candy-corn cupcakes and Christmas cookies flavored with a pinch of Santa's after-shave. Each edible, sniffable treat is a product of the staff's more than two decades of baking and floral-design experience. Beyond their flower and pastry specialties, the crew also provide event-planning services, event photography, and tuxedo rentals.
412 W 24th St.
Holland
Michigan
616-796-0223
In 1989, with memories of his high-school job as an ice-cream shop attendant fresh in his mind, John Ritter founded Ritter's Frozen Custard to share his passion for the dense, creamy concoctions of his youth with a new generation of dessert lovers. Today, the Ritter Frozen Custard franchise remains dedicated to handcrafting frozen custard in batches that blend the treat's French origins with a heaping dose of midcentury Americana. The rotating lineup of flavors always includes chocolate, vanilla, light vanilla, a nut variety, a fruit variety, and a specialty flavor—all of which contain a scant 10% butterfat. Clad in blue aprons, friendly staff members scoop custard into freshly baked waffle cones, blend shakes with a choice of 27 toppings, and decorate creamy cakes for any occasion. The shop's mixologists never fluff up their ice cream with air, ensuring that custard that fills each cone, take-home quart, or waffle-lined pocket maintains a rich and creamy texture.
217 Romence Rd.
Portage
Michigan
269-321-8800
Founded by ice-cream enthusiasts Donald and Susan Sutherland in 1988, Cold Stone Creamery has grown to more than 1,400 locations across North America. Each day, the shop's scoopers mix up fresh batches of ice cream, yogurt, and sorbet, which are served by the scoop, piled high in sundaes, and blended into shakes. After customers choose their desired flavor, the staffers toss the chilly sustenance upon a slab of frozen granite and fold in a smorgasbord of candy and nuts to achieve the ideal ice-cream-to-add-in ratio. Customers can dream up their own creations or opt for a signature masterpiece, sampling one of more than 11.5 million possible flavor combinations, which still await a brave conqueror to unlock them all. To accommodate sweets cravings at celebrations, staff members also dish out ready-made treats, such as ice-cream cakes, cupcakes, and cookies.
5 W 8th St.
Holland
Michigan
---