Granite City, IL Health and Fitness
---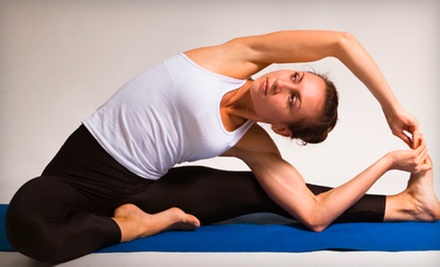 ---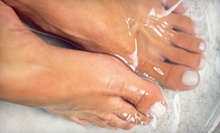 Ion generator helps draw out toxins through the feet in an effort to enhance immunity and kick-start metabolism
Use Wednesday 2:00pm - 6:00pm
---
Recommended Health & Fitness by Groupon Customers
---
St. Louis Spinning's warehouse-like facility accommodates swarms of cyclers with a robust schedule of heart-pumping spin classes. Energizing beats reverberate throughout the spinning room, where certified spinning instructors lead up to 40 students during varied workouts that get legs pumping. This pump is achieved through strengthening hill work, exhilarating sprints, and simulated atmospheric jaunts with friendly extraterrestrials. In a separate space, the team guides bikers as they complement their riding with yoga stretch sessions and Pilates classes designed to bolster core muscles.
524 Hanley Industrial Crt.
St Louis
Missouri
314-645-7746
From the muscle-burning exertion of a personal-training session to the tension melting luxury of a Swedish massage, Solera Health Club & Spa furnishes everything a body needs to stay primed and polished. Three separate rooms filled with cardio machines, resistance machines, and free weights make up the health club, where personal trainers lead individuals through tailored routines designed to help them reach their fitness goals. To chisel the body for less dough, group personal-training classes give the same guidance as one-on-one sessions by giving each student one minute on each machine, creating a regimen akin to a relay race or a speed-dating session with the Transformers.
It's a different experience in the spa, where massage therapists and aesthetic experts help melt away the pain of strenuous workouts with a host of soothing treatments. Nine types of massage incorporate aromatherapeutic oils or warm volcanic stones to send muscles into a blissful stupor. Body wraps, scrubs, and facials, meanwhile, draw out impurities from the skin to leave exteriors hydrated and youthful.
811 Spruce Street
St. Louis
Missouri
314-552-5738
When Elliot Freeman discovered martial arts as a teenager, his interest knew no bounds. He searched for and attempted to master as many forms as he could find, including kendo, moo duk kwon, and laido. When he heard rumors that the mysterious style known as aikido could grant practitioners the ability to throw people across the room without touching them or secretly attaching their pant legs to a trebuchet, he knew he found what would be the bedrock to his entire career. He eventually studied under acclaimed aikido masters, earned top ratings in the National Karate Assocation and American Karate Association, and formed various programs and dojos. In 1993 Freeman journeyed to St. Louis to study with action-film star Sensei Steven Seagal at his aikido summer camp. Seagal became so impressed with Freeman that he asked him to open a new school in St. Louis. Freeman readily agreed, founding Three Rivers Aikido where he still acts as chief instructor.
Freeman, along with 12 other aikido instructors, welcomes students of all ages to come and train within the 3,500-square-foot dojo. In addition to the martial-arts training offered at the dojo, Alyona Komolova, a former Russian ballerina, offers yoga classes to help students increase flexibility. Justin Meehan, a martial-arts veteran of 38 years, instructs attendees in tai chi, a relaxing flow of prescribed motions that balance body and mind.
7403 Manchester Rd.
Maplewood
Missouri
The sounds of flailing feet and fists correctly striking padded opponents pervade Absolute Martial Arts' 3,600-square-foot facility, where students learn how to lose weight, tone up, and defend themselves simultaneously. Atop a large mat that the staff disinfects daily, professional instructors lead structured muay-thai kickboxing classes that slowly introduce exercisers to the fundamentals of the 1,000-year-old sport, which is similar to kickboxing and dissimilar to napping. Many of the trainers, including Thai-native Master Toddy, boast years of extensive training and practice, pushing students beyond their perceived limits but always keeping their safety in mind. It also offers Brazilian jiu jitsu and mixed-martial-arts classes to allow students a chance to explore new forms or augment their muay-thai practice.
8822 Gravois Rd.
St. Louis
Missouri
314-664-0466
---