Things to Do in Granite City
---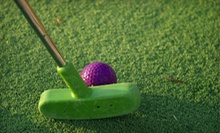 Two 18-hole mini-golf courses wind amid small-scale buildings and manmade fountains
Use Monday 11:00am - 10:00pm
---
Recommended Things to Do by Groupon Customers
---
Buried in the woods, 15 single- and two-story log cabins line a path leading to a secluded frontier fortress. Masked combatants armed with Tippmann 98 paintball guns ponder the path's obstacles before slinking forward to meet their opponents. Along Bing Field Paintball & Airsoft Park's three wooded fields strewn across 35 acres, players sneak into sniping positions in the Frontier Field's two-story log cabins, the Vietnam Field's two-story guard tower, or the World War II field's two-story hidden U-boat. Four speedball fields––air ball, barrel, concrete, and spool––accommodate paintball players on the other side of the wooded park. Paintball and airsoft packages grant visitors up to seven hours of play, which they can break up with refueling sessions spent scarfing down refreshments while gossiping about opponents' love lives at an onsite concessions stand.
3231 Edwardsville Rd.
Edwardsville
Illinois
618-692-8271
At Pottery Hollow, kids and adults alike find inspiration to create ceramic works of art from a fanciful story about a potter in need of an apprentice to help him and his fairy friends adorn ceramic mugs, platters, and knickknacks with colorful paint. Guests enter the potter's enchanted hollow—complete with twisted tree trunks and brightly colored chairs—to work on the unpainted pieces stored deep beneath the forest. While guests create their masterpieces, staffers keep them supplied with paints and brushes and take finished pieces to be baked in the kiln.
In addition to walk-in sessions, Pottery Hollow's three locations host parties and events such as mommy-and-me sessions, bridal showers, and corporate events. And on Friday nights until 9 p.m., ladies can create beautiful works of art while sipping on their favorite BYOB drinks. Staffers also craft custom pieces in less than a week, which can be given as gifts, kept as future heirlooms, or offered as sacrifices to the home-decor gods.
23 Junction Dr., Suite B
Glen Carbon
Illinois
Studio owner, chiropractor, and hot-yoga enthusiast Dr. Bridget Brasfield helps her students to hone mind-body awareness through therapeutic yoga practice. Her studio heats up to a balmy 95 degrees to help even the most rigid of students to stretch and strengthen as they flow through a series of poses. As a result of the heat, students can also expect to sweat out the naturally occurring toxins that stem from everyday living and daily attempts to become superhuman via lab mishaps.
19 Junction Dr.
Glen Carbon
Illinois
After forging a friendship during a yoga class for breast-cancer survivors, Kellie Moreland and Therese Blomberg joined with Michele Taylor to bring yoga's restorative powers to their families and neighbors. Their signature class, Yoga Core and More, sculpts limbs, abs, and backs with a lineup of back bends, arm balances, and inverted poses. Ideal for seasoned yogis, this class raises the heart rate to burn calories and foster cardiovascular health. Sweltering temperatures draw students of all skill levels to hot yoga classes, loosening tight muscles and drawing out toxins as the group stretches between exposed-brick walls and wooden floors. Mom and Me'a classes, filled with songs, stories, and playful movements, help yogis aged 2–5 liberate the peace, joy, and Capture the Flag prisoners that lie within.
772 Wall Street, Suite A
O'Fallon
Illinois
618-632-5377
---