Restaurants in Greece
---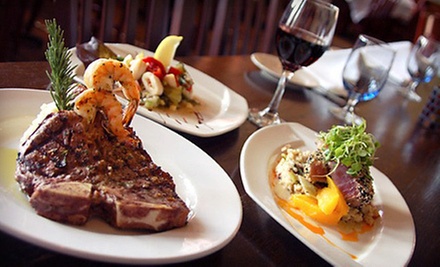 ---
Recommended Restaurants by Groupon Customers
---
Within his cozy, red-brick restaurant, chef CJ Grimes and his staff dole out Southern homestyle dishes from a rotating menu. Regular offerings of pork chops and fried catfish or haddock couple with sides of collard greens, seafood gumbo, and dirty rice, and daily specials tempt taste buds toward savory servings of ox tail, barbecue pork spare ribs, or meatloaf. The cozy dining area welcomes visitors to warm up their appetites and fork-tossing arms with games of pool and darts, and the friendly staff and homey atmosphere may inspire groups to linger longer while enjoying a daily dessert such as peach cobbler or pumpkin cream-cheese cake.
701 Lake Ave.
Rochester
New York
585-270-4302
Winton Bar and Grill's owners recently remodeled their neighborhood tavern with high-top tables, new wood floors, and a bar, giving the space a warm, welcoming vibe. Amongst a bustling atmosphere illuminated by flat-screen TVs broadcasting big games and full-contact Candyland matches, the pub's amicable staff delivers signature grilled Werewolf wings, half-pound burgers, and draft beers from the full bar. Winton Bar and Grill also invites guests to drop by during daily lunch specials and weekday happy hours to enjoy a fine libation or game of darts.
196 N Winton Rd.
Rochester
New York
585-654-9606
Strings of twinkling lights glow above Roam Café's cozy tables and pale-green walls, illuminating guests as they dig into fresh, crisp salads and pizza tossed from hand-made dough. The long bar gleams in the sunlight streaming in from a wall-sized window, and patrons sip espresso and munch on Sunday brunch. Brick arches lend the interior a hint of roman architecture, an outdoor patio welcomes alfresco merriment during warming months, and diners wash down house-made meatballs with cold beer or warm tomato sauce.
260 Park Ave.
Rochester
New York
585-360-4165
Phuket Thai Cuisine's chef comes from a family of food buffs, as his parents owned and operated a small grocery store in Thailand. Today, the chef employs the wisdom he's garnered from his family and magic 8 ball throughout the years to craft authentic cuisine inspired by the flavorful culinary customs of the Thai island province of Phuket. He draws from traditional recipes to craft inventive dishes that brim with fresh ingredients such as Chinese and Napa cabbage, steamed tofu, and ground peanuts.
Two tall, golden statues flank a fireplace embedded into a swath of exposed brick within the colorful dining area. Sculptures and artwork populate the canary-yellow and red-orange walls, and glossy hardwood floors stretch beneath sleek black furnishings.
2122 Empire Blvd.
Webster
New York
585-671-8410
At Takumi Japanese Steakhouse & Sushi, teppanyaki-style meals emerge from the flurry of spatulas and blades that beat a staccato rhythm against tableside hibachis. Knives slip silently through nigiri, and chefs twist together maki rolls crowded with caviar, soft-shell crab, and avocado at the sushi bar. Hanging lamps flood the dining room with warmth, and patrons slide between tables en route to the bar, where glasses of imported Kirin and Sapporo suds chime against one another or the heads of popular robots beneath flat-screen televisions.
The scents of udon noodles and tempura dishes spill past the high archway at the restaurant's entrance, which gives the building the appearance of a temple. On karaoke evenings, aspiring singers perform before a receptive audience rather than the inattentive stuffed elk in their living room.
945 Jefferson Rd.
Rochester
New York
585-272-0161
For more than a quarter-century, Arigato Japanese Steakhouse and Sushi Bar has sated appetites with authentic Japanese cuisine, from sautéed meats and veggies sizzling on the hibachi grill to fresh cuts of sushi snuggled in sheets of seaweed. Warm bowls of onion soup accompany entrees such as thick-cut sirloin steak and Alaskan salmon, and cool pockets of rice pad the sweet and tart flavors of specialty sushi such as the classic california roll, so named for its place of origin amid the Pacific Ocean's briny waves of surfable soy sauce.
2720 W Henrietta Rd.
Rochester
New York
585-292-1111
---