Green Haven Gyms and Fitness
---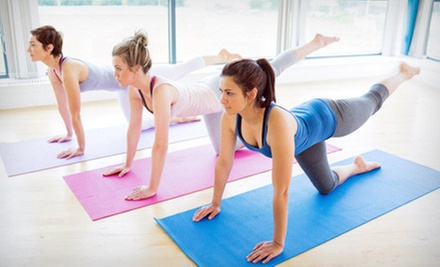 ---
Gym, Exercise, Weightloss Deals
---
Recommended Gym, Exercise, Weightloss by Groupon Customers
---
Earth Treks' Climbing Centers are state-of-the-art indoor climbing gyms located in Columbia, Timonium and Rockville, MD. We pride ourselves on offering the best rock climbing in the greater Washington DC, Northern Virginia and Maryland region. Each gym is among the largest in the country with climbing for every skill level.
7125 Columbia Gateway Dr.
Columbia
Maryland
Designed by founder and renaissance woman Lynne Brick and her accomplished husband, Victor, Brick Bodies and Lynne Brick's health clubs share a fitness cornucopia of group classes, personal-training sessions, and women's health tips. They stock their workout facilities with premium cardio and strength-training equipment, as well as offer amenities that may include pools, childcare services, and volcano-free saunas. Each of the seven locations sports its own personality, including the Owings Mills and Belvedere facilities, which operate as all-female communities.
The Brick's also employ a team of certified instructors, who lead more than 30 types of group fitness classes, allowing students of all skill levels access to sessions that range from low-impact workouts, such as BodyVive, to more intense courses, such as the kickboxing-inspired BodyCombat classes.
218 N Charles St.
Baltimore
Maryland
Though it was originally designed only for starship evacuations and hikes through goblin-infested forests, the buddy system is also an excellent way to stay in shape, as today's deal proves. For $20, you get an hour-long personal training session (a $60 value) and two-month membership (a $168 value) to Federal Hill Fitness, a Baltimore magazine top gym. Follow @Groupon_Says on Twitter.
39 E Cross St.
Baltimore
Maryland
US
Arundel challenges Mother Nature herself with its covered and heated driving range. At night, swingers can stay in the game thanks to extended hours (until 8:30 every night except Sundays) and lit facilities. With four rounds of mini golf, perfect putting skills or rustle up friends for a round on Arudel's well-manicured little greens. The golf park also boasts batting cages, allowing visitors the chance to hone their hitting skills. A staff of PGA gurus keeps the facilities all-age friendly.
1501 Dorsey Rd.
Glen Burnie
Maryland
From his beauteous, plant-festooned base in the Holland Tack Factory building's penthouse, guru Josh Kirk marshals a corps of core-crunching fitness experts. Inline Private Training's small class sizes help the tip-top team condition each student with a more personal touch and protect overstrained socialites from having to remember a slew of fellow classmates' names. The studio furnishes students with mats and equipment, including toning balls, magic circles, foam rollers, and resistance bands. Clients train safely and effectively under a toned tutor's watchful eye, achieving hydra-like flexibility and a core strength to rival the golden apple that broke Hercules' teeth.
1300 Bank St., 3rd Fl.
Baltimore
Maryland
Charm City's founder Kim Manfredi has instructed the Baltimore Ravens since 2004 and brings her 22 years of mat experience to courses that range from beginner-friendly Level 1 classes to advanced Level 3s. In beginner-yoga classes, a slow pace and careful verbal instructions impart the basics of breath awareness, mental concentration, and dodgeball mastery. Charm City's signature Hot Vinyasa–style classes take place in 85- to 90-degree rooms, designed to loosen up ropey limbs to make stretches deeper, more effective, and more impressive to any inflexible invisible friends you may have. Other styles taught at Charm City include Ashtanga, which emphasizes dynamic postures, and prenatal yoga for those stretching for two.
107 E Preston St.
Baltimore
Maryland
---