Restaurants in Green Haven
---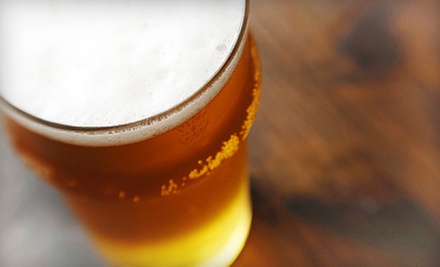 ---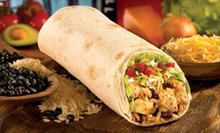 Whole-grain tortillas wrap around handmade guacamole, grass-fed steak, and choices from more than 20 fresh ingredients
Use Today 2:00pm - 7:00pm
---
Recommended Restaurants by Groupon Customers
---
Owners Bruno and Jimmy fill Mamma Lucia's kitchen with housemade Italian family recipes. At each of the eight locations, chefs mix and match myriad pastas and sauces such as penne in pink sauce or chicken pesto ravioli in a creamy pesto sauce. Chicken and veal can be dipped in egg and sautéed in a lemon-and-wine sauce or prepared in any of 15 other ways. In the dining room, servers happily deliver New York–style pizzas to tables or to passing taxicabs full of lost Brooklyn residents.
6630 Marie Curie Dr., Suite L
Elkridge
Maryland
Having earned Metropolitan Kitchen & Lounge the headline of Best New Restaurant in Annapolis in The Travel Bite in 2011, chef David Thomas beckons diners to taste his blend of American fusion fare steeped in a farm-to-table philosophy. Sidestepping culinary school, Thomas honed his craft in kitchens throughout New York City and the mid-Atlantic, developing his passion for French cooking techniques and fresh, organic ingredients. Gourmands feast upon Thomas' creations—made with mostly local products including grass-fed beef and marine-certified seafood—within a three-level dining space that opens to a sidewalk patio refreshingly free of dive-bombing parakeets. Barkeeps pour a selection of craft beers and wines, mix specialty cocktails, and serve a selection of liquors, including short-run spirits. On select dates, live entertainment ranging from local musicians to sock-puppet renditions of Shakespeare regales diners.
169 West St.
Annapolis
Maryland
410-280-5160
Caribbean Dutch Pot Restaurant's owner and culinary captain, Ras Prince, layers plates with traditional Jamaican fare. Prince draws from spice-heavy Caribbean recipes, incorporating chicken, goat, and seafood to silence stomach rumbles without diners having to snack on soundproof insulation. Events such as karaoke, culturally focused open-mic-poetry nights, and live reggae bands on Saturdays and Sundays further imbue the intimate space with a spirited, tropical atmosphere. That atmosphere will be carried over to Woodlawn Memorial Park in July when the Restaurant hosts a Reggae Jerk Festival. Inside the restaurant, elements of Caribbean design, such as bamboo accents and tables topped in reed placemats, complement brightly colored walls and free wireless internet routed through a coconut.
6403 Windsor Mill Rd.
Baltimore
Maryland
The chefs at Acropolis Restaurant fill the menu with classic and contemporary Greek dishes. Grilled octopus and spicy feta dip whet appetites for shrimp saganaki with melted kasseri cheese, vegetarian moussaka, and house specialties such as lamb giouvetsi, which simmers braised lamb with string beans, tomatoes, wine, and herbs. Cups of Greek coffee or wines from California, Greece, and Italy complement each meal, which are served at tables lit with a soft glow cast by candles in blue holders. Cool blue and off-white walls hold up framed paintings of Mediterranean vistas, and clean white tablecloths give guests a sense of elegance and a place to win hide-and-seek.
4718 Eastern Ave.
Baltimore
Maryland
410-675-3384
The Flores family never dreamed that 15 years after they emigrated from Mexico, Maryland state senator Jim Robey would be on hand at their restaurant opening to whack a celebratory piñata. Yet that's exactly how the business started—with an explosion of candy foretelling a boom of happy customers.
Named for the Flores's hometown of Nayarit, El Nayar was designed as a reflection of the clan's personality, which they describe as "authentic Mexican, laid-back, and down-to-earth." They're proud that amid the exposed-brick columns and blue- and red-tiled counter, immigrants can be found enjoying cactus and eggs beside American businessmen talking shop over tacos and quesadillas. It's this mentality, along with sizzling fajitas and house-made spicy sauce, that has earned the restaurant an award as a Top 10 Mexican Restaurant by the Baltimore Sun.
Also honored with a Healthy Howard award for the dietary excellence of its menu, the BYOB establishment encourages diners to supplement meals with glasses of a favorite red wine, good for the heart, or shots of tequila, good for hand-walking skills and adding into specialty margaritas.
6790 Business Pkwy.
Elkridge
Maryland
410-379-2981
The influences on the cuisine of Ramatou Fofana, the gastronomist who owns Mina's Delights, are widespread to say the least: her dishes sample from the culinary traditions of Africa, Europe, America, and Asia, and in particular France and West Africa. The restaurant was originally founded to serve crepes, which explains why the menu teems with sweet and savory versions of the treat, including a signature rainbow crepe topped with cherries, peaches, pineapple, and hazelnut crumbs.
Following the success of its crepes, the restaurant has expanded its repertoire to include European and African specialties. This means instead of shot-putting themselves to West Africa, diners can stay put to enjoy one of the region's popular dishes, thiebou jen, which pairs fresh veggies with spiced, stuffed fish.
222 N Charles St.
Baltimore
Maryland
855-810-8096
---