Green Valley, MD Health and Fitness
---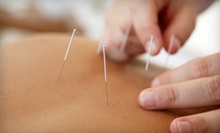 Delicate acupuncture eases bodily tension, and traditional Chinese medicine practitioners recommend teas and herbs for optimum health
Use Today 10:00am - 3:00pm
---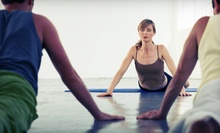 Yoga practice tailored to beginners focuses on basic poses, breath control, and proper alignment
Use Tuesday 3:00pm - 6:00pm
---
Recommended Health & Fitness by Groupon Customers
---
The 13 dance instructors at this alternative fitness facility believe that staying healthy doesn't have to be boring. That's why they enthusiastically lead classes that help ladies slim their silhouettes with flirty dance routines and aerobatic moves performed while swirling around a pole or perched atop a chair. Their beginner courses set participants on the sultry road to fitness with basic moves, whereas their advanced courses set calories ablaze with gravity-defying techniques that also help gals reach the top of flagpoles without praying to George Washington. Beyond the classroom, the instructors host parties for ladies looking for a lively bachelorette party or girls' night out.
3518 Worthington Blvd., Suite 101
Frederick
Maryland
US
240-699-0102
For dozens of years, the Chinese have practiced acupuncture, a healing method that corrects imbalances by stimulating specific points on the body that help energy, or qi, to flow smoothly. During every visit, acupuncturists measure your qi pressure, which is similar to measuring your blood pressure except that inflatable thing is placed around your soul. Acupuncture will help reduce your dependence on medication for pain; plus, after you take all those needles out of your body, you'll finally have a utensil set for those little squares of cheese! Nancy Smith at Frederick Acupuncture knows acupuncture. It's what she does. Her oldest patient is 354 years old.
164 W Main St.
New Market
Maryland
US
Under the able tutelage of True Athlete Performance, athletes of all ages and disciplines will develop their speed, agility, endurance, and intimidating game face, honing their skills and boosting their potentially tide-turning confidence. They'll also learn class, so that when they demolish an opponent, they'll have the good sense to shake his hand and buy him a Capri Sun.
1845 Brookfield Ct.
Frederick
Maryland
Using techniques that have been perfected over the past three millennia, licensed acupuncturists and traditional Chinese medicine practitioners Zhongliang and Yi Gao combat ailments with natural healing. Their treatments include massage, traditional acupuncture, and cupping, an alternative form of acupuncture that eschews needles for manually suctioned cups. They also recommend teas or powder-filled capsules from their herbal stores to help cleanse toxins and espresso beans from bodily systems.
14812 Physicians Lane, Suite 261
Rockville
Maryland
Pole Pressure owner Jessalynn Medairy is an international pole-dancing performer, judge, and teacher. In 2010, she placed fourth in the US Pole Dancing Championship, she has appeared numerous times in Pole2Pole magazine, and she often performs for NATO. With these credentials, Jessalynn heads a team of certified pole-fitness instructors as they teach students the art of pole fitness in a variety of beginner, intermediate, and advanced pole-dancing classes. The instructors keep classes small to give students the one-on-one attention they need to master the sultry and muscle-toning spins, twirls, and climbs.
823 Revelstore Terrace
Leesburg
Virginia
703-577-1739
CEO Peter Harvey believes that a quality gym staff must demonstrate more than technical expertise. "Service doesn't only mean showing someone how to do an arm curl," he says. At each of Fitness First Health Clubs' 17 locations, his certified personal trainers develop workouts that zero in on each person's specific goals, giving clients the skills to pole-vault over impassable plateaus. By steadfastly refusing to hand out fish in favor of putting on master classes in fishing, they help clients become self-sufficient, educating them on fundamentals.
During these one-on-one sessions, and in solo workouts, guests set calories ablaze atop rows of continually updated equipment. Treadmills, recumbent bikes, and strength-training tools line the walls, augmented by state-of-the-art gear such as the Frederick club's Sproing—a soft-platform-based machine that minimizes stress on the joints while an exerciser runs.
Members can also drop in for as many group classes as they can muster. Inside a separate studio, stationary cycles whir in time with galvanizing music, kickboxing strikes arc through the air, and barbells rise with each BodyPump rep. For more meditative practices, Pilates sessions and several types of yoga enhance flexibility and focus.
18243 Flower Hill Way, Suite A
Gaithersburg
Maryland
301-330-1800
---