Greencastle, IN Outdoor Activities
---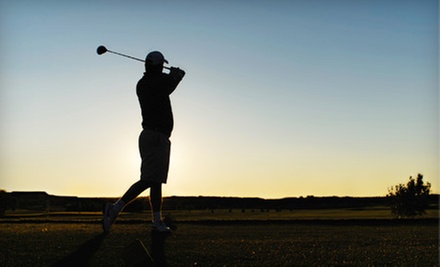 ---
Recommended Outdoor Activities by Groupon Customers
---
As a youth inseparable from his BMX bike, Scott Dunwoody dreamed of opening his own bike shop. Later, after honing his mechanic skills on his frat brothers' bikes and later at local bike centers, Dunwoody opened DG Bicycles in 2009, the result of his longtime passion and childhood dream coming together.
Rather than forcing riders and bicycle renters to approach the shop from the open road with its blindfolded drivers, the shop nestles next to the Monon Bike Trail, which provides a scenic path for cyclists and other outdoorsmen to enjoy. The shop's wares fit many cyclists' passions, and Dunwoody showcases bikes and frames from brands such as Rocky Mountain Bicycles and 2Hip Bikes, and styles ranging from mountain to commuter. With a full line of gear, parts, and accessories, the shop's stock complements the diverse frame styles that come in, which are tended to by experienced bike mechanics who can fix two-wheelers or advise prospective buyers on a cycle that meets their needs. The crew supplies a fleet of rental adult, child, and tandem cycles for short-term jaunts, and also stocks inline skates and parts.:m]]
1407 E 86th St.
Indianapolis
Indiana
317-257-2453
Plopped in downtown Indianapolis across from the Indiana Convention Center, Indiana/World Skating Academy fosters skills for winter sports on a pair of NHL-size rinks. I/WSA's coaches, whose instruction has helped produce regional, national, and world-class competitors, direct the facility's programs, including learn-to-skate courses designed for skaters with varying levels of experience. In addition to skating, the facility also offers private rink rentals as well as opportunities for speed skating, broomball, and adult hockey leagues. Off the ice, the academy offers less slippery activities, such as weight training, aerobics, jazz, and ballet. A rinkside deli open during public-skating hours keeps legs primed, and an onsite pro shop keeps equipment bags stuffed with the latest gear.
201 S Capitol Ave., Suite 1
Indianapolis
Indiana
US
317-237-5565
When drivers take to the track at Fastimes' Indoor Karting, they follow in the treads of professional racers such as Mario Andretti and Tony Stewart. Amateurs and visiting professionals alike race at up to 40 miles per hour on the 900-foot bi-level track, whose asphalt and epoxy-resin surface helps karts grip and make clean turns. Each of Fastimes' sleek Sodikarts is outfitted with roll bars and caution lights, which team up with seat belts and the facility's rentable helmets for optimum safety. Fastimes' onsite Italian deli, The Final Lap, bolsters drivers' strength with handmade pizzas and invites drivers to linger over beer and wine after the day's races are through.
3455 N Harper Rd.
Indianapolis
Indiana
Watch the Jaguars dribble, dunk, alley-oop, coup-fourre, shimmy-shammy, and Irish chowder. Today's side deal gets you $7 tickets to an IUPUI men's basketball game at Conseco Fieldhouse, home of the Indiana Pacers. See the Jags take on the Ohio Bobcats or catch one of the two conference games against the Oral Roberts Golden Eagles and in-state rival IPFW Mastodons. All tickets are for seats located in the lower-bowl, sideline-seating section and will be assigned at random. The Fieldhouse's extra-wide special seating (20–22 inches wide or greater) is designed for optimal cheering, high-fiving, and close viewing of the action.
125 S Pennsylvania St
Indianapolis
Indiana
US
A climber dangles from his belay rope, punching his fists into the air victoriously after reaching the top of the wall. At Climb Time Indy, more than 8,500 square feet of indoor climbing space host 4,000 different holds, giving the walls the colorful appearance of the bench where giants dispose of unwanted chewing gum. The climbing routes are changed regularly by meticulous and experienced climbers, granting regulars new challenges every week. Kids can join in the fun and learn the ropes with coaching during weekly club meetings; private lessons help more mature scalers brush up on skills.
8750 Corporation Dr.
Indianapolis
Indiana
US
The staff at Hanna Haunted Acres knows that there's no such thing as a one-size-fits-all nightmare. That's why they've curated a lineup of six different haunts, each with their own spine-tingly style. Four different haunted houses prey on deep-set childhood fears, including the Carnevil haunted house––a twisted, circus-themed fright, perfect for murderous clowns who are tired of blind dates. Other attractions include haunted hayrides around the farm and a twisty corn maze designed by a vengeful scarecrow. Those whose greatest fears including standing in line can skip straight to the screaming with a VIP pass, while snacks and mugs of steaming hot chocolate keep patient patrons warm between haunts.
7323 East Hanna Ave.
Indianapolis
Indiana
---