Things to Do in Greendale
---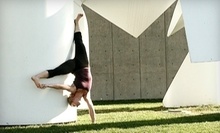 Five styles of yoga classes range from aerobic power Vinyasa to the highly meditative yin yoga and its lengthy posture holds
Use Thursday 6:45am - 9:45am
---
Recommended Things to Do by Groupon Customers
---
Dogs may be man's best friend, but having a horse show up at your wedding is more likely to impress. Milwaukee Coach and Carriage arranges such romantic gestures with its fleet of well-mannered equines and spacious coaches. Its custom carriage rides wend to and from marriage ceremonies as well as birthday parties, grand openings, and other special events, imbuing passengers' evenings with timeless flair and romance.
For a more casual trot around the city, Milwaukee Coach and Carriage also leads 30- or 60-minute tours of downtown, rolling past popular landmarks to create a memorable date without getting involved in a high-speed chase. Each carriage holds up to four adults and two children total, though 12-person wagons are available for larger groups.
228 E National Ave.
Milwaukee
Wisconsin
414-272-6873
Bumper, Slick, Makaia, and Diego may sound like a team of superheroes, but at Oceans of Fun, they are the names of just 4 of the 11 sea lions and seals that inhabit the center's waters. Nestled in the Milwaukee County Zoo, the educational center focuses specifically on marine animals, educating visitors on their traits, their favorite places to play, and conservation strategies. Kids can feed the seals and sea lions buckets of fresh fish or build their animal-training repertoire during interactive programs; the animals also perform in shows four times daily throughout most of the year.
10001 W Bluemound Rd.
Milwaukee
Wisconsin
414-453-5527
Munich, Germany, has plenty to offer by way of Bavarian beer, cuisine, and music—but so does Glendale, Wisconsin, site of the Bock Bier Festival. For two days, visitors flock to the Bavarian Soccer Club Complex of Heidelberg Park, where they dance to live German musicians such as Austrian Express and Johnny Hoffman. To replenish their energies, they can dine on German sausages from the kitchen or American snacks such as coleslaw and nachos. German maibock beer washes everything down in 16-ounce cups, 1-liter glass steins, or pitchers. Parking is complimentary, so visitors can dance the night away without pausing to deposit more bratwurst in the meter.
700 W Lexington Blvd.
Glendale
Wisconsin
Creative Fire Art & Pottery Studio has a roomy workspace where adults and kids can learn the craft of clay. The facility hosts day and evening classes. There's also open studio time, where students can come and go as they please to finish building a piece or see if their clay pigeon has morphed into a real pigeon. In party packages, you and a group of friends can get a room to yourselves to work with clay under the advisement of an instructor. It's also worth it to stop in Creative Fire Art & Pottery Studio's gallery, which feature a number of original pottery pieces.
6427 W North Ave.
Wauwatosa
Wisconsin
US
414-443-9402
At Brew City Paintball, paint slingers of all skill levels wage war over 44,000 square feet of indoor battlegrounds peppered with inflatable fortifications. During paintball games, each player loads up with a Tippmann or Planet Eclipse gun, protective vest, antifog mask, and unlimited air refills to take the fight to enemy teams and spotless clothing on multiple all-turf playing fields. Referees monitor each match for signs of foul play, and Brew City organizes games according to player skill so rookies can hone their skills without being sniped by a pro.
As paint flies between bunkers and teams vie for control of the field, parents, friends, and war photographers observe the action from plush leather couches in Brew City's air-conditioned viewing room, complete with WiFi and five flat-screen TVs. For a cleaner version of battle, the facility's 3,000 square foot laser tag facility gives unpainted players a chance to wield lightweight bazooka guns toward victory amid over-bearing inflatable castles and tombstones during virtually no-impact play.
21875 Doral Rd.
Waukesha
Wisconsin
US
262-754-8844
Hosted by Shaker's Ghost Tours, Dahmer Tours grants a spine-chilling glimpse into the life of Jeffrey Dahmer from within his hunting grounds. The guides, who are neither insensitive to the victims' families nor approbating of Dahmer's monstrous acts, narrate thoroughly researched information about the crimes and their historical impact over the course of a one-mile walk. The company crosschecks all their material with former members of Milwaukee's legal community and several unturned stones to ensure that every fact and trail is credible. As guests' feet cover the very tracks that Dahmer stalked upon, guides dissect his mad world to grant access into the mind of a serial killer.
418 S Second St.
Milwaukee
Wisconsin
---