Theme & Amusement Parks in Greenfield
---
Theme & Amusement Park Deals
---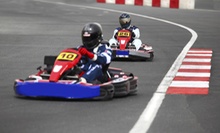 Birel N 35-X karts whip riders around the track; the driving school offers basic training and track time
---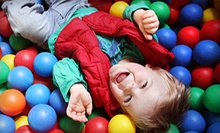 Kids' activity village hosts educational entertainment with puppet shows, train rooms, and face painting as adults chaperone free of charge
---
Recommended Theme & Amusement Parks by Groupon Customers
---
Ben and Ari's accommodates competitors of all levels with a full arcade and pizza kitchen flanked by two 18-hole miniature-golf courses. Both courses mimic the terrain of their larger long-game counterparts, but eschew the giant windmills in favor of dips, bends, and wandering streams that swallow wayward golf balls. The fairways also wind around the centerpiece of a working waterfall, which trickles in the background of live bands during summer festivals and fundraisers. During the winter months, players stay warm in the glow of the arcade, which houses 45 nonviolent video games that allow kids to enjoy simulated road races, jet-ski joy rides, and post-apocalyptic zombie-infested worlds in which the only objective is to choose the right outfit for the prom. Guests can also cuddle up close with fresh-baked Marco's Pizza pies made from housemade dough.
13875 Trade Center Dr.
Fishers
Indiana
Kids careen over springy walls or safely tumble down inflatable slides at BounceU's supervised and climate-controlled pliant playground. Along with bouncing, kids can shoot hoops at pop-a-shot-style goals or don oversize boxing gloves and helmets to duke it out for pudding-cup pink slips.
During open bounce hours, families can pop in unannounced for as much inflatable fun as the day allows. Alternatively, regularly scheduled day camps whisk kids along a six-hour structured day of exercise, crafts, and snacks. Birthday packages outfit parents and kids with a variety of options for making a party unforgettable without having to worry about cleaning up the mess from a rented shark tank.
9715 Kincaid Dr., Suite 800
Fishers
Indiana
317-578-7529
X-Site Laser Tag & Games arms its patrons with miniature cannons capable of firing a beam of light across their 12,000 square foot laser tag arena. Thus outfitted, competitors take to the vast, darkened room, blasting away at an opposing team as the Nexus Generation equipment keeps real-time score via the simple use of radio signals. When not locked in laser duels, patrons pass the time in the arcade, which mixes the flat screen video games of yore with interactive virtual reality games and classic redemption-style challenges, such as the crane game.
6155 E 86th St.
Indianapolis
Indiana
The staff at Hanna Haunted Acres knows that there's no such thing as a one-size-fits-all nightmare. That's why they've curated a lineup of six different haunts, each with their own spine-tingly style. Four different haunted houses prey on deep-set childhood fears, including the Carnevil haunted house––a twisted, circus-themed fright, perfect for murderous clowns who are tired of blind dates. Other attractions include haunted hayrides around the farm and a twisty corn maze designed by a vengeful scarecrow. Those whose greatest fears including standing in line can skip straight to the screaming with a VIP pass, while snacks and mugs of steaming hot chocolate keep patient patrons warm between haunts.
7323 East Hanna Ave.
Indianapolis
Indiana
Whiteland Raceway Park has acquainted patrons with the thrill of the race for more than half a century via its slate of go-kart rentals and classes. A fleet of Birel N 35-X rental karts with Honda 9HP OHV engines zips around two tracks whose layouts shift weekly to keep young riders on their toes and rental vehicles from getting bored and partying in the motor-oil storage vault. Sponsored by the Tony Stewart Junior Racing League, the park's instructional program gears classes toward students from age 5 to adult. Meanwhile, speedsters at least 16 years of age can captain rental karts for invigorating rides that last 6-7 minutes apiece.
654 N Front St.
Whiteland
Indiana
317-535-7291
Designed by owner Cantrell Johnson and decorated with decals of famed video-game characters, GameStar Mobile's gaming trailer cruises down the thoroughfares of Indianapolis hitched to a pickup truck. In the trailer's climate-controlled confines, up to 16 partygoers compete on a choice of four Xbox 360 consoles, four PlayStation 3s, and four Wiis, each hooked up to four controllers. Players tackle digital scenarios ranging from the science-fiction battles of Halo: Reach to the challenge of tying a cape to a guitar in Guitar Hero. As they press buttons and nosh on complimentary smoked brisket, gamers' accomplishments project on an array of flat-screen HDTVs outfitted with surround-sound systems.
Online, Indianapolis
Indianapolis
Indiana
855-317-4263
---