Greenfield, MA Spa and Massage
---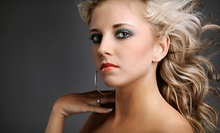 Use Today 9:00am - 6:00pm
---
Recommended Spa & Massage by Groupon Customers
---
Within Sixsixty Salon, trained massage therapist Kimberly Joy Carey aims to relax clients and encourage holistic wellbeing with massage therapy. To do this, she customizes each session using Swedish techniques, stones cooled or heated in water, and trigger-point modalities. Each technique is designed to increase blood circulation, ease tension, and soothe achy muscles after sleepwalking into a staircase warehouse. Kimberly is also trained in the advanced technique of raindrop therapy, which brings harmony to the body by incorporating essential oil aromatherapy with a combination of Swedish massage and traditional Tibetan and Native American techniques.
660 East St.
Rensselaer
New York
La Dermique Skin Rejuvenation & Body Contouring Center's board-certified surgeons, registered nurses, and master aestheticians keep their fingers on the pulse of emerging technologies they can potentially use in their minimally invasive treatments. Simple aesthetic procedures, such as microdermabrasion and photofacials, rejuvenate dull, aging skin, whereas Botox and dermal fillers temporarily remedy wrinkles for a smooth, supple complexion. Ultherapy, one of the center's newer treatments, sends sound waves below the skin's surface to gently heat tissues and simulate the effects of a face-lift, all without incisions or cheek suspenders. La Dermique's technicians also wield lasers, including Smartlipo Triplex technology, to permanently destroy fat and remove unwanted body hair and tattoos.
1154 Springfield St.
Feeding Hills
Massachusetts
Born and raised on a farm in Hadley, massage therapist Heather Barstow uses the same hands that once worked the fields to plow away clumps of tension, pain, and anxiety with massages in various modalities. Skilled in Swedish, deep-tissue, and prenatal techniques, Heather tailors each session to her clients' individual health issues; simply tell her what ails you during a pre-massage consultation, and she will make sure to focus her attention on areas with the highest concentration of tension or "Kick Me" signs.
8 River Dr.
Hadley
Massachusetts
413-588-1124
Licensed massage therapist Penny J Mitchell blends Eastern and Western massage techniques to address whatever physical or emotional needs her clients may have. At Bodyworks Massage and Wellness, she fine tunes the body and quiets the mind with Reflexology and relaxation Swedish massages. But with training in orthopedics and movement science, she caters to pain and injury as well—she offers comprehensive back therapy and whiplash therapy, and all bodywork can be heightened by applications of moisture wraps, heat therapy, and aromatherapy.
54 Court St.
Westfield
Massachusetts
413-388-1072
Licensed massage therapist Phutsog Wangamo has spent more than 25 years practicing traditional Tibetan medicine, an art that first appeared millennia ago and later assimilated elements from the Greek, Ayurvedic, and Chinese healing traditions. Along with graduates of the Shang Shung Institute School of Tibetan Medicine, Wangamo founded a healing center where she could share this ancient healing art with others.
Today, Shang Shung Tibetan Healing Center continues to earn new converts with a holistic approach that focuses on balancing the mind and body. The center's wellness professionals address problems that range from stress and insomnia to the aches of old age. A personalized health consultation benefits first-time patients, recommending dietary and lifestyle changes based on individual factors. The wellness expert might also suggest kunye massage, a Tibetan healing art that incorporates medicinal oils, hot stones, pressure-point therapy, and assisted stretching. For a more general overview of holistic health, sit in on one of the center's monthly public talks. These informal gatherings center on topics such as pediatrics in Tibetan medicine and how to prevent aging without freezing oneself in carbonite.
16 Center St., Suite 323
Northampton
Massachusetts
413-585-1081
Massage therapist Jodi McClain had just finished her last massage of the day when her patient, still lying prone on the table, burst into tears. She began speaking about difficult emotional issues she'd held in for years, until that massage helped set the pain free. Jodi savors seeing her clients leave happier than they were when they walked in, and uses her custom blend of Swedish, deep-tissue, and trigger-point-therapy massage to achieve this pleasant outcome—by way of ousting tension and muscular pain. She also performs myofascial-release massage and cranio-sacral therapy upon request, and can collaborate with doctors to build injury-treatment plans and incite laughter with multiple taps to the funny bone.
During massages, Jodi may slather her client's skin in Massage FX cream—infused with aloe, arnica, and ivy extracts—to keep it moisturized and dull any site-specific pain. Though she eschews aromatherapy, she often soaks a cloth in eucalyptus and peppermint oils to relieve clients suffering from sinus pressure. She also conducts facials and specialized skinny massages to tone and tighten skin, as well as applying infrared-light therapy to detox skin and enrage cats by demonstrating the photon theory of light, as most cats still think of light as a wave. Jodi conducts all her treatments in one room designed to evoke a garden; with flowers hung from the ceiling, a decorative fence, and soft lighting. While she often plays piano melodies, Jodi also lulls clients toward relaxation with a bubbling water fountain and casual conversation.
246 Montcalm St.
Chicopee
Massachusetts
231-670-9038
---