Auto Repair in Greenfield
---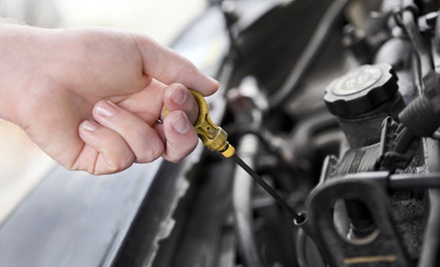 ---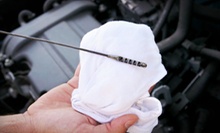 Techs at the ASE-certified facility replace used oil or perform needed services such as tire rotations, diagnostic checks, and radiator flus
---
Recommended Auto Repair by Groupon Customers
---
At Quick Lane Tire & Auto Center, teams of professional, factory-trained technicians repair and maintain vehicles of all makes and models with parts and tires from trusted brands such as Motorcraft, Goodyear, and Michelin. The techs ensure long engine lives while sticking tight schedules, plying their trade with the speed of a well-practiced pit crew and the integrity of a Boy Scout zealously pursuing his customer-service badge. In addition to replacing or repairing engine's innards or tending to tires, Quick Lane's able technicians meticulously vet electrical, mechanical, and transmission systems with thorough diagnostics and checkups.
2326 West Saint Paul Avenue
Milwaukee
Wisconsin
414-345-5261
Since 1988, Auto Care Super Saver has been helping car owners save cash with maintenance punch cards redeemable at local auto shops throughout the course of a full year. These cards come loaded with all kinds of prepaid services, including at least three full-service oil changes with up to 5 quarts of oil, lube, and a new filter. Depending on the location, punch cards may also feature tire rotations, brake inspections, engine-light readings, air-conditioning performance tests, and other repairs and inspections essential to a car's well-being. Customers can transfer the punch card's benefits to any ride, ranging from station wagons to sports cars to feral merry-go-round mounts.
3402 N Milwaukee Ave.
Northbrook
Illinois
US
Supreme Care Services' staffers travel far and wide to bring detailed, timely, and trained maintenance to their customers' homes. During visits, friendly technicians rid home air ducts and dryer vents of potentially harmful dust and lint buildups that can cause fires if encountered by a sprinting Speedy Gonzales. The staffers also draw on 25 years of painting experience to splash homes with tasteful hues.
10548 W Cortez
Franklin
Wisconsin
414-614-4376
The multi-certified team at Jaznari Auto Repair is bolstered by an owner/operator whose 20-plus years of experience fixing automobiles adds to the integrity of each repair or maintenance service. Car owners can steer any make and model into the outfit's garage, where technicians use computerized engine diagnostics to identify such issues as faulty brakes, dead batteries, or timing belts with two left feet. Jaznari Auto Repair is open 7:30 a.m. until 5 p.m. Monday through Friday.
143 North Milwaukee Street
Milwaukee
Wisconsin
414-319-9092
Luxury is the name of the game at Quality Auto Reconditioning, and that mantra isn't limited to the exclusive 24k gold-plating service. The meticulous staff delivers custom detailings that delve into whitewalls and dashboard vents, with à la carte services that include headlight repair. Tarnished Lexus rims gleam anew after Quality's wheel restoration, and a Cadillac's cracked leather seats revert back to a smoothed state after an intensive interior repair—though Quality's technicians treat all makes and models with the same care they would a Fabergé Ferrari. The vast shop can turn out eight details in a day, and Glenview residents can take advantage of a complimentary drop-off service while the techs care for their car.
1723 Chestnut Ave.
Glenview
Illinois
847-729-0011
---