Greenfield Automotive
---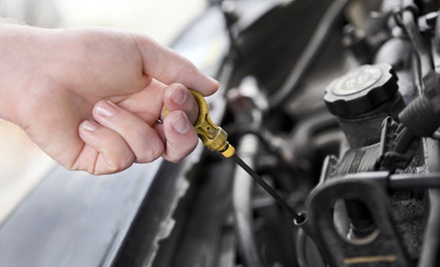 ---
Recommended Automotive by Groupon Customers
---
Milwaukee Ultimate Shine's team aims to clean up the world's vehicles both inside and out. The crew stands ready to tackle any job, from a lightly dusted sedan to a truck covered in enough mud for a pig's dream home. Wielding chamois cloth, the crew hand washes exteriors, removes bugs, and leaves vehicles shining with solutions customized to meet the expectations of specific paint grades. The detailers also turn their attention to interiors. Vacuums roar as they clean inside every nook, cranny, and mechanical ear to ready upholstery for cleansing shampoos.
5712 N Teutonia Ave.
Milwaukee
Wisconsin
414-779-0372
At Quick Lane Tire & Auto Center, teams of professional, factory-trained technicians repair and maintain vehicles of all makes and models with parts and tires from trusted brands such as Motorcraft, Goodyear, and Michelin. The techs ensure long engine lives while sticking tight schedules, plying their trade with the speed of a well-practiced pit crew and the integrity of a Boy Scout zealously pursuing his customer-service badge. In addition to replacing or repairing engine's innards or tending to tires, Quick Lane's able technicians meticulously vet electrical, mechanical, and transmission systems with thorough diagnostics and checkups.
2326 West Saint Paul Avenue
Milwaukee
Wisconsin
414-345-5261
The inclusion of the word "buff" in Johnny Buffit's name is no coincidence—the staff relies on the high-speed machinery to restore dull, oxidized, scuffed, or scratched vehicular exteriors. Buffing is just one step in the detailing process, which the staff provides for cars, boats, recreational vehicles, motorcycles, and the occasional show car. They also specialize in auto-glass replacement.
350 N Plankington Ave.
Milwaukee
Wisconsin
414-271-8161
Express Auto Spa's skilled staffers rejuvenate grime-ridden rides with automated wash tunnels and Armor-All products. After the pulsing jets dislodge grit and caked-on stoplight glare, the technicians gently towel-dry vehicles by hand. Their detailing services require even more attention to detail as they shampoo floor mats, hand-wax exteriors, and remove tar and road scuzz. Those in need of regular cleanings due to entering their vehicles into mud-wrestling competitions can enlist in the VIP Wash Club, which entitles members to unlimited washes each month.
169 Northwest Barstow Street
Waukesha
Wisconsin
262-544-4350
Supreme Care Services' staffers travel far and wide to bring detailed, timely, and trained maintenance to their customers' homes. During visits, friendly technicians rid home air ducts and dryer vents of potentially harmful dust and lint buildups that can cause fires if encountered by a sprinting Speedy Gonzales. The staffers also draw on 25 years of painting experience to splash homes with tasteful hues.
10548 W Cortez
Franklin
Wisconsin
414-614-4376
The multi-certified team at Jaznari Auto Repair is bolstered by an owner/operator whose 20-plus years of experience fixing automobiles adds to the integrity of each repair or maintenance service. Car owners can steer any make and model into the outfit's garage, where technicians use computerized engine diagnostics to identify such issues as faulty brakes, dead batteries, or timing belts with two left feet. Jaznari Auto Repair is open 7:30 a.m. until 5 p.m. Monday through Friday.
143 North Milwaukee Street
Milwaukee
Wisconsin
414-319-9092
---