Greenfield, WI Beauty and Salons
---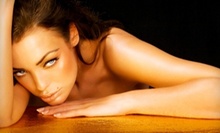 In a 30-minute session, far-infrared rays penetrate up to 2 in. to enhance circulation, detoxification, and weight-loss efforts.
Use Sunday 11:00am - 3:30pm
---
Between calming purple walls, stylists consult with clients before nourishing weakened hair and cutting it into face-flattering styles
Use Today 10:00am - 4:00pm
---
Recommended Beauty by Groupon Customers
---
A private treatment room blooms with the aromas of jojoba essential oils as professionals detangle muscle knots or harvest beauty from pores using Aveda's signature blends of flower and plant essences. Staffers can also add pizzazz to guests' hair using coloring products that are up to 99% naturally derived and extensions that are made from human hair or colorful feathers. Additionally, staffers can remove unwanted body bristle with waxing services or immerse tired feet in a cane-sugar scrub and tubs of Yanni mix tapes during soothing Caribbean-therapy pedicures.
7441 S 27th St., Suite 3
Franklin
Wisconsin
414-761-1388
Polished's all-out manicure soothes skin and smoothes gnarled nails. A citrus exfoliation treatment washes out dead skin cells and unclogs packed pores, while a paraffin dip bathes hands in a warm wax to relieve stiff joints and muscles. Nails are filed and styled, and an orange-perfumed hand and arm massage refreshes like a cool breeze whispering through an Ocala orange grove.
621 E. Brady Street
Milwaukee
Wisconsin
US
414-276-6245
Aesthetician Sara Bohlmann has many tools at her disposal for making skin look its best, from the Image skincare products she uses to create custom facials to the cosmetics she applies during special-occasion makeup sessions. Sara often follows facials with advice on maintaining a proper skincare routine, a practice that helps clients get the most out of Sara's services and stops them from removing their makeup with paint thinner. Sara's successful practices have been noticed by Shepherd Express Best of Milwaukee 2012 as she was nominated "Best Aesthetician" in the online publication's medical category.
4160 N Calhoun Rd., Floor 2
Brookfield
Wisconsin
414-737-1422
At Enhancing Light Cosmetic Laser Centers, board-certified plastic surgeon Dr. Kenneth Dembny oversees a team of fully certified staffers who beautify physiques with laser-guided services. Using VelaShape, an FDA-approved procedure that fuses infrared light, bipolar radio frequencies, and mechanical massage, technicians can contour away cellulite. Photofacial skin rejuvenation, meanwhile, resurrects a youthful glow in faces marked by signs of aging, such as fine lines, sun spots, and mouths locked in place after blowing out candles on a birthday cake. Tattoo removal lifts unwanted ink, microdermabrasion exfoliates away dead skin, and skin tightening reduces wrinkles and saggy areas. A portion of the clinic's profits go to Susan G. Komen for the Cure, which funds breast-cancer research and raises awareness of the disease.
375 W River Woods Pkwy. , Suite 113
Glendale
Wisconsin
414-212-8974
Dermal expert Laurie Ritchie employs Bioelements skincare products to pamper visages with facials and whisk away fuzz with deft body waxing. Antioxidants, extractions, and alpha-hydroxyl-acids application renew complexions during skincare treatments as accompanying facial, hand, and foot massages evict stress more efficiently than a bouncer tattooed with Zen mantras. Ritchie also renews weary bodies with detoxifying mud and moisturizes dry skinscapes with hydrating creams during her spa treatments.
3811 N. Oakland Ave.
Shorewood
Wisconsin
262-628-2094
Nestled amid the shops and café's lining Shorewood's Capitol Drive, Scenario Hair Design's contemporary confines invite customers to take a break from retail therapy and seek relief for stressed strands. The salon's rich purple walls, sleek black furnishings, and sleek pendant lamps create an atmosphere that is both modern and timeless, matching the hairstyles that spring to life under the hands of stylists who undergo regular ongoing training. High-quality styling products from Pureology and Redken help seal in each new style, and each appointment ends with stylists sharing their best tips, tricks, and secret mousse recipes to help clients re-create their style at home.
2317 E Capitol Dr.
Milwaukee
Wisconsin
US
414-964-9311
---